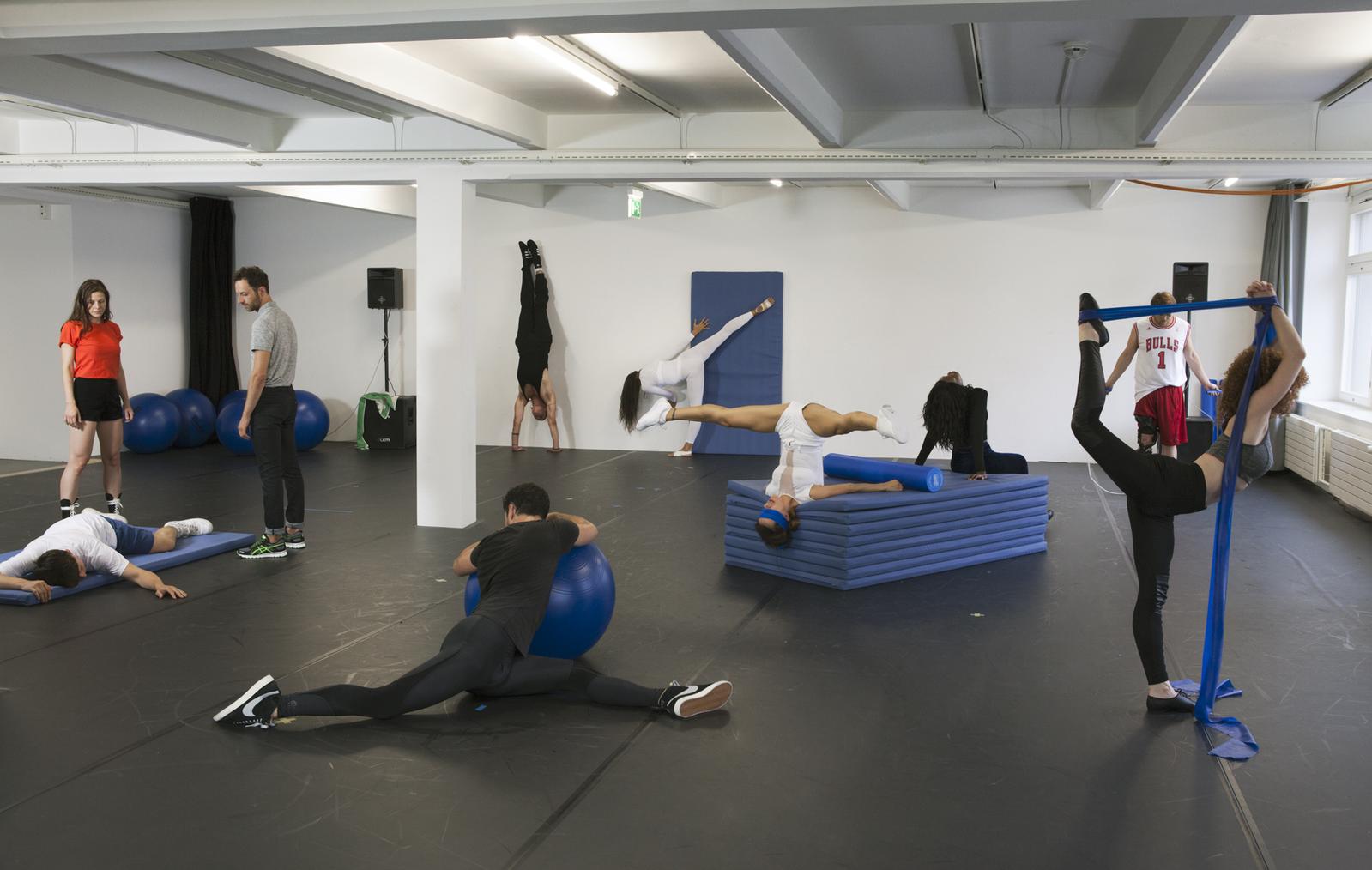 alexandra bachzetsis
* Zúrich, Suiza, 1974

Coreógrafa y artista visual, Alexandra Bachzetsis crea espacios –en la intersección del baile, el performance, las artes plásticas y el teatro– en donde el cuerpo puede manifestarse como un aparato artístico y crítico. Su práctica investiga las coreografías inadvertidas del cuerpo humano y la manera en que la cultura nos provee de materia prima para nuestros gestos, expresiones y fantasías; a través de un enfoque interdisciplinario, Bachzetsis examina la influencia de los géneros «populares» o «comerciales» (medios online, video-clips y televisión) y «artísticos» (ballet, danza contemporánea y performance). La forma en que habitamos y escenificamos nuestros cuerpos, tanto en la vida diaria como en el escenario –a través de los estereotipos y arquetipos, las elecciones y los clichés– define continuamente a su práctica artística. En sus performances, Bachzetsis se apropia de las representaciones idealizadas del cuerpo femenino en la industria del sexo, el medio del espectáculo y la cultura popular contemporánea y las utiliza para construir un nuevo lenguaje que incita a la introspección y el empoderamiento.
Bachzetsis se graduó del Liceo Artistico en Zúrich (1995) y la Accademia Teatro Dimitri en Verscio (1997), Suiza; del Performance Education Program en STUK - House for Dance, Image & Sound Arts Centre en Lovaina, Bélgica (1999); y de DAS Graduate School de the Academy of Theatre and Dance of the Amsterdam University of the Arts (2006).
Ha sido reconocida con varios premios, entre los que destacan: Performancepreis Schweiz (Swiss Performance Art Award) (2012), Swiss Art Award 2011 y Migros-Kulturprozent Jubilee Award (2007). Bachzetsis empezó a trabajar de forma independiente en 2001, desde entonces ha creado más de 24 obras (a menudo colaborativas) presentadas en teatros, festivales y espacios públicos alrededor del mundo.

Entre sus exposiciones y performances recientes se encuentran: Massacre: Variations on a Theme, Centro Georges Pompidou, París y MoMA- Museum of Modern Art, Nueva York (2017); Private: Wear a mask when you talk to me, Centre culturel suisse, París y Dampfzentrale Berna, Suiza (2017); Gold, Power Station of Art (PSA), Shanghai y Wing | Platform for Performance, Hong Kong, China (2016); From A to B via C, Onassis Cultural Centre-Athens, Atenas y Fundação de Serralves – Museu de Arte Contemporânea, Oporto, Portugal (2015), Kulturzentrum Rote Fabrik, Zúrich, Suiza y Museo Jumex, Ciudad de México (2014); Alexandra Bachzetsis, Bonner Kunstverein und Artothek, Bonn, Alemania (2014); The Stages of Staging, Stedelijk Museum Amsterdam (2013); L'Escorte, CAC Brétigny, París (2011); Play, Kunsthaus Glarus, Suiza (2010); Show, Kunsthalle Basilea, Suiza (2008) y Show Dance, de Appel arts centre, Ámsterdam (2006), entre muchas otras.

Alexandra Bachzetsis ha participado en los siguientes festivales, bienales y exposiciones colectivas: documenta 14, Kassel, Alemania (2017); Tanz im August Festival, Berlín (2017); Meteor - Performing Arts Festival, Bergen, Noruega (2017); Festival FAB, Burdeos, Francia (2016); Let's Dance, Art Stations Foundation, Poznań, Polonia (2015); Elevation 1049, Lumen Foundation, locaciones varias, Suiza (2014); Le Movement, 12th Swiss Sculpture Exhibition, Biel/Bienne, Suiza (2014); art berlin Fair for Modern and Contemporary Art (2013); dOCUMENTA (13), Kassel, Alemania (2012); 3rd Thessaloniki Biennále of Contemporary Art, Tesalónica, Grecia (2011); Something Raw. Internationale dans- en performancefestival, Ámsterdam (2009); 5th Berlin Biennale (2008); If I Can't Dance, I Don't Want To Be Part Of Your Revolution. Edition II, De Appel, Ámsterdam (2007) y Emotion Pictures, M HKA- Museum of Contemporary Art Antwerp, Ámberes, Bélgica (2005), entre muchos otros.
Alexandra Bachzetsis vive y trabaja en Suiza.