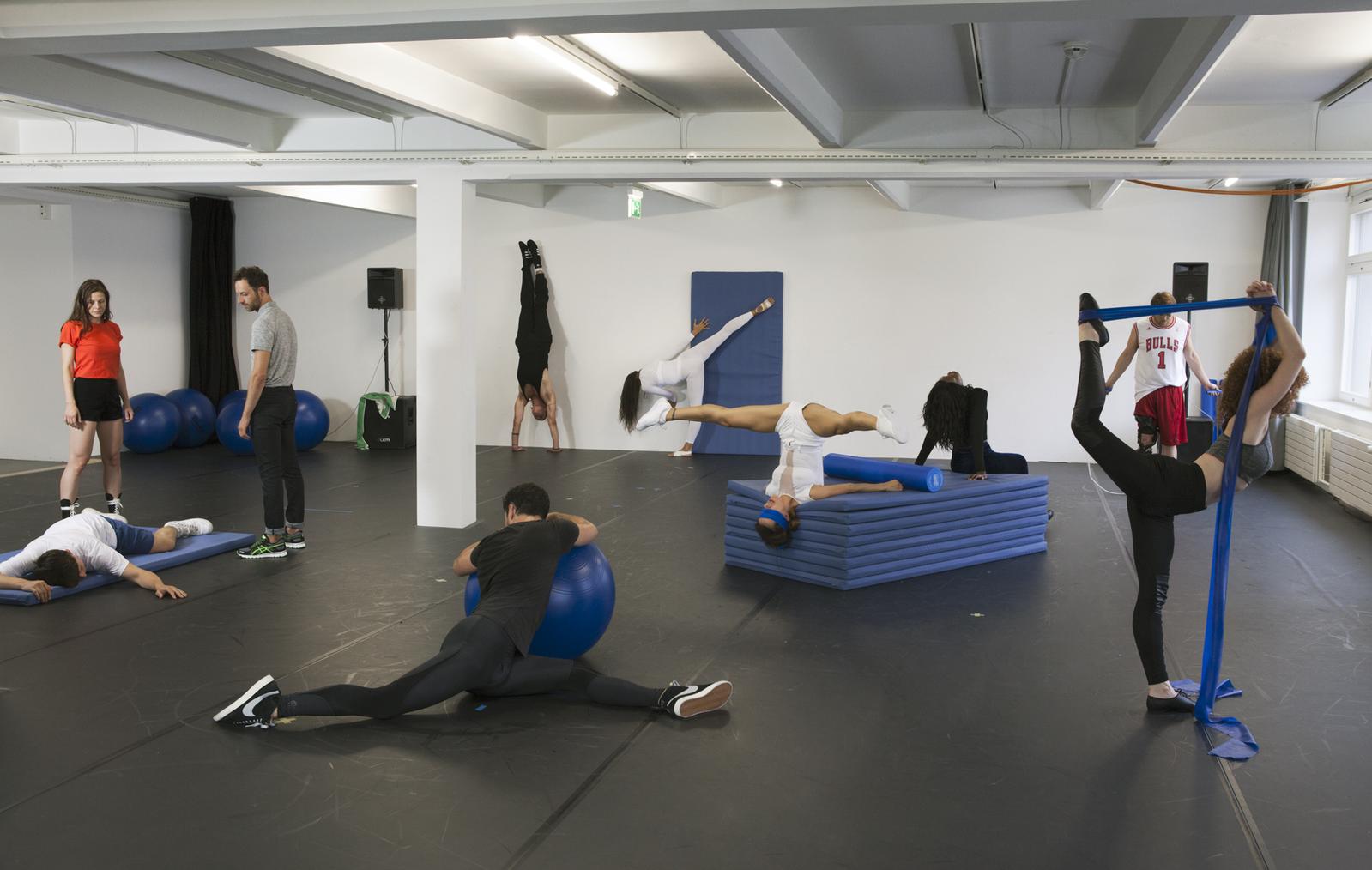 alexandra bachzetsis
* 1974, Zúrich
Coreógrafa y artista visual, Alexandra Bachzetsis trabaja en la intersección del baile, el performance, las artes plásticas y el teatro, para generar diferentes espacios donde el cuerpo pueda manifestarse como un aparato artístico y crítico. Su práctica investiga las coreografías inadvertidas del ser humano, y en particular, la manera en que la cultura popular nos provee de materia prima para nutrir nuestros gestos, expresiones y fantasías. A través de un enfoque interdisciplinario, Bachzetsis examina por un lado la influencia de los géneros "populares" o "comerciales", ejemplificados por los medios online, los video-clips y la televisión, y por otro lado, el peso del "arte", el ballet, la danza contemporánea y el performance. La forma en que habitamos y escenificamos nuestros cuerpos, tanto en la vida diaria como en el escenario – a través de los estereotipos y arquetipos, en las decisiones o clichés – es un tema central en su trabajo. En sus performances, Bachzetsis se apropia de las representaciones idealizadas del cuerpo de la mujer en las industrias del sexo, el espectáculo, y en la cultura popular contemporánea; las utiliza como herramienta para construir otro lenguaje corporal que incita a la autorreflexión y el apoderamiento.
Bachzetsis se graduó del Zürcher Kunstgymnasium y de la Dimitri Schule en Verscio, ambas instituciones ubicadas en Suiza, además del Programa Educativo de Performance, en STUK Arts Centre, en Lovaina, Bélgica. Estudió el posgrado en Das Arts, el Centro de Estudios Avanzados de Teatro y Danza, en Ámsterdam, Países Bajos.
Ha sido reconocida con varios premios, entre los que destacan Swiss Performans Preis (2012), The Swiss Art Award (2011) y Migros Kulturprozent Jubilee Award (2007), entre otros. Desde 2001, Bachzetsis ha trabajado de manera independiente y ha creado 24 obras que se han exhibido en teatros, festivales y espacios públicos alrededor del mundo. Entre sus exposiciones más importantes se encuentran: Massacre: Variations on a Theme, MoMA Museum of Contemporary Art, Nueva York, Estados Unidos (2017); 
Massacre: Variations on a Theme. Centre Pompidou, París, Francia (2017); Private: Wear a mask when you talk to me. Festival DansFabrik, Le Quartz, Scène nationale de Brest, Brest, Francia. (2016); Private: Wear a mask when you talk to me. CAPC Bordeaux and Festival FAB, Burdeos, Francia (2016); From A to B via C. Stedelijk Museum, Amsterdam, Países Bajos (2015); From A to B via C. Serralves, Porto, Portugal (2015);From A to B via C, Fabriktheater Rote Fabrik, Zúrich, Suiza; From A to B via C, Museo Jumex, en la ciudad de México (2014); From A to B via C, Tate Modern, en Londres, Reino Unido (2014); Alexandra Bachzetsis, Bonner Kunstverein, en Bonn, Alemania (2014); The Stages of Staging, Stedelijk Museum, en Ámsterdam, Países Bajos (2013); The Escort (L'Escorte), CAC Brétigny, en París, Francia (2011); Play, Kunsthaus Glarus, en Glaris, Suiza (2010); Show Dance, De Appel, en Ámsterdam, Países Bajos (2006). Además ha participado en exposiciones colectivas en instituciones como Kunsthaus Aarau, en Aarau, Suiza (2012); Shedhalle Zürich, en Zúrich, Suiza (2012); CCA Center For Contemporary Arts, Glasgow, Irlanda (2012); en Experimental Design en el Museu Coleção Berardo, en Lisboa, Portugal (2009); Brakke Grond, Flemish Cultural Center, en Ámsterdam, Países Bajos (2009); entre otros.
Ha participado en varias bienales entre las que se encuentran: la Bienal de Imágenes en Movimiento, en Ginebra, Suiza (2014); dOCUMENTA 13, en Kassel, Alemania (2012); la 3ª Bienal de Arte Contemporáneo, en Tesalónica, Grecia (2011); la 5ª Bienal de Berlín, en Berlín, Alemania (2008).
Alexandra Bachzetsis vive y trabaja en Suiza.