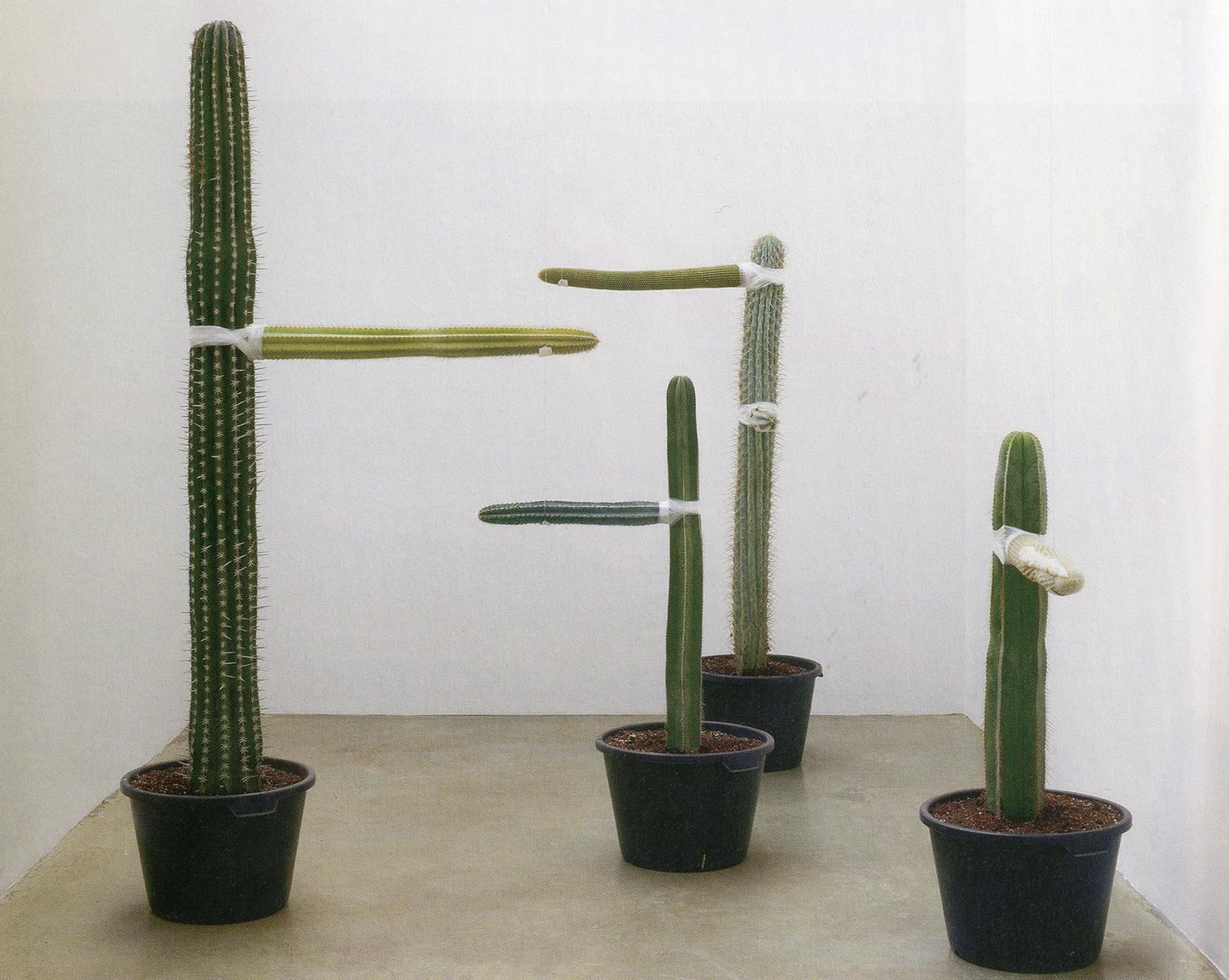 allora & calzadilla
*Allora: Filadelfia, Estados Unidos, 1974. Calzadilla: La Habana, Cuba, 1971.
En los últimos veinte años, Jennifer Allora y Guillermo Calzadilla han desarrollado un conjunto de obra experimental y generosa. Utilizan y combinan escultura, performance, video, audio y fotografía, para representar la geopolítica contemporánea, los artefactos culturales y el «tiempo profundo» de la historia arqueológica. Dan sentido a su práctica artística indagando y poniendo en cuestión las convenciones estructurales y discursivas de la narrativa y el potencial del lenguaje y la materialidad. Allora & Calzadilla han estudiado la naturaleza cooperativa y catártica del dibujo colectivo espontáneo con materiales efímeros en la Bienal de Lima en Perú (Chalk [Lima], 1998–2002); las huellas dejadas por la violencia nacionalista, militar y colonial en las diferentes poblaciones y paisajes de Vieques en Puerto Rico (Landmark, 2001–2002); y las repercusiones de la interpretación, distorsión y combinación de la música en diferentes momentos de la historia (Clamor, 2006; Stop, Repair, Prepare: Variations on "Ode to Joy" for a Prepared Piano, 2008; and Raptor's Rapture, 2012). Sus proyectos desafían al espectador a encontrar significado a través de una lectura literal, metafórica, demostrativa y política de la obra; pero también a participar en ella como una experiencia que intensifica la sensibilidad estética.
Jennifer Allora realizó estudios de licenciatura en la Universidad de Richmond en Virginia (1996) y de posgrado en MIT- Instituto Tecnológico de Massachusetts (2003); Guillermo Calzadilla recibió una licenciatura en Bellas Artes de la Escuela de Artes Plásticas en San Juan, Puerto Rico (1996) y una maestría en Artes del Bard College en Nueva York (2001). Allora & Calzadilla colaboran desde 1995. Han recibido premios y becas de la Gwangju Biennale (2004); Penny McCall Foundation (2003); Joan Mitchell Foundation (2002) y la Fundación Cintas (2001-2002). En 2006 fueron finalistas del Hugo Boss Prize y Nam June Paik Award.

Entre sus exposiciones y trabajos más importantes se encuentran: Unspecified Promise, Institute of Contemporary Art, Miami, Estados Unidos (2017); Allora & Calzadilla: Echo to Artifact, Art Gallery of Alberta (AGA), Edmonton, Canadá (2016); Puerto Rican Light (Cueva Vientos), obra comisionada por Dia Art Foundation en la costa sur de Puerto Rico (2015); Intervals, Philadelphia Museum of Art y The Fabric Workshop and Museum, Filadelfia, Estados Unidos (2014); Fault Lines, Fondazione Nicola Trussardi en el Palazzo Cusani, Milán, Italia (2013); Gloria, pabellón estadounidense de la 54a Bienal de Venecia (2011); Performance 9: Allora & Calzadilla, Museum of Modern Art, Nueva York (2010); Allora & Calzadilla, Nasjonalmuseet, Oslo, Noruega (2009); Stop, Repair, Prepare: Variations on "Ode to Joy" for a Prepared Piano, Haus der Kunst, Múnich, Alemania (2008); Never Mind That Noise You Heard, Stedelijk Museum Amsterdam, Países Bajos (2008); Clamor, Serpentine Gallery, Londres (2007); Allora & Calzadilla, Kunsthalle Zürich, Suiza (2007); Wake Up, The Renaissance Society, Chicago, Estados Unidos (2017); Jennifer Allora & Guillermo Calzadilla, Stedelijk Museum voor Actuele Kunst, Gante, Bélgica (2006); y Land Mark, Palais de Tokyo, París (2006).

Además, su obra ha formado parte de exposiciones colectivas en instituciones como: The National Museum of Art, Osaka (2018); National Museum of Modern and Contemporary Art (MMCA), Seúl, Corea del Sur (2017); Los Angeles County Museum of Art (LACMA), (2017); un proyecto de Pacific Standard Time: LA/LA en Marciano Art Foundation, Los Angeles (2017); South London Gallery (SLG), Londres (2016); MAMM-Museo de Arte Moderno de Medellín, Colombia (2016); Royal Academy of Arts, Londres (2016);Centro Georges Pompidou, París (2014); Guggenheim Museum, Nueva York (2014); Muséum national d'Histoire naturelle, París, (2013); Museo de Arte Contemporáneo de Castilla y León, España (2011); Princeton University Art Museum, Estados Unidos (2010); The Power Plant Contemporary Art Gallery, Toronto, Canadá (2010); Aspen Art Museum, Estados Unidos (2010); Museu de Arte Moderna de São Paulo, Brasil (2009); New Museum, Nueva York (2008); Museion – museo d'arte moderna e contemporanea di Bolzano, Italia (2008); Contemporary Arts Center, Cincinnati, Estados Unidos (2007); Smith College Museum of Art, Northampton, Estados Unidos (2007); Mori Art Museum, Tokio (2007); Grand Palais, París (2006); Hamburger Bahnhof – Museum für Gegenwart, Berlín, (2006); entre otros.

También han participado en diversas bienales como: Sharjah Biennial 13, Tamawuj, Emiratos Arabes Unidos (2017); la 56a y 51 a exposiciones internacionales de arte de la Bienal de Venecia (2015 y 2005); 10th y 7th Gwangju Biennale, Corea del Sur (2008 y 2014); 9a y 6a Bienal do Mercosul, Porto Alegre, Brasil (2013 y 2007); 30th Ljubljana Biennial of Graphic Arts, Liubliana, Eslovenia (2013); dOCUMENTA (13), Kassel, Alemania (2012); 12. y 10. İstanbul Bienali, Estambul, Turquía (2011 y 2007); 29 a y 14 a Bienal de São Paulo, Brasil (2010 y 1998); 16th Biennale of Sydney, Australia (2008); 9e Biennale de Lyon, Francia (2007); 1 st y 2 nd Moscow International Biennale of Contemporary Art, Moscú (2005 y 2007); Sharjah Biennial 8, Emiratos Árabes Unidos (2007); Whitney Biennial 2006, Nueva York; 2nd Guangzhou Triennial, Cantón, China (2005); La 6e Biennale de l'Art africain contemporain, DAK'ART, Dakar, Senegal (2004); III Bienal Iberoamericana de Lima, Perú (2002); y 8 Bienal de la Habana, Cuba (2000).
Allora & Calzadilla viven y trabajan en San Juan, Puerto Rico.