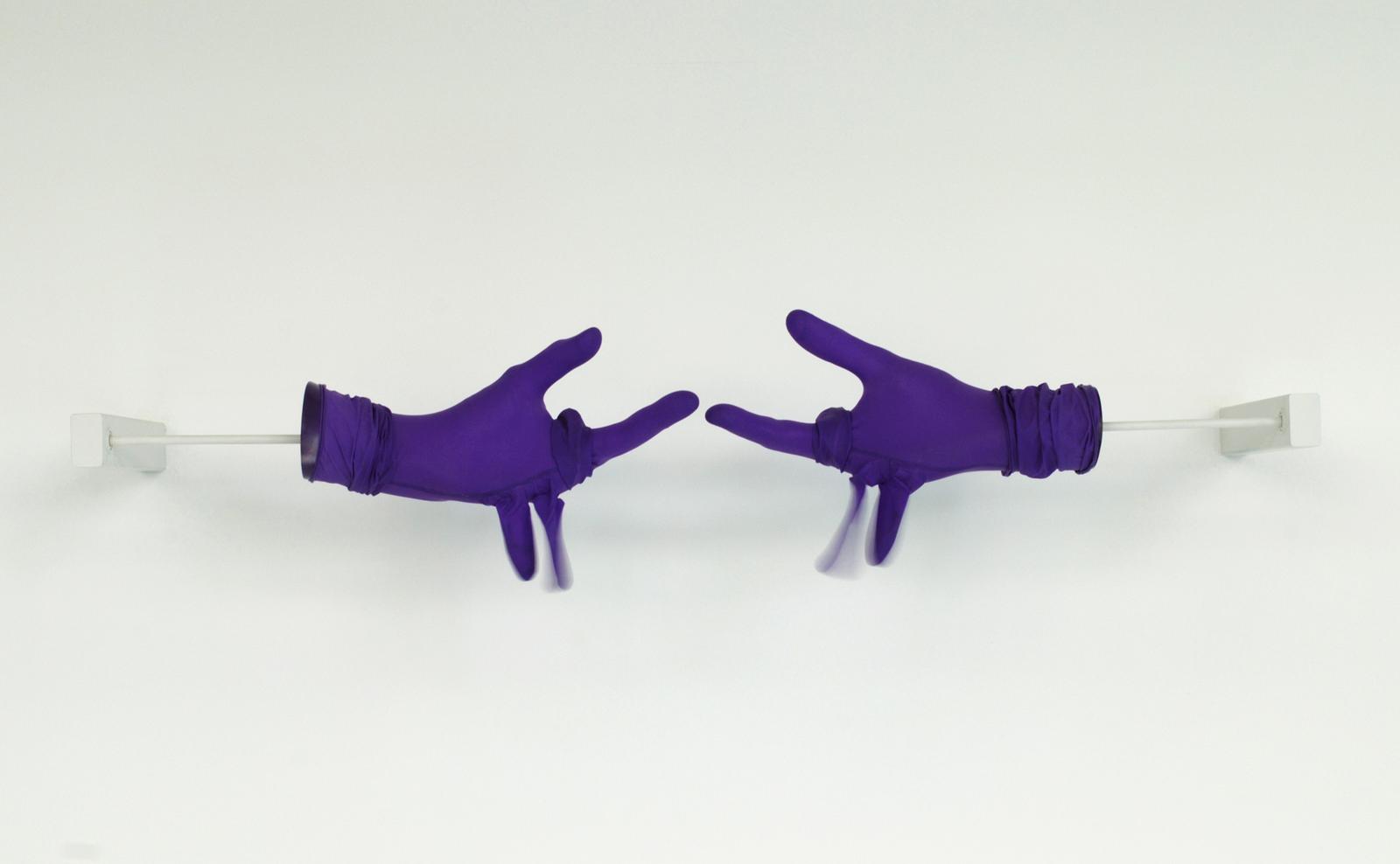 anri sala
* Tirana, Albania, 1974.

Anri Sala emplea imágenes en movimiento y sus bandas sonoras para indagar en las rupturas históricas y las fallas del lenguaje. Por medio de una variedad de soportes – video instalación, escultura, fotografía, performance y pistas de audio– explora la comunicación no verbal a través de narrativas e ideas. Al alejarnos de un entendimiento basado en el lenguaje «lógico» y directo, su obra abre las puertas a múltiples perspectivas e interpretaciones. En contraste con el cine tradicional, su uso distintivo de la narrativa fílmica desafía la supremacía de la imagen y permite que el sonido y la música hablen de la historia y la memoria, uniendo el pasado, presente y futuro del espectador en una sola experiencia fílmica. Hay un «presente continuo» en el trabajo de Sala que sitúa al espectador en un momento específico en vez de proyectarlo hacia la ilusión de lo que ve. Sus videos se presentan en una gran variedad de espacios envolventes que deben experimentarse con todo el cuerpo: ambientes modificados con un cuidadoso diseño de iluminación y sonido que estimulan una experiencia visceral de la arquitectura.
Al crear este estado de consciencia, el artista propone un ejercicio de resistencia civil con implicaciones políticas; su obra nos permite reconsiderar la relación entre nuestro propio tiempo y espacio con la locación y el momento histórico representados en el filme.
Anri Sala estudió en la Universiteti i Arteve (UART), de Tirana en Albania y en la Escuela Nacional Superior de Artes Decorativas; también realizó un posgrado en dirección de cine en Le Fresnoy-Studio national des arts contemporains en Tourcoing, Francia. En 2001 recibió el Young Artist Prize de la 49a Bienal de Venecia; además de recibir otros reconocimientos como el Absolut Art Award 2011 y Prix Gilles-Dusein (2000). Ha sido nominado para el Hugo Boss Prize (2002) y Preis der Nationalgalerie für junge Kunst (2005).
Entre sus exposiciones más importantes se encuentran: Clocked Perspective, Museo Jumex, Ciudad de México (2017); Anri Sala, Museo Tamayo, Ciudad de México (2017); The Last Resort, Kaldor Public Art Projects, Sídney (2017); Anri Sala: Answer Me, New Museum, Nueva York (2016); No Names, No Title, Tel Aviv Museum, Israel (2015); The Present Moment (in D), Haus der Kunst, Múnich, Alemania (2014); Air Cushioned Ride, CAC Centro de Arte Contemporáneo de Málaga, España (2013); Anri Sala, Centre Georges Pompidou, París (2012); Anri Sala, Louisiana Museum of Modern Art, Humlebæk, Dinamarca (2012); Anri Sala, Musée d'art contemporain de Montréal, Canadá (2011); Anri Sala, Serpentine Gallery, Londres (2011); Anri Sala, The National Museum of Art, Osaka, Japón (2011); Creating Space Where There Appears To Be None, About Change Collection, Berlín (2010); Purchase Not by Moonlight, Museum of Contemporary Art North Miami (2009) y Contemporary Arts Center, Cincinnati, Estados Unidos (2008); Dammi i Colori, Daadgalerie, Berlín (2005); Entre chien et loup / When the Night Calls it a Day, Musée d'Art moderne de la Ville de Paris y Deichtorhallen Hamburg, Alemania (2004) entre muchas otras.
Además su obra ha formado parte de exposiciones colectivas como: Faith Love Hope, Kunsthaus Graz, Austria (2018); The Creative Act: Performance, Process, Presence, Guggenheim Abu Dabi, Emiratos Árabes Unidos (2017); Life Itself: on the question of what it essentially is; its materialities, its characteristics, Moderna Museet, Estocolmo (2016); Prophetia, Fundació Joan Miró, Barcelona, España (2015); The Vincent Award 2014, Gemeentemuseum Den Haag, La Haya, Países Bajos (2014); One on One, KW Institute for Contemporary Art, Berlín (2013); Una sexta parte de la Tierra. Ecologías de la Imagen, Museo de Arte Contemporáneo de Castilla y León, España (2012); French Window: Looking at Contemporary Art through the Marcel Duchamp Prize, Mori Art Museum, Tokio (2011); Haunted: Contemporary Photography/ Video/ Performance, Guggenheim Museum, Nueva York (2010); Holbein to Tillmans, Schaulager Münchenstein y Kunstmuseum Basel, Basilea, Suiza (2009); Archive Fever: Uses of the Document in Contemporary Art, International Center of Photography, Nueva York (2008); Entre Fronteiras = Between Borders, MARCO Museo de Arte Contemporánea de Vigo, España (2007); Reprocessing Reality, MoMA PS1, Nueva York (2006), entre muchas otras.
El trabajo de Anri Sala ha sido incluido en las siguientes bienales: exposiciones internacionales de arte, Pabellón albanés y Pabellón francés de las 57a, 50a, 55a y 47a ediciones de la Bienal de Venecia (2017, 2003, 2013 y 1999, respectivamente); Yokohama Triennale 2001 and 2017, Japón; 12 Bienal de la Habana, Cuba (2015); MDE15 Encuentro Internacional de Arte de Medellín, Colombia (2015); The Fifth Auckland Triennial, Nueva Zelanda (2014); 1, 4 y 8 Berlin Biennale (2002, 2006 y 2014, respectivamente); Sharjah Biennial 11, Emiratos Árabes Unidos (2013); 9th Gwangju Biennale, Corea del Sur (2012); Taipei Biennial 2004, Taiwán; 8. İstanbul Bienali, Estambul, Turquía (2003); 29a y 25a Bienal de São Paulo, Brasil (2010 y 2002); Manifesta 3 Liubliana, Eslovenia y Manifesta 4 Fráncfort, Alemania (2000 y 2002).
Anri Sala vive y trabaja en París y Berlín.