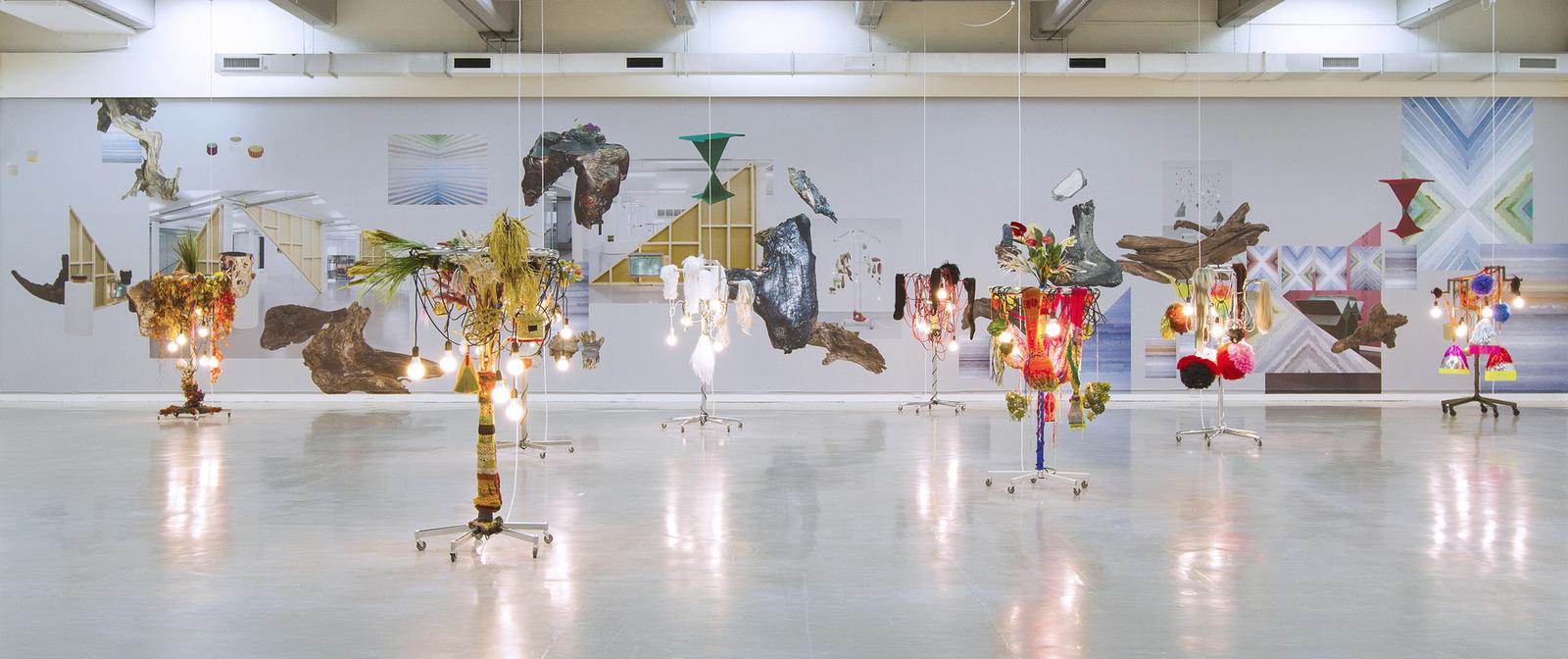 haegue yang
* Seúl, Corea del Sur, 1971
En su trabajo, Haegue Yang busca entablar una comunicación sin lenguaje en una forma primordial y visual. Este vocabulario se complementa con abstracciones visuales y experiencias sensoriales que incluyen olor, sonido, luz y textura. Al combinar la fabricación industrial con la confección tradicional, Yang explora el poder afectivo de los materiales, desestabilizando la distinción entre lo moderno y lo pre-moderno. Su singular lenguaje visual se expande a través de varios medios (de collage en papel a obras de teatro y esculturas performáticas.) y materiales (persianas venecianas, percheros, paja sintética, campanas y papel milimetrado) que Yang rompe, esmalta, teje, ilumina y cuelga. Su curiosidad por explorar diferentes materiales se acompaña por una lectura filosófica, política y emocional de eventos y figuras históricas. Esta investigación se fortalece con referencias subyacentes a la historia del arte, la literatura y la historia política, a través de las que Yang re-interpreta algunos de sus temas de interés: migración, diásporas pos-coloniales, exilio forzado y movilidad social. Como resultado, sus obras enlazan historias y contextos geopolíticos variados en un intento por entender y comentar nuestra época. Esta traducción — de lo político e histórico a lo formal y abstracto — demuestra una convicción de que las narrativas históricas pueden hacerse comprensibles sin ser lingüísticamente explicativas o didácticas.
Entre las exposiciones más importantes de Haegue Yang se encuentran: Haegue Yang. ETA: 1994 -2018, Wolfgang Hahn Prize 2018, Museum Ludwig, Colonia, Alemania; Silo of Silence – Clicked Core, KINDL – Centre for Contemporary Art, Berlín (2017-18); Lingering Nous, Centro Georges Pompidou, París (2016); An Opaque Wind Park in Six Folds, Fundação de Serralves – Museu de Arte Contemporânea, Oporto, Portugal (2016); The Malady of Death: Écrire et Lire (comisionada por M+), Hong Kong, China (2015); Shooting the Elephant 象 Thinking the Elephant, Leeum, Samsung Museum of Art, Seúl, Corea del Sur (2015); Uneven Arrivals, Ullens Center for Contemporary Art (UCCA), Pekín, China (2015); Équivoques (Family of Equivocations), Musée d'Art moderne et contemporain de Strasbourg (MAMCS) y Aubette 1928, Estrasburgo, Francia (2013); Honesty Printed on Modesty, STPI Creative Workshop & Gallery, Singapur (2013); Accommodating the Epic Dispersion, Haus der Kunst, Múnich, Alemania (2012); Arrivals, Kunsthaus Bregenz, Austria (2011); Voice and Wind, New Museum, Nueva York (2010); Symmetric Inequality, Sala Rekalde, Bilbao, España (2008); Asymmetric Equality, REDCAT CalArts' downtown center for contemporary arts, Los Angeles (2008).
Además, su trabajo ha sido incluido en las siguientes bienales: 21st Sydney Biennial, Australia (2018); Liverpool Biennial 2017, Reino Unido (2017); 13e Biennale de Lyon, Francia (2015); Sharjah Biennial 12, Emiratos Árabes Unidos (2015); The 8th Asia Pacific Triennial of Contemporary Art (APT8), Australia (2015); Western China International Biennale (2012); dOCUMENTA (13), Kassel, Alemania (2012); 8th Gwangju Biennale, Corea del Sur (2010); 54a Bienal de Venecia (2009); 3rd Guangzhou Triennial, China (2008); Prague Biennale 3, Praga, República Checa (2007); 5th Gwangju Biennale, Corea del Sur (2004); Busan Biennale 2006, Corea del Sur; Manifesta 4, The European Biennial of Contemporary Art, Fráncfort, Alemania (2004); 4th Gwangju Biennale, Corea del Sur (2002); 1st edition of the T.I.C.A.B – Tirana International Contemporary Art Biannual, Albania (2001).
Haegue Yang vive y trabaja en Berlín.