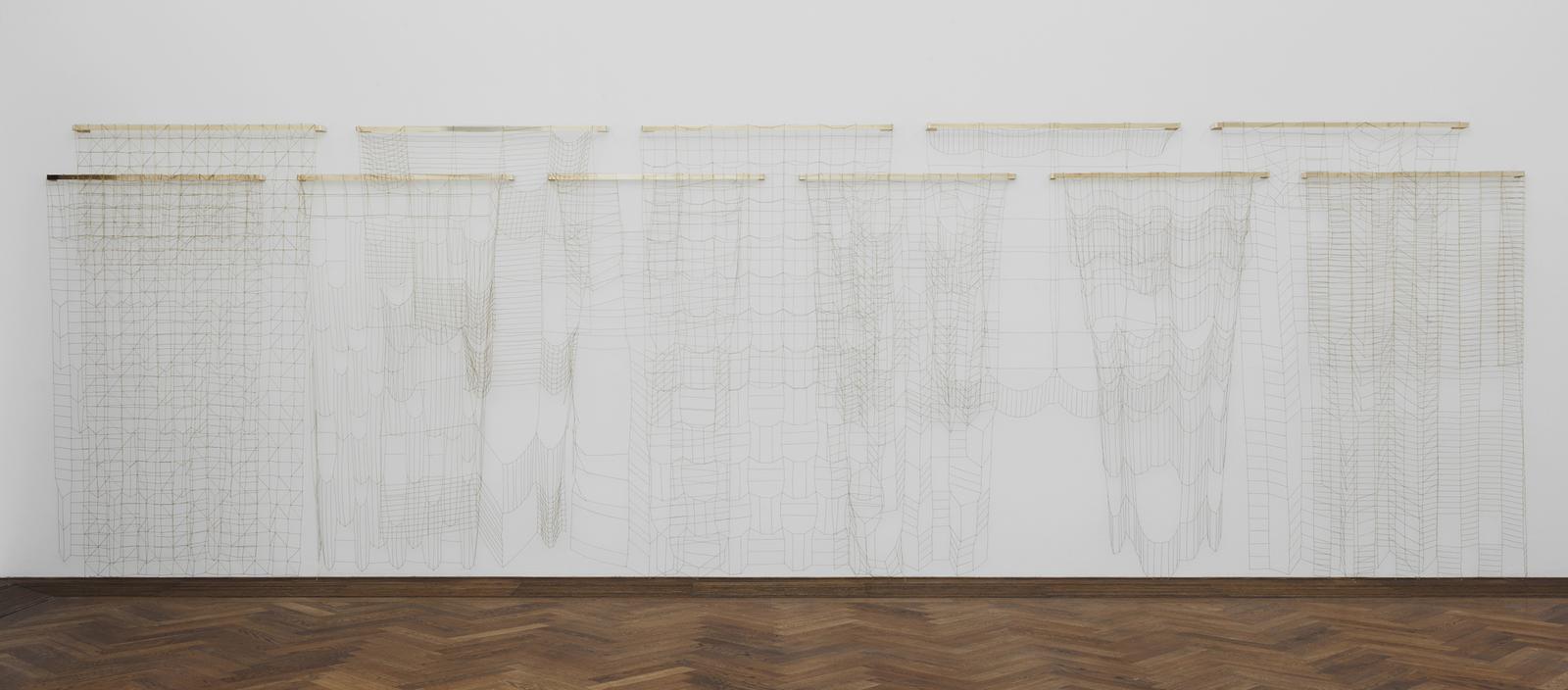 leonor antunes
* 1972, Lisboa
Al entablar una conversación con las historias de la arquitectura, el diseño y el arte del siglo XX, el trabajo de Leonor Antunes reflexiona sobre las funciones de los objetos cotidianos, y contempla el potencial que tienen las formas modernistas para ser materializadas como esculturas. Re-interpreta objetos de diseño, obras de arte y detalles arquitectónicos, traduciéndolos a diferentes materiales como cuerda, madera, piel, caucho y latón. La artista manipula sus fuentes sin citarlas directamente o ceder ante la nostalgia; descontextualiza formas y propone un espacio para reconsiderarlas de nuevo. Antunes trabaja con tradiciones vernáculas de la artesanía de lugares como América del Sur, México y Portugal para comprender la construcción de los principios detrás de diseños racionales, así como el proceso de abstracción de la realidad al reducirla a geometría. La cuadrícula, presente en la mayor parte de su obra, los objetos y las construcciones que representa, se encuentra transformada en una red de latón, cuerdas entretejidas y anudadas, tiras de piel y bandas de hilos de algodón tejidas a mano en telares. Su principal fuente de inspiración es la práctica artística femenina — no solo por sus radicales posturas sociales y políticas, sino por su aspiración a mejorar la vida cotidiana a través del arte y el diseño.
Entre sus exposiciones más importantes se encuentran: New Work: Leonor Antunes, San Francisco Museum of Modern Art (SFMoMA), San Francisco, Estados Unidos (2016); the pliable plane, CAPC Musée d'Árt Contemporain de Bordeaux, Bordeaux, Francia (2015); Leonor Antunes: I Stand Like A Mirror Before You, New Museum, Nueva York, Estados Unidos (2015); the last days in chimalistac, Kunsthalle Basel, Basel, Suiza (2013); RAUMPLAN, Gallery Luisa Strina, São Paulo, Brasil (2013); villa, how to use, Museu de Serralves, Porto, Portugal (2011); discrepancies with M.G., Museo El Eco, Ciudad de México, México (2011); the space of the window, Air de Paris, París, Francia (2007); your private sky, Gallery Isabella Bortolozzi, Berlín, Alemania.
Además, su trabajo ha sido incluido en bienales como: Sharjah Biennial 12, Sharjah, Emiratos Árabes Unidos (2015); Triennale Kleinplastik Fellbach 2013, Fellbach, Alemania; 8th Berlin Biennale for Contemporary Art, Berlín, Alemania (2014); 3rd Singapore Biennale, Singapur (2011); Bienal de Maia, Maia, Portugal (1999).
Leonor Antunes vive y trabaja en Berlín, Alemania,