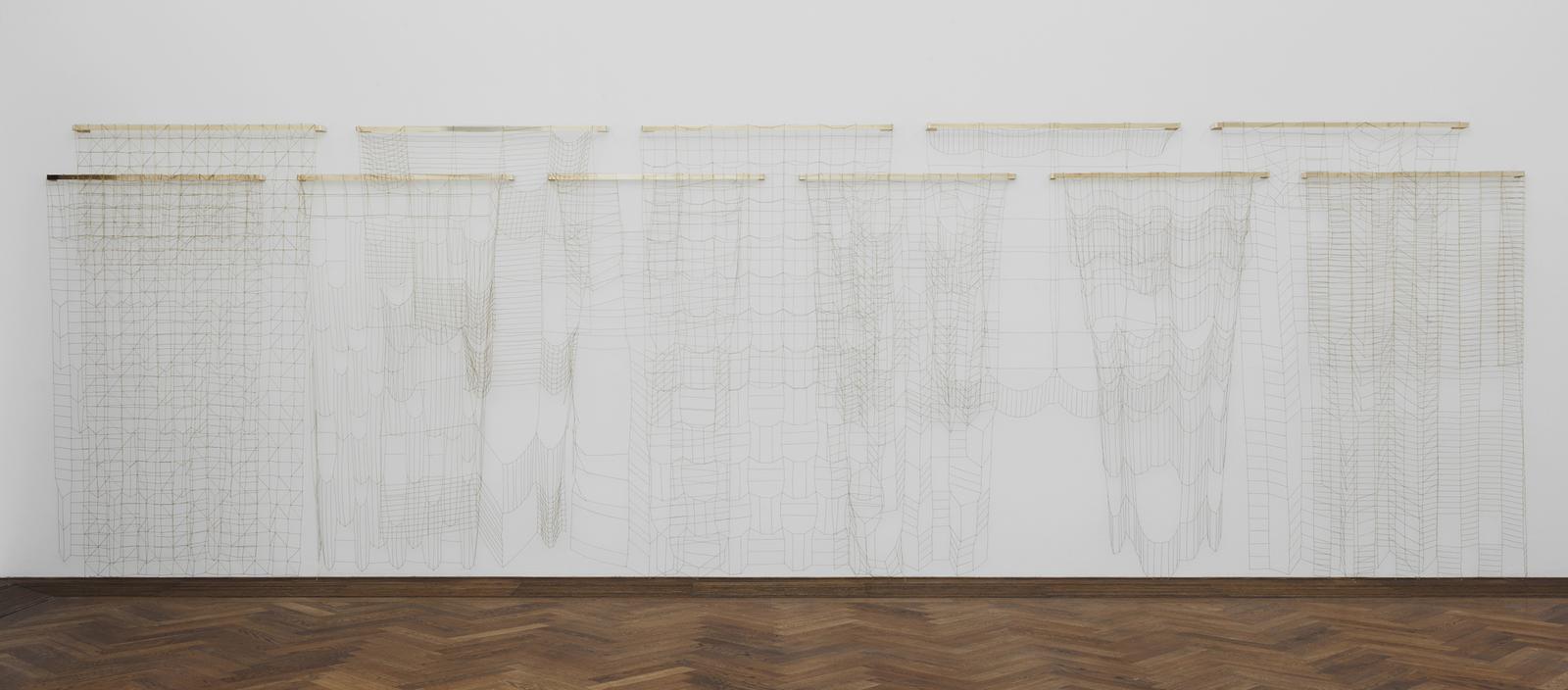 leonor antunes
* Lisboa, 1972
Al entablar una conversación con la historia de la arquitectura, el diseño y el arte del siglo XX, Leonor Antunes reflexiona sobre la función de los objetos cotidianos y el potencial de las formas modernistas para ser transformadas en esculturas. La artista re-interpreta objetos de diseño, obras de arte y detalles arquitectónicos, al traducirlos por medio de materiales como cuerda, madera, piel, caucho y latón. La artista manipula sus fuentes sin citarlas directamente ni ceder a la nostalgia; descontextualiza formas y propone un espacio para reconsiderarlas. Al trabajar con tradiciones vernáculas de la artesanía de Sudamérica, México y Portugal, Antunes analiza la construcción de los principios detrás del diseño racional y el proceso mediante el cual la realidad es reducida a una abstracción geométrica. El diseño reticular, presente en la mayor parte de obras de arte, objetos y construcciones a las que su trabajo hace referencia, es transformada en redes de latón, cuerdas entretejidas y anudadas, correas de cuero y telares de algodón hilado a mano. Antunes se inspira de la práctica artística femenina: de sus radicales posturas sociales y políticas y de su mejora práctica de la vida cotidiana a través del arte y el diseño.
Entre sus exposiciones individuales más importantes se encuentran: Leonor Antunes, Pirelli HangarBicocca, Milán, Italia (2018); the frisson of the togetherness, Whitechapel Gallery, Londres (2017); Discrepancies with G.G. Tensta konsthall, Estocolmo (2017); a spiral staircase leads down the garden, SFMOMA San Francisco Museum of Modern Art, Estados Unidos (2016); the pliable plane, CAPC musée d'art contemporain de Bordeaux, Burdeos, Francia (2015); I Stand Like a Mirror Before You, New Museum, Nueva York y KIOSK, Gante, Bélgica (2015); Leonor Antunes, Pérez Art Museum Miami, Estados Unidos (2014); a linha é tão fina que o olho apesar de armado com uma lupa, imagina-a ao invés de vê-la II, Kunsthalle Lissabon, Lisboa (2013); the last days in chimalistac, Kunsthalle Basel, Basilea, Suiza (2013); le hasard est l'ennemi de tous les mètres, Maus Hábitos, Oporto, Portugal (2012); villa, how to use, Kunstverein für die Rheinlande und Westfalen, Düsseldorf, Alemania (2012); casa, modo de usar, Fundação de Serralves – Museu de Arte Contemporânea, Oporto, Portugal (2011); discrepancies with M.G., Museo Experimental El Eco, Ciudad de México (2011); camina por ahí. mira por aquí, Museo Nacional Centro de Arte Reina Sofía, Madrid (2011), entre otras.
En años recientes, su obra ha sido incluida en exposiciones colectivas como: Cuevas Civilizadas, Ladera Oeste, Guadalajara, México (2017); Condemned to be Modern, Los Angeles Municipal Art Gallery (LAMAG) (2017); Potência e Adversidade – Arte da América Latina nas Coleções em Portugal, Galerias Municipais de Lisboa: Pavilhão Branco, Pavilhão Preto, Lisboa (2017); Ficciones y territorios: Arte para pensar la nueva razón del mundo, Museo Nacional Centro de Arte Reina Sofía, Madrid (2016); Conversas: arte portuguesa recente na coleção de Serralves, Fundação de Serralves – Museu de Arte Contemporânea, Oporto, Portugal (2016); Function Follows Vision, Vision Follow Reality, Kunsthalle Wien, Viena (2015); Slip of the Tongue, Punta della Dogana, Venecia (2015); Beyond the Supersquare, The Bronx Museum of the Arts, Nueva York (2014); Ökonomie der Aufmerksamkeit, Kunsthalle Wien, Viena (2014); Decorum, Musée d'Art moderne de la Ville de Paris (2013); Phoenix vs Babel, Fondation d'entreprise Ricard, París (2008); Acquisitions récentes, Musée d'Art moderne de la Ville de Paris (2007); entre otras.
Leonor Antunes ha participado en las siguientes bienales: 57a exposición internacional de arte de la Bienal de Venecia (2017); Sharjah Biennial 12, Emiratos Árabes Unidos (2015); 8. Berlin Biennale (2014); 12. Triennale Kleinplastik Fellbach, Alemania (2013); SB2011 Singapore Biennale, Singapur (2011); 1.a y 3.a ªBienal de Arte Contemporânea da Maia, Portugal (1999 y 2003).
Leonor Antunes vive y trabaja en Berlín.