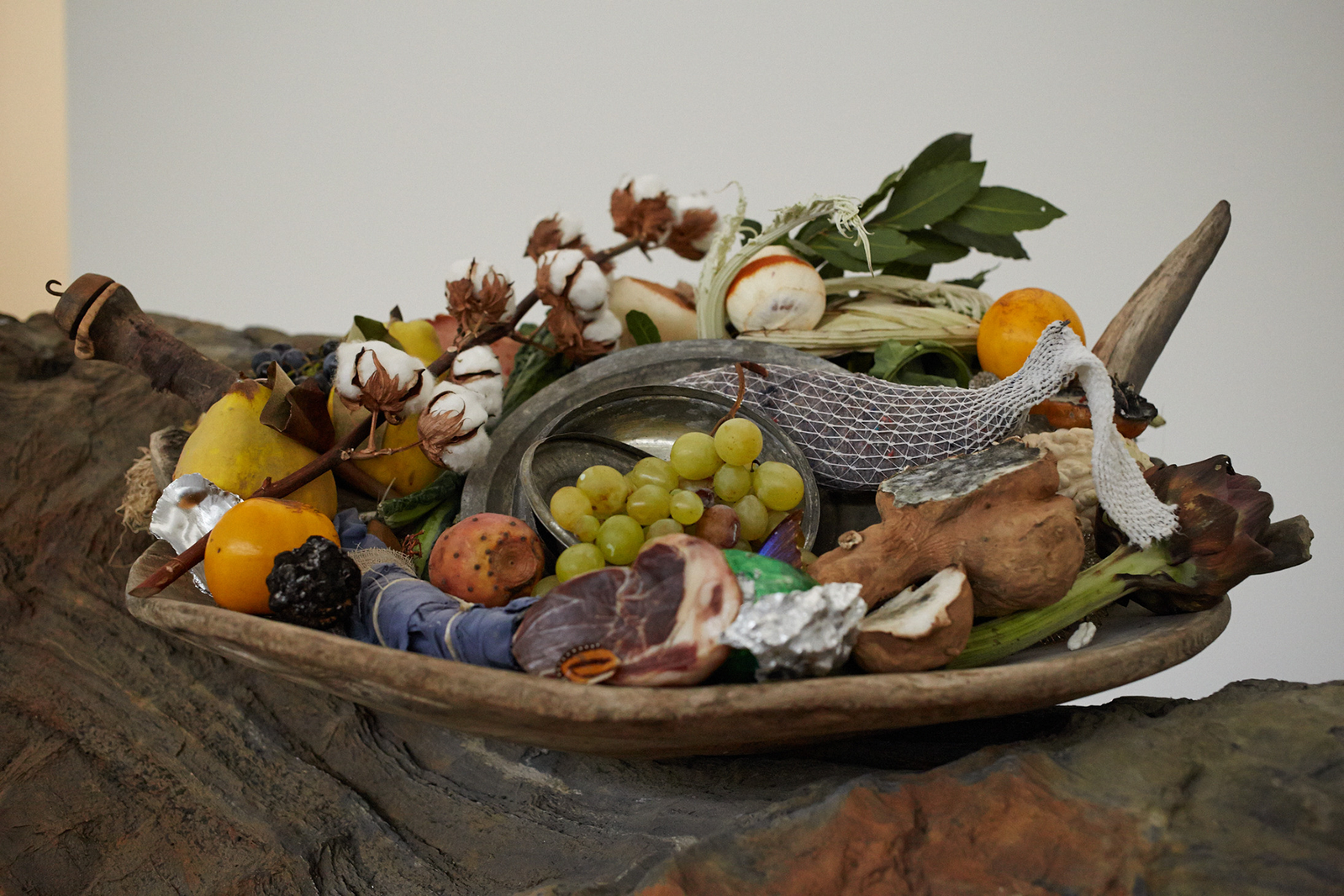 adrián villar rojas
* 1980, Rosario, Argentina.

Adrián Villar Rojas has built his practice across numerous media to create immersive environments and experiences that seem to be in a state of perpetual space-time travel. Evolving over the years towards the design of topography-based, mutant, organic-inorganic systems, he invites viewers to explore an unpredictable microcosmos of his own creation. There, the future, the past, and alternate versions of our own present interact as a constantly changing totality. By way of this world-building, Villar Rojas posits the question: what if we could see and think of ourselves—humanity—from an alien perspective? That is, from a detached, unprejudiced, even amoral perspective? What if we could see and think of ourselves from the edge of our own completed path?

He is the recipient of numerous awards, including the Sharjah Biennial Prize, awarded by the Sharjah Art Foundation (2015); the Zurich Art Prize at the Museum Haus Konstruktiv (2013); the ninth Benesse Prize at the 54th Venice Biennale (2011); the Nuevo Banco de Santa Fe Scholarship for Young Artists (2006); and first prize at the Bahía Blanca Biennial, held at the Contemporary Art Museum of Bahía Blanca, Argentina (2005).

Solo exhibitions include The Theater of Disappearance, the Geffen Contemporary at MOCA, Los Angeles (2017); NEON Foundation at Athens National Observatory, Athens (2017); Kunsthaus Bregenz, Bregenz (2017), the Metropolitan Museum of Art, New York (2017); Rinascimento, Fondazione Sandretto Re Rebaudengo, Turin (2015); Two Suns, Marian Goodman Gallery, New York (2015); Fantasma, Moderna Museet, Stockholm (2015); The Evolution of God, High Line at the Rail Yards, New York (2014); Los teatros de Saturno, kurimanzutto, Mexico City (2014); Films Before Revolution, Museum Haus Konstruktiv, Zurich (2013); Today We Reboot the Planet, Serpentine Galleries, London (2013); The Work of the Ocean, Foundation 11 Lijnen, Belgium (2013); Before My Birth, Arts Brookfield with the New Museum, World Financial Center Plaza, New York (2012); and Poems for Earthlings, SAM ART Projects, the Louvre Museum, Paris (2011). Villar Rojas also represented Argentina in the 54th Venice Biennale, ILLUMInations, Italy (2011).

He has participated in international group exhibitions including the 12th Gwangju Biennale, Gwangju (2018); the Riga International Biennial of Contemporary Art (RIBOCA I), Riga (2018); the 14th Istanbul Biennial, Istanbul (2015); the 12th Havana Biennial, Havana (2015); Sharjah Biennial 12, Kalba (2015); the ninth Shanghai Biennale, Shanghai (2012); dOCUMENTA (13), Kassel and Kabul (2012); and the New Museum Triennial, New York (2012).

His 2013 film Lo que el fuego me trajo (32', produced by Rei Cine) screened at the 2013 Locarno International Film Festival. His 2017 film trilogy The Theater of Disappearance, (1h58'37", produced by Rei Cine) screened at the 67th Berlin International Film Festival (2017).

Adrián Villar Rojas lives and works nomadically.