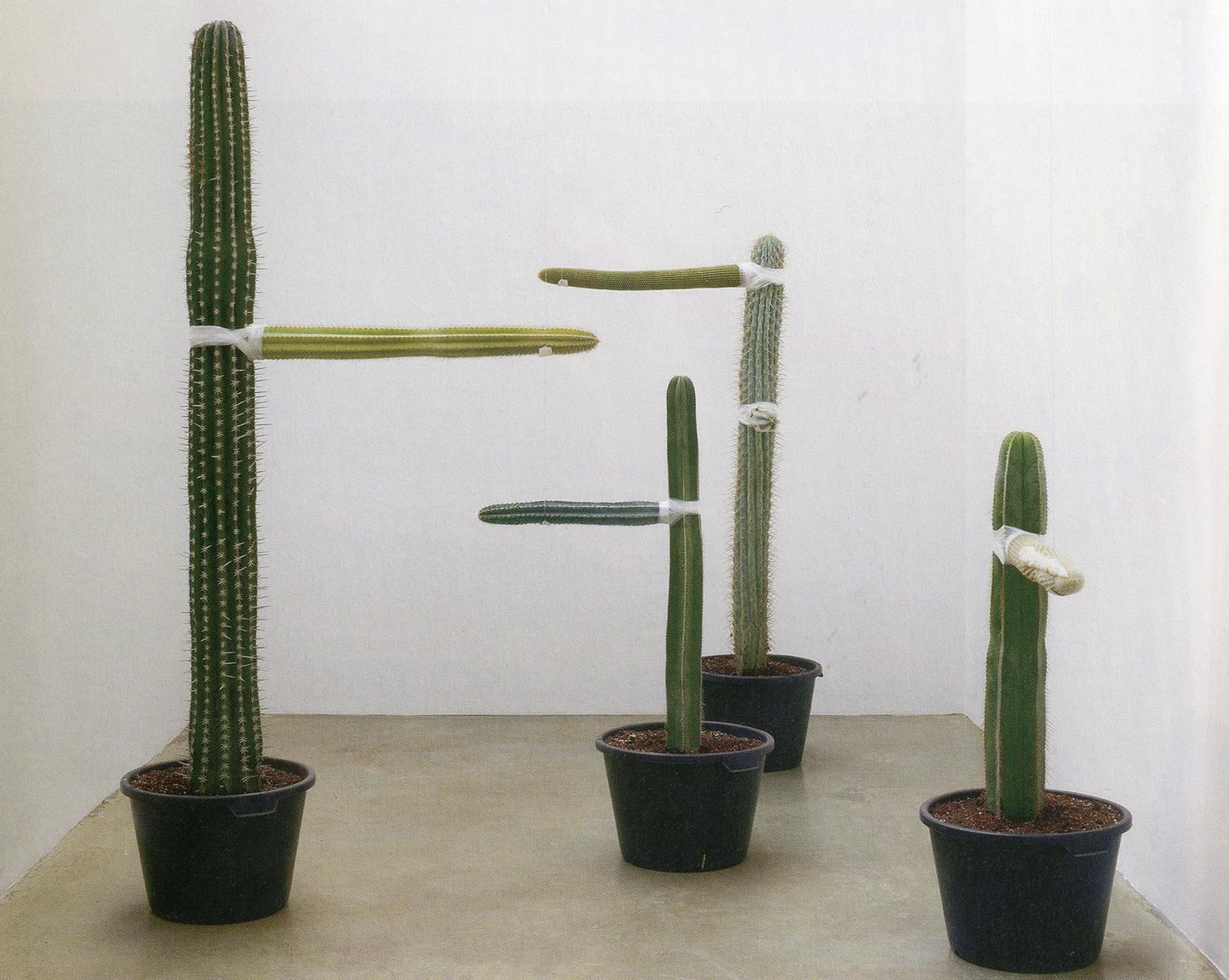 allora & calzadilla
* allora b. 1974, United States and calzadilla b. 1971, Cuba
During the past twenty years, Jennifer Allora and Guillermo Calzadilla have developed an expansive and experimental body of work. They use sculpture, live performance, video, sound, and photography in varying combinations to evoke contemporary geopolitics, cultural artifacts, and the deep time of archaeological history. In so doing, they interrogate the structural and narrative conventions of storytelling and explore the potential of language and materiality to give meaning to their artistic research. Allora & Calzadilla have studied the ephemeral nature of collective drawing with monumental sticks of chalk at the Biennial de Lima, Peru (Chalk [Lima], 1998–2002); the imprints of colonial, nationalist, and military violence on the diverse populations and landscapes of Vieques, Puerto Rico (Landmark, 2001–2002); and the resonance of playing, warping, and combining music from various moments in history (Clamor, 2006, Stop, Repair, Prepare: Variations on Ode to Joy for a Prepared Piano, 2008 and Raptor's Rapture, 2012.) Their work challenges viewers to build meaning through interpretation by reading the work as literal, metaphorical, evidential, and political, but also to take part in the work as an experiential event that heightens one's aesthetic sensibility.
Jennifer Allora received a BA from the University of Richmond in Virginia (1996) and an MS from the Massachusetts Institute of Technology (2003); Guillermo Calzadilla received a BFA from Escuela de Artes Plásticas, San Juan, Puerto Rico (1996) and an MFA from Bard College (2001). Collaborating since 1995, Allora & Calzadilla were finalists for the Hugo Boss Prize (2006) and the Nam June Paik Award (2006). They are the recipients of other prizes, including: the Gwangju Biennial Prize (2004); Penny McCall Foundation Grant (2003); Joan Mitchell Foundation Grant (2002) and the Cintas Fellowship (2002-2001).
Their most important exhibitions include: Puerto Rican Light (Cueva Vientos), a DIA Art Foundation Commission in Guayanilla/Penuelas Puerto Rico (2015); Intervals, Philadelphia Museum of Art and the Fabric Workshop and Museum, Philadelphia, United States (2014); Fault Lines, Fondazione Nicola Trussardi at Palazzo Cusani Milan, Italy (2013); Gloria, US Pavilion, 54th Venice Biennial, Venice, Italy (2011); Performance 9: Allora & Calzadilla, MoMA, New York (2010); Allora & Calzadilla, The National Museum of Art, Architecture and Design, Oslo, Norway (2009) Stop, Repair, Prepare: Variations on Ode to Joy for a Prepared Piano, Haus der Kunst München, Munich, Germany (2008); Never Mind that Noise you Heard, Stedelijk Museum Amsterdam, The Netherlands (2008); Clamor, Serpentine Gallery, London, United Kingdom (2007); Allora & Calzadilla, Kunsthalle Zürich, Zürich, Switzerland (2007); Wake Up, The Renaissance Society at The University of Chicago, Chicago, United States (2017); Jennifer Allora & Guillermo Calzadilla, Stedelijk Museum voor Actuele Kunst SMAK, Ghent, Belgium (2006), and Land Mark, Palais de Tokyo, Paris, France (2006).
Moreover, their work has been included in group exhibitions at institutions such as: Centre Pompidou, Paris, France (2014); Solomon R. Guggenheim Museum, New York, United States (2014); Muséum national d'Histoire naturelle, Paris, France (2013); Museo de Arte Contemporáneo de Castilla y León MUSAC, León, Spain (2011); Princeton University Art Museum, Princeton, United States (2010); Power Plant, Toronto, Canada (2010); Aspen Art Museum, Aspen, United States (2010); Museu de Arte Moderna de São Paulo, Brazil (2009); The New Museum, New York, United States, Museo d'arte moderna e Contemporaneo MUSEION, Bolzano, Italy (2008); Cincinnati Contemporary Arts Center, Cincinnati, United States; Smith College, Northampton, United States (2007); Mori Art Museum, Tokyo, Japan (2007); Grand Palais, Paris, France (2006), Hamburger Bahnhof Museum, Berlin, Germany (2006), among others.
They have also participated in various biennials, such as: the 56th & 51st Biennale di Venezia International Art Exhibition, Venice, Italy (2015-2005); the 10th and 7th Gwangju Biennale, Gwangju, South Korea (2014-2008), the 9th and 6th Mercosul Biennial, Porto Alegre, Brazil (2013 and 2007); the 30th Ljubljana Biennial of Graphic Arts, Ljubljana Slovenia (2013); dOCUMENTA (13), Kassel, Germany (2012), the 12th and 10th Istanbul Biennial, Istanbul, Turkey (2011 and 2007); the 29th and 14th Bienal de São Paulo, São Paulo, Brazil (2010 -1998); 16th Biennale of Sydney, Sydney, Australia (2008); the 9th Biennale de Lyon, Lyon, France (2007); the 1st and 2nd Moscow Biennale of Contemporary Art, Moscow, Russia (2005- 2007); the 8th Sharjah Biennial, Sharjah, United Arab Emirates (2007), the 2006 Whitney Biennial, Whitney Museum, New York, United States (2006); the 2nd Guangzhou Triennial, Guangdong Museum of Art, Guangzhou, China (2005); the 6th Dakar Biennial, Dakar, Senegal (2004); the III Bienal Iberoamericana, Lima, Peru (2002), and the VII Bienal de la Habana, Havana, Cuba (2000).
Allora and Calzadilla currently live and work in San Juan, Puerto Rico.