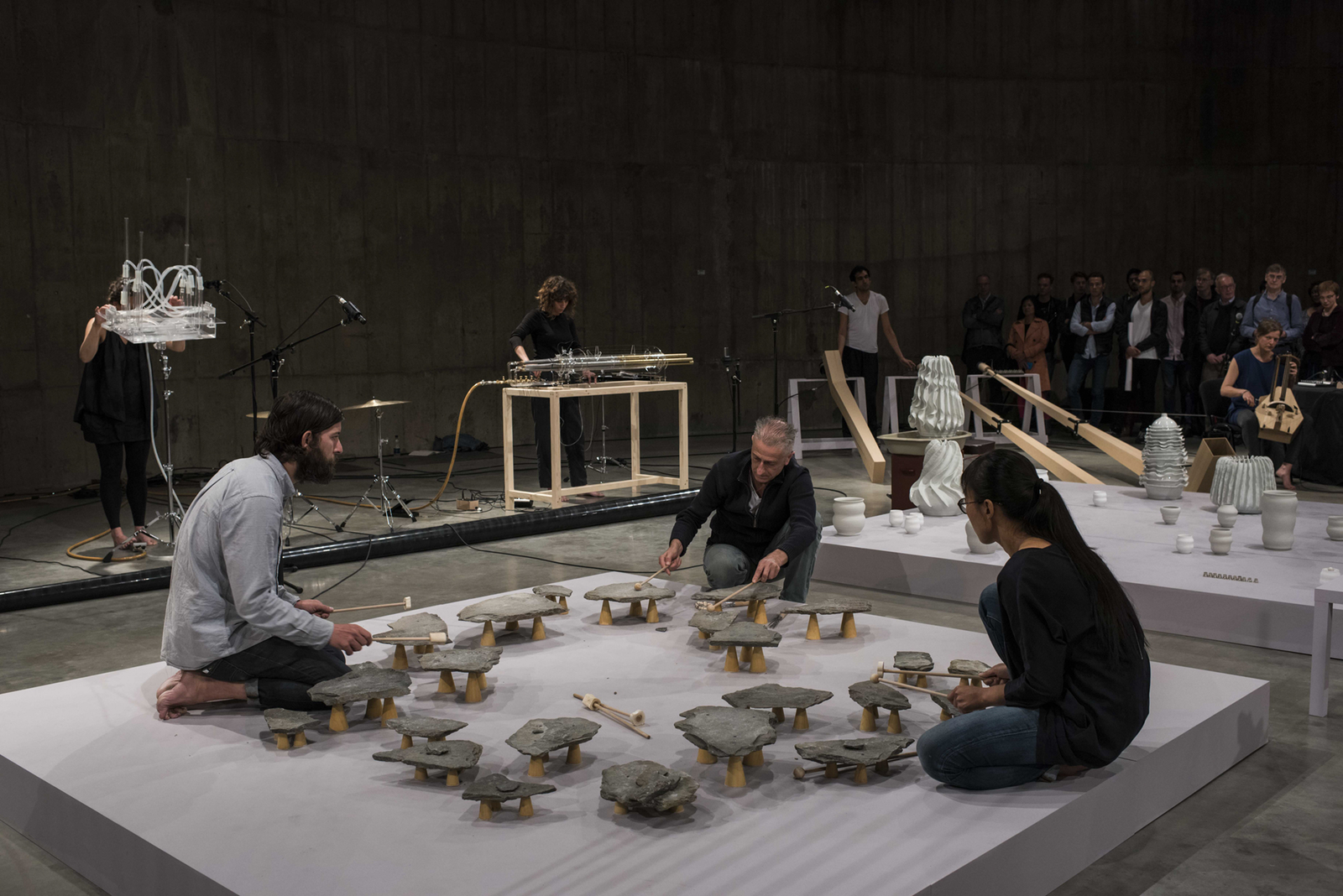 tarek atoui
* 1980, Beirut, Líbano

Tarek Atoui es un artista y compositor electro-acústico que trabaja dentro del campo del performance sonoro. Con frecuencia su trabajo se desarrolla a partir de una extensa investigación acerca de la historia de la música y la instrumentación, que desemboca en performances colaborativos en los que explora nuevos modos de producción. Al centro de su obra se encuentra una constante reflexión acerca del instrumento y la naturaleza compleja, abierta y dinámica de la interpretación en vivo.

El uso que Atoui hace del sonido desafía y expande nuestras maneras habituales de entender y experimentar este medio. Su proyecto WITHIN, por ejemplo, parte de la Cultura Sorda para encontrar nuevas formas de construir instrumentos, así como de componer y de ejecutar. En The Reverse Collection se tocan y se graban instrumentos de antigüedad y origen desconocidos en un museo de antropología para luego, a partir de la sola escucha de las grabaciones, crear una nueva colección de instrumentos.
Tarek Atoui ha presentado su trabajo a nivel internacional en las bienales 9 y 11 de Sharjah, Emiratos Árabes Unidos (2009 y 2013, respectivamente); New Museum of Contemporary Art, Nueva York (2010); SeMA Beinnale Mediacity Seoul, Corea del Sur (2010); Haus Der Kunst, Múnich (2010); Performa 11, Nueva York (2011); dOCUMENTA, Kassel, Alemania (2012); Serpentine Gallery, Londres (2012); Berlin Biennale (2014); NTU Centre for Contemporary Art Singapore, Singapur (2018) y Garage Museum of Contemporary Art, Moscú (2018); la 58a Bienal de Venecia (2019); Yorkshire Sculpture International, Wakefield (2019); y el Guggenheim Museum, Nueva York (2019), entre otros.
The Reverse Collection, uno de sus proyectos principales, lo presentó en la Tate Modern en Londres, y fue nombrado codirector artístico de la 2016 Bergen Assembly, una trienal de arte contemporáneo en Noruega.
Tarek Atoui actualmente vive y trabaja en París.