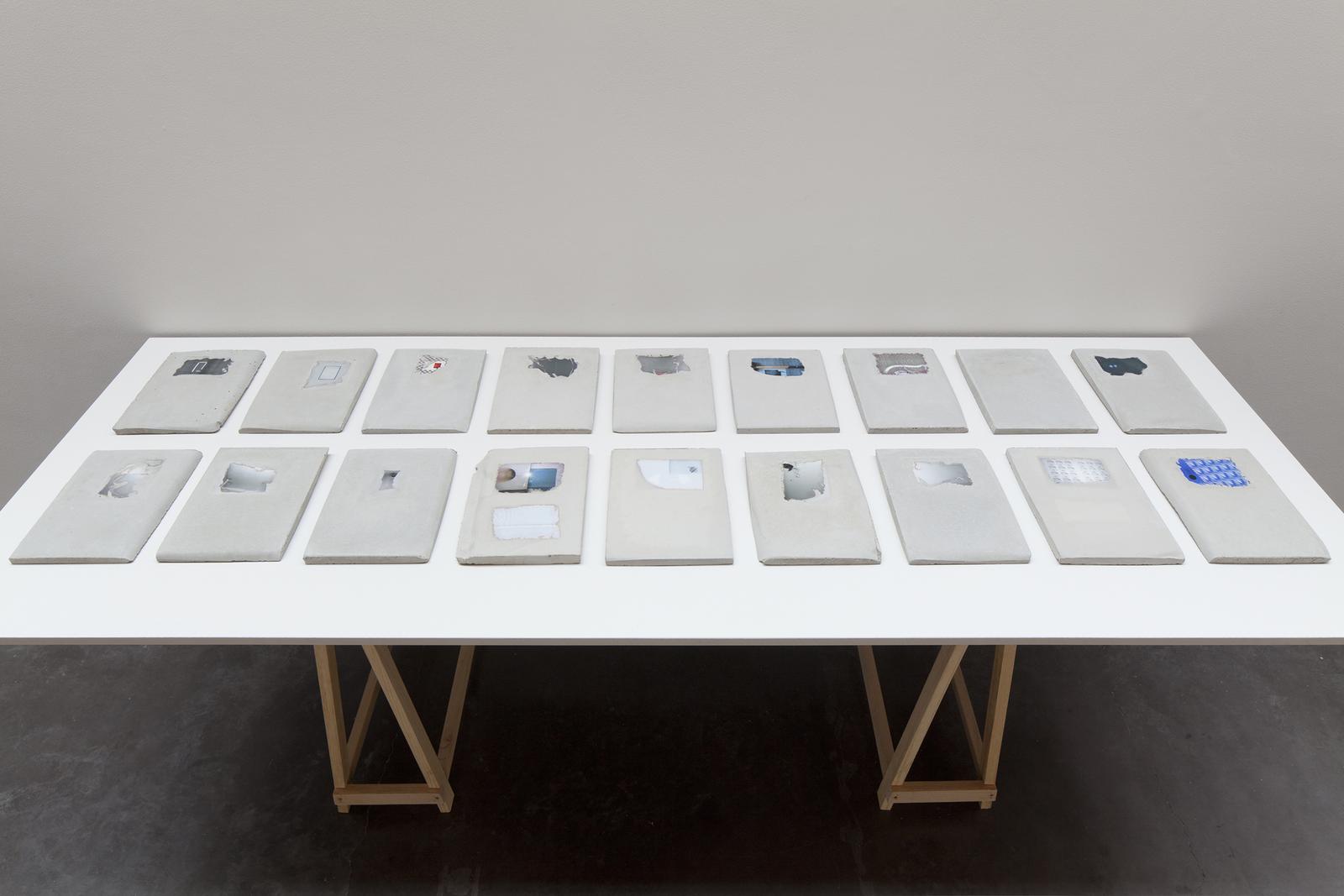 marieta chirulescu
* 1974, Sibiu, Romania
Marieta Chirulescu's work is the result of an ongoing preoccupation with the aesthetic and conceptual contingencies of painting. The abstractions for which she is best known reference the formalism of Color Field painting, superimposed with the array of digital printing methods available to the public today. Drawing from an extensive archive of imagery, Chirulescu uses scans, screen shots and the technical irregularities that occur throughout digital processes to alter personal photographs as well as those taken by her father during the Romanian dictatorship. Through a rigorous process of technological reproduction and manipulation, she breaks down and erases images leaving only sediments and traces of the originals. Although Chirulescu eliminates most of the identifiable referents within her compositions, her pieces retain the rectilinear frame that conditions our way of seeing and understanding the world: a grid present in our daily life through windows, mirrors, houses or books, that inevitably ends up on the canvas. The subjects of her work are not the protagonists of the real world, but rather the afterimages and echoes of the "mechanical unconscious" of scanners and photocopy machines. Chirulescu sorts and rearranges scraps of visual information to produce images that disrupt, question and speculate on the character and function intrinsic to painting, while displaying their own production process.
Marieta Chirulescu studied at the Hungarian University of Fine Arts and the Akademie der Bildenden Künste in Nuremberg. She has been an artist in residency at the Villa Massimo at the Deutsche Akademie in Rome (2015), the Lenikus Collection (2012), and the Künstlerprogramm en Deutscher Akademischer Austauschdienst (DAAD) Bucarest (2006). In 2008 she was the recipient of the Stiftung Kunstfonds grant in Bonn.
Her most important exhibitions include: Marieta Chirulescu, Foksal Gallery, Warsow (2019); Marieta Chirulescu, Micky Shubert, Berlin (2017); CYTWOMBLY CYFONTI, Galleria Fonti, Naples, Italy (2016); Pale Fire, kurimanzutto, Mexico City (2016); Marieta Chirulescu, Kunsthalle LingenGermany (2014); Marieta Chirulescu, Kunstverein Nürnberg, Germany (2011); Marieta Chirulescu, Kunsthalle Basel, Switzerland (2010); Marieta Chirulescu, Temporäre Kunsthalle Berlin (2009).
Her work has also been included in group exhibitions at institutions such as The Modern Institute, Glasgow (2017); Villa Medici, Rome (2016); Vienna Biennale 2015; Kunsthalle Wien, Vienna (2014); Museum Folkwang, Essen, Germany (2013); Museum Boijmans Van Beuningen, Rotterdam, the Netherlands (2012); CEEAC Centre Européen d'Actions Artistiques Contemporaines, Strasbourg, France; 2009 Kunstverein Nürnberg, Germany (2005), among others.
Marieta Chirulescu currently lives and works in Berlin.