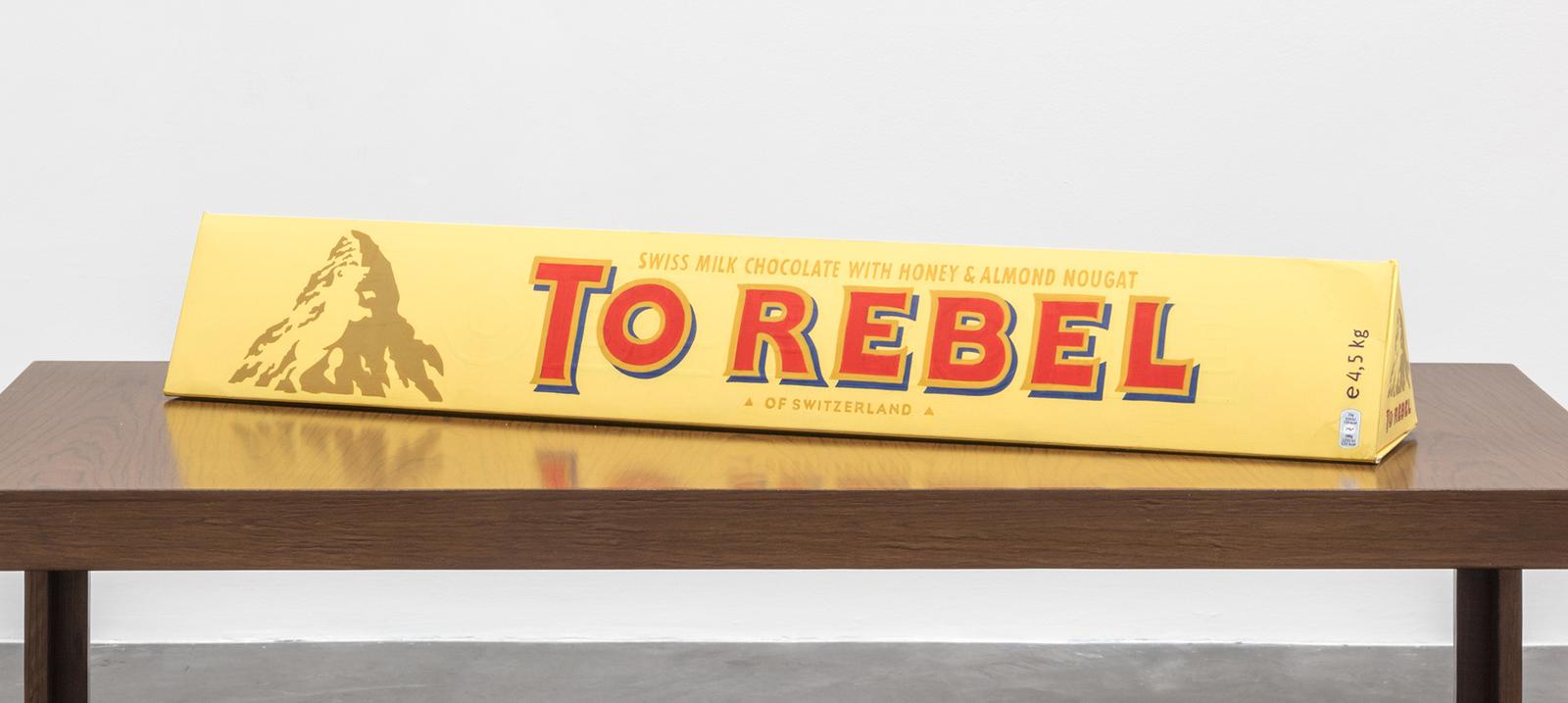 minerva cuevas
*1975, Ciudad de México
Through the intervention of images and objects of daily consumption, Minerva Cuevas invites us to rethink the role corporations play in food production and the management of natural resources. Employing irony and humor, her work seeks to provoke reflection about the impact that local actions can have on the enforcement of fair labor practices and the redistribution of monetary flow. Cuevas' practice encompasses a wide range of media, including painting, video, sculpture, photography and installation, through which she investigates the politics and power structures that underlie specific social and economic ties. Her interdisciplinary projects combine aspects of anthropology, product design and economics to explore different ways of intervening urban spaces, museums and galleries. Whilst appropriating the language of the establishment (branding, advertisement and commerce) the artist delivers a message of non-compliance and resistance. A relentless critic of reality, Cuevas discovers her source material through analyzing the notions of value, exchange and ownership that rule a capitalist economy - as well as their consequences. Her work serves as a tool to discuss the condition of the individual under a capitalist regime: constant abuse, dispossession and estrangement from ancestral and cultural identity, but also the latent possibility of revolt implicit in the everyday.
Minerva Cuevas studied BA in Visual Arts at Escuela Nacional de Artes Plásticas in Mexico City. In 2004, she was recipient of the Grant for Media Art of the Foundation of Lower Saxony at the Edith-Russ-Haus. She was artist in residence at the Berliner Künstlerprogramm en Deutscher Akademischer Austauschdienst (DAAD) in 2003 and Banff Centre for Arts and Creativity, in 1998.
Recent selected solo exhibitions include: No Room To Play, DAAD Galerie, Berlin; Disidencia, The Mishkin Gallery, New York (2019); Dissidência (vídeos), Galpao VB, Sao Paulo, Brazil (2018); Minerva Cuevas, DMA Dallas Museum of Art, United States (2017); Minerva Cuevas, Museo de la Ciudad de México, Mexico City (2012); Landings, Cornerhouse, Manchester, United Kingdom (2011); SCOOP, Whitechapel Gallery, London (2010); Minerva Cuevas, Van Abbemuseum, Eindhoven, The Netherlands (2008); Phenomena, Kunsthalle Basel, Switzerland (2007); On Society, MC Kunst, Los Angeles (2007); Egalité 2007, Le Grand Café - centre d'art contemporain, Saint-Nazaire, France (2007); Schwarzfahrer Are My Heroes, Daadgalerie, Berlin (2004); Mejor Vida Corp, Museo Tamayo, Mexico City (2000).
Cuevas has exhibited in numerous international group shows, such as: Soft Power, San Francisco Museum of Modern Art (SFMoMA), New York (2019); Down and to the Left: Reflections on Mexico in the NAFTA Era, Armory Center for the Arts, Pasadena, United States (2017); We call it Ludwig. The Museum is Turning 40! Museum Ludwig, Cologne, Germany (2017); Unsettled, The Nevada Museum of Art, Reno, United States (2017); Under the Same Sun: Art from Latin America Today, South London Gallery, (2016); Bajo un mismo Sol: Arte de America Latina hoy, Museo Jumex, Mexico City (2015); United States of Latin America, MOCAD Museum of Contemporary Art Detroit, United States (2015); Food: dal cucchiaio al mondo, MAXXI Museo nazionale delle arti del XXI secolo, Rome (2015); Sportsmanship under surveillance, LACAP - Latin American-Canadian Art Projects, Toronto, Canada (2015); Testigo del siglo, MAZ - Museo de Arte de Zapopan, Mexico (2014); Unsettled Landscapes, SITE Santa Fe, United States (2014); In/Humano, MARCO - Museo de Arte Contemporáneo de Monterrey, Mexico (2014); Under the Same Sun: Art from Latin America Today, Guggenheim Museum, New York (2014); Utopian Days, Total Museum of Contemporary Art, Seoul, South Korea (2014); Resisting the Present, Museo Amparo, Puebla, Mexico (2011) and Musée d'Art moderne de la Ville de Paris (2012); Elles, Centre Georges Pompidou, Paris (2010); Populism, Stedelijk Museum Amsterdam (2005); Hardcore, Palais de Tokyo, Paris (2003); among others.
She has also participated in the following biennials: Prospect 4, Nueva Orleans (2017); 6th Liverpool Biennial, United Kingdom (2010); 6 Berlin Biennale (2010); 9e Biennale de Lyon, France (2007); 6th Bienal do Mercosul, Porto Alegre, Brazil (2007); 27a Bienal de São Paulo, Brazil (2006); Sharjah Biennial 7, United Arab Emirates (2005); 14th Biennale of Sydney, Australia (2004); 2nd edition of the T.I.C.A.B – Tirana International Contemporary Art Biannual, Albania (2005); 8. İstanbul Bienali (2003), Turkey.
Minerva Cuevas lives and works in Mexico City.