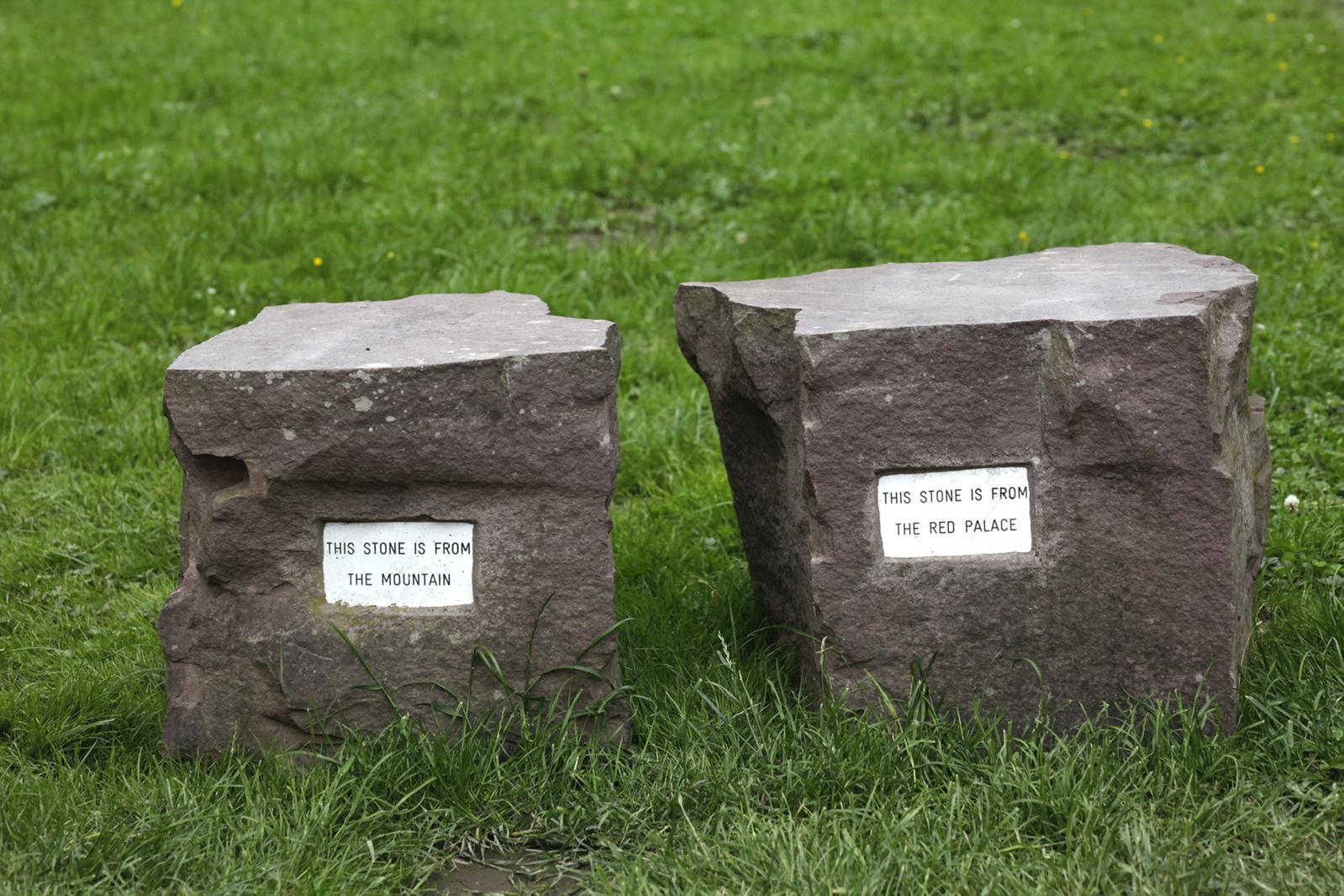 jimmie durham
* Estados Unidos, 1940

La investigación artística de Jimmie Durham se enfoca en lo que sucede "fuera del lenguaje", en la relación entre formas y conceptos; su obra, contraria al racionalismo occidental, está basada en la incertidumbre y la paradoja. Durham crea utilizando una variedad de soportes: dibujo, instalación, video (que utiliza para documentar sus performances) y esculturas que combina con textos, fotografías y objetos. Su obra visual, ensayos y poesía abarcan un amplio espectro de temáticas a menudo indisociables de ingeniosos juegos de palabras, de un humor crítico y burlón y, sobre todo, de la perspicacia. Durham reflexiona de manera constante sobre las fuerzas culturales y políticas que construyen el discurso contemporáneo, la historia de la opresión, la futilidad de la violencia y la impotencia de las minorías en el mundo. Jimmie Durham trabaja con materiales naturales y artificiales, pero lo atraen especialmente las cualidades intrínsecas de aquéllos que históricamente han sido utilizados como herramientas: piedra, madera, hueso, acero y vidrio. La piedra es un material básico para Durham por su rol definitorio en las dinámicas de poder socioculturales de la arquitectura y las ideas de monumentalidad; y la utiliza para enfatizar las polémicas entre naturaleza y cultura, religión, arquitectura y una concepción eurocéntrica de la historia.

En 1969, Jimmie Durham estudió escultura y performance en la École nationale supérieure des Beaux-Arts de Ginebra, Suiza. En 1974 volvió a Estados Unidos para trabajar con el American Indian Movement (Movimiento Indígena Estadounidense) como director y representante del Consejo Internacional de Tratados Indios (organismo que aboga por los derechos humanos de los pueblos indígenas de América) ante las Naciones Unidas, convirtiéndose en el primer comisionado oficial de una minoría dentro de la organización. En 1980 volvió a concentrarse en el arte sin dejar su interés por el desmantelamiento de los estereotipos culturalmente aceptados sobre los pueblos indígenas estadounidenses, un tema al que vuelve en muchos de sus ensayos. Durham ganaba importancia en la escena artística neoyorquina, pero encontraba que su trabajo era percibido como "arte indígena" y no fomentaba conversaciones políticas y artísticas fundamentales para entender cómo la cultura e historia de los indígenas estadounidenses había sido distorsionada. Decepcionado por las inextricables políticas del gobierno de Estados Unidos con respecto al movimiento indígena, se mudó a Cuernavaca, México en donde permaneció de 1987 hasta su regreso a Europa en 1994.

Jimmie Durham tuvo su primera exposición individual en 1965; desde entonces, ha tenido importantes exposiciones individuales como: Jimmie Durham: At the Center of the World, Remai Modern, Saskatoon, Canada (2018); Hammer Museum, Los Ángeles (2017-18), Whitney Museum of American Art, Nueva York (2017); The Walker Art Center, Minneapolis, Estados Unidos (2017); Evidence, Mönchehaus Museum Goslar, Alemania (2017); Jimmie Durham: God's Children, God's Poems, Migros Museum für Gegenwartskunst, Zúrich, Suiza (2017); Jimmie Durham. Sound and Silliness, MAXXI Museo nazionale delle arti del XXI secolo, Roma (2016); Jimmie Durham: Various Items and Complaints, Serpentine Gallery, Londres (2015); Venice: Objects, Work and Tourism, Museo della Fondazione Querini Stampalia, Venecia, (2015); Jimmie Durham, Here at the Center, Neuer Berliner Kunstverein (n.b.k.), Berlín (2015); Traces and Shiny Evidence, Parasol unit foundation for contemporary art, Londres (2014); A Machine Needs Instructions As a Garden Needs Discipline, MARCO Museo de Arte Contemporánea de Vigo, España (2013); A Matter of Life and Death and Singing, M HKA- Museum of Contemporary Art Antwerp, Amberes, Bélgica (2012); Jimmie Durham, Fondazione Morra Greco, Nápoles, Italia (2012); Rocks Encouraged, Portikus, Fráncfort, Alemania (2010); Pierres rejetées..., Musée d'Art moderne de la Ville de Paris (2009); Jimmie Durham, Madre · museo d'arte contemporanea Donnaregina, Nápoles, Italia (2008); Jimmie Durham: Essence, de Pury & Luxembourg (Phillips), Zúrich, Suiza (2007); The Imaginary Number, KW Institute for Contemporary Art, Berlín (2006); From the West Pacific to the East Atlantic, Musée d'Art Contemporain [mac], Marsella, Francia (2003); Between the Furniture and the Building (Between a Rock and a Hard Place), Kunstverein München, Múnich, Alemania (1998); The Center of the World, Vleeshal Center for Contemporary Art, Middelburg, Países Bajos (1995); Original Re-Runs, BOZAR - Palais des Beaux-Arts, Bruselas (1993), entre muchas otras.

Su trabajo también ha sido incluido en exposiciones colectivas tales como: Soil and Stones, Souls and Songs, Para Site, Hong Kong, China y Jim Thompson Art Center, Bangkok, Tailandia (2017); The Absent Museum, WIELS, Contemporary Art Centre, Bruselas (2017); Whither the Winds, Lund Konsthall, Suecia (2017); A Sense of History, Neuer Berliner Kunstverein (n.b.k.), Berlín (2016); Soil and Stones, Souls and Songs, Museum of Contemporary Art and Design (MCAD), Manila, Filipinas (2016); Surrealism: The Conjured Life, MCA- The Museum of Contemporary Art Chicago, Estados Unidos (2015); Rights of Nature, Nottingham Contemporary, Reino Unido (2015); America is Hard to See, Whitney Museum of American Art, Nueva York (2015); Existenzielle Bildwelten, Sammlung Reinking, Weserburg, Bremen, Alemania (2014); Advance through Retreat, Rockbund Art Museum (RAM), Shanghái (2014);What Models Can Do, Museum für Gegenwartskunst Siegen, Alemania (2014); Yes, Naturally, Gemeentemuseum Den Haag, La Haya, Países Bajos (2013); Project XXII, Madre · museo d'arte contemporanea Donnaregina, Nápoles, Italia (2013); In the Holocene, MIT List Visual Arts Center, Cambridge, Estados Unidos (2012); Nouvelle présentation des collections contemporaines des années 1960 à nos jours, Centro Georges Pompidou, París (2011); On Rage, Haus der Kulturen der Welt (HKW), Berlín (2010); Faux Jumeaux 15, S.M.A.K - Stedelijk Museum voor Actuele Kunst, Gante, Bélgica (2009); Transmission Interrupted, Modern Art Oxford, Reino Unido (2009); Experiment Marathon Reykjavik, Reykjavík Art Museum – Kjarvalsstaðir, Islandia (2008) y Tiempo al tiempo/Taking Time, MARCO Museo de Arte Contemporánea de Vigo, España (2007), entre otras.

Durham ha participado en las siguientes bienales: Triennale des 50JPG, Ginebra, Suiza (2016); Sharjah Biennial 12, Emiratos Árabes Unidos (2015); 7th Moscow International Biennale of Contemporary Art, Moscú (2015); Whitney Biennial, Nueva York (2014, 2006 y 1993, respectivamente); 55a, 51 a , 50a , 49a y 48a ª Bienal de Venecia (2012, 2005, 2003, 2001 y 1999, respectivamente); 13. İstanbul Bienali, Estambul, Turquía (2013); dOCUMENTA (13) y XI, Kassel, Alemania (2012 y 1992, respectivamente); 2010 SeMA Biennale Mediacity Seoul, Seúl, Corea del Sur; 29a Bienal de São Paulo, Brasil (2010); 1st Ural Industrial Biennial of Contemporary Art, Ekaterimburgo, Rusia (2010); Manifesta 7, Trento, Italia (2008); Taipei Biennial 2012, Taiwán; 14th Biennale of Sydney, Australia (2004); 5th Gwangju Biennale, Corea del Sur (2004); y Yokohama Triennale 2001, Japón.

Jimmie Durham vive y trabaja en Berlín.