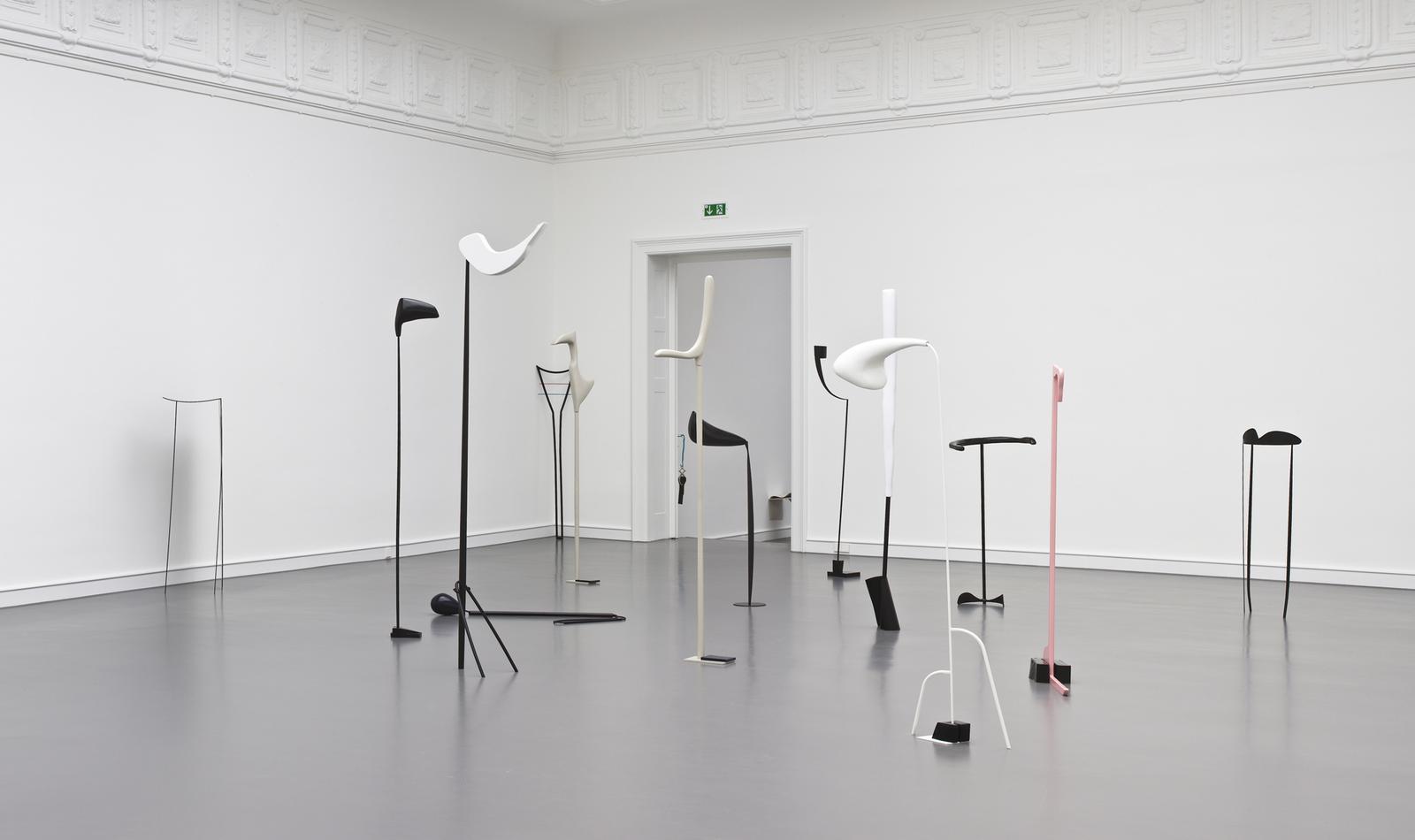 nairy baghramian
* Isfahán, Irán, 1971
Nairy Baghramian explora formas y conceptos heredados de la historia del arte para abordar cuestiones de funcionalidad, decoración, abstracción y feminismo. Su trabajo ofrece una reflexión acerca de la producción incesante de objetos estéticos y cultiva un interés por espacios y medios de creación marginales a menudo considerados como territorio de lo "femenino". Sus esculturas, hechas de materiales tan diversos como acero, silicona, resina y cuero, acercan las referencias del arte al ámbito de lo subjetivo; el cuerpo humano se desmonta y «recombina» a través de las políticas del diseño de interiores. El resultado nos ofrece una «relectura» del legado del minimalismo y el surrealismo en forma de protuberancias y cavidades, bultos y desparrames, órganos y partes del cuerpo. La inestabilidad, tema recurrente en la obra de Baghramian, se manifiesta en el uso de soportes débiles y endebles en la presentación de sus esculturas: colgando o inclinadas, siempre a punto de colapsar. La fuerza de su obra reside precisamente en retomar lo delicado e ignorado como punto de partida para crear esculturas conscientes de su propia fragilidad que al tiempo presiden confiadamente sobre el espacio de exposición.
Entre las exposiciones más importantes de Baghramian se encuentran: Nairy Baghramian, Palacio de Cristal del Retiro, Madrid (2018); Déformation Professionnelle, Walker Art Museum, Minneapolis, Estados Unidos (2017-2018); Museum der Moderne, Salzburgo, Alemania (2017); S.M.A.K.- Stedelijk Museum voor Actuele Kunst, Gante, Bélgica (2016); Scruff of the Neck (Supplements), Haus Konstruktiv, Zúrich, Suiza (2016); Hand Me Down, Museo Tamayo, Ciudad de México (2015); Nairy Baghramian: Fluffing the Pillows, MIT List Visual Arts Center, Cambridge, Estados Unidos (2013); Retainer, SculptureCenter, Nueva York (2013); Fluffing the Pillows, Kunsthalle Mannheim, Alemania (2012); Butcher, Barber, Angler & Others, Studio Voltaire, Londres (2009); Affairen. Ein semiotisches Haus, das nie gebaut wurde Zu Gast: Janette Laverrière und Henrik Olesen, Neuer Aachener Kunstverein, Aquisgrán, Alemania (2008); The Walker's Day Off, Staatliche Kunsthalle Baden-Baden, Alemania (2008); "Everlasting layers of ideas, images, feelings, have fallen upon your brain softly as light. Each succession has seemed to bury all that went before. And yet, in reality, not one has been extinguished.", Kunstvereins Nürnberg - Albrecht Dürer Gesellschaft, Núremberg, Alemania (2007); It is Not at Home, Kunsthalle Basel, Basilea, Suiza (2006).
También ha formado parte de exposiciones colectivas en: Malmö Konsthall, Suecia (2018); The National Museum of Art, Osaka, Japón (2018); Madre · museo d'arte contemporanea Donnaregina, Nápoles, Italia (2017); Museum Brandhorst, Múnich, Alemania (2016); mumok - Museum moderner Kunst Stiftung Ludwig Wien, Viena, Austria (2016); Swiss Institute / Contemporary Art, Nueva York (2016); Punta della Dogana, Venecia (2015); Museo Tamayo, Ciudad de México (2012); Australian Centre for Contemporary Art, Melbourne, Australia (2012); Kunsthaus Dresden, Alemania (2012); Kunsthalle Nürnberg, Núremberg, Alemania (2012); Stedelijk Museum Amsterdam, Países Bajos (2011); Museum Ludwig, Colonia, Alemania (2010); Musée d'art contemporain de Montréal, Canadá (2010); Weserburg, Bremen, Alemania (2009); Bergen Kunsthall, Noruega (2009); Tate Modern, Londres (2008), entre otros.
Además ha participado en bienales y festivales como: 14e Biennale de Lyon, Francia (2017); documenta 14, Kassel, Alemania (2017); Skulptur Projekte Münster 2017, Alemania; Parasophia: Kyoto International Festival of Contemporary Culture, Kioto, Japón (2015); 8 Berlin Biennale (2014); Glasgow International, Escocia (2012); 45a Bienal de Venecia, (2011); 5 Berlin Biennale (2008).
Nairy Baghramian vive y trabaja en Berlín.