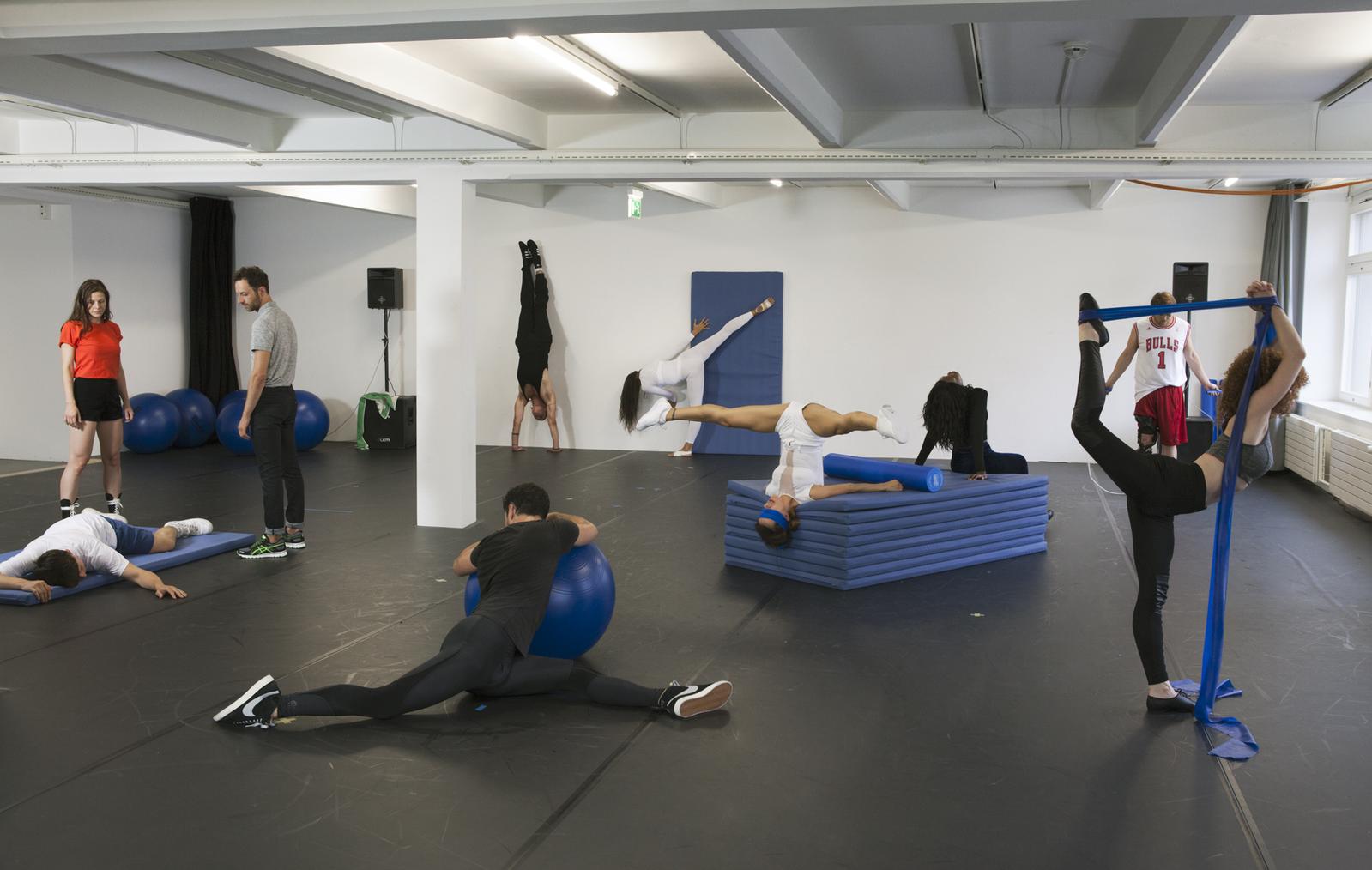 alexandra bachzetsis
* 1974, Zurich, Switzerland
A choreographer and visual artist, Alexandra Bachzetsis creates spaces –at the intersection of dance, performance, visual art, and theater– in which the body can manifest as an artistic and critical apparatus. Her work investigates the choreographies of the body and how culture provides source material for our gestures, expressions and, fantasies; through an interdisciplinary approach, she examines the influence of 'popular' or 'commercial' genres (online media, video-clips, and television) and the 'arts' (ballet, modern dance, and performance). The way we inhabit and perform our body, both in everyday life and on stage, –through stereotypes and archetypes, choice and cliché– is a question that continues to shape her practice. In her performances, Bachzetsis addresses stereotyped modes of representation of the female body in popular culture, show business, and the sex industry, using them to build a new self-reflexive and empowering formal language.
Bachzetsis is a graduate of the Liceo Artistico in Zurich (1995) and the Accademia Teatro Dimitri in Verscio (1997), in Switzerland; the Performance Education Program at STUK - House for Dance, Image & Sound Arts Centre in 
Leuven, Belgium (1999); and DAS Graduate School at the Academy of Theatre and Dance of the Amsterdam University of the Arts (2006).
She has been the recipient of various awards, including the Performancepreis Schweiz (Swiss Performance Art Award) (2012), Swiss Art Award 2011, and the Migros-Kulturprozent Jubilee Award (2007). Since Bachzetsis started working independently in 2001, she has created over 24 pieces –often working collaboratively– which have been shown in venues worldwide.
Some of her recent solo exhibitions and performances include: Massacre: Variations on a Theme, Centre Georges Pompidou, Paris and MoMA- Museum of Modern Art, New York (2017); Private: Wear a mask when you talk to me, Centre culturel suisse, Paris and Dampfzentrale Bern, Switzerland (2017); Gold, Power Station of Art (PSA) Shanghai and Wing | Platform for Performance, Hong Kong, China (2016); From A to B via C, Onassis Cultural Centre-Athens and Serralves Foundation – Museum of Contemporary Art, Porto, Portugal (2015), Kulturzentrum Rote Fabrik, Zürich, Switzerland and Museo Jumex, Mexico City (2014); Alexandra Bachzetsis, Bonner Kunstverein und Artothek, Bonn, Germany (2014); The Stages of Staging, Stedelijk Museum Amsterdam (2013); L'Escorte, CAC Brétigny, Paris (2011); Play, Kunsthaus Glarus, Switzerland (2010); Show, Kunsthalle Basel, Switzerland (2008), and Show Dance, de Appel arts centre, Amsterdam (2006), among many others.

Alexandra Bachzetsis has also participated in the following festivals, biennials, and group shows: documenta 14, Kassel, Germany (2017); Tanz im August Festival, Berlin (2017); Meteor - Performing Arts Festival, Bergen, Norway (2017); Festival FAB, Bordeaux, France (2016); Let's Dance, Art Stations Foundation, Poznan, Poland (2015); Elevation 1049, Lumen Foundation, diverse locations, Switzerland (2014); Le Movement. 12th Swiss Sculpture Exhibition, Biel/Bienne, Switzerland (2014); art berlin Fair for Modern and Contemporary Art (2013); dOCUMENTA (13), Kassel, Germany (2012); 3rd Thessaloniki Biennále of Contemporary Art, Thessaloniki, Greece (2011); Something Raw. Internationale dans- en performancefestival, Amsterdam (2009); 5th Berlin Biennale (2008); If I Can't Dance, I Don't Want To Be Part Of Your Revolution. Edition II, De Appel, Amsterdam (2007) and Emotion Pictures, M HKA- Museum of Contemporary Art Antwerp, Belgium (2005), among many others.
Alexandra Bachzetsis lives and works in Switzerland.