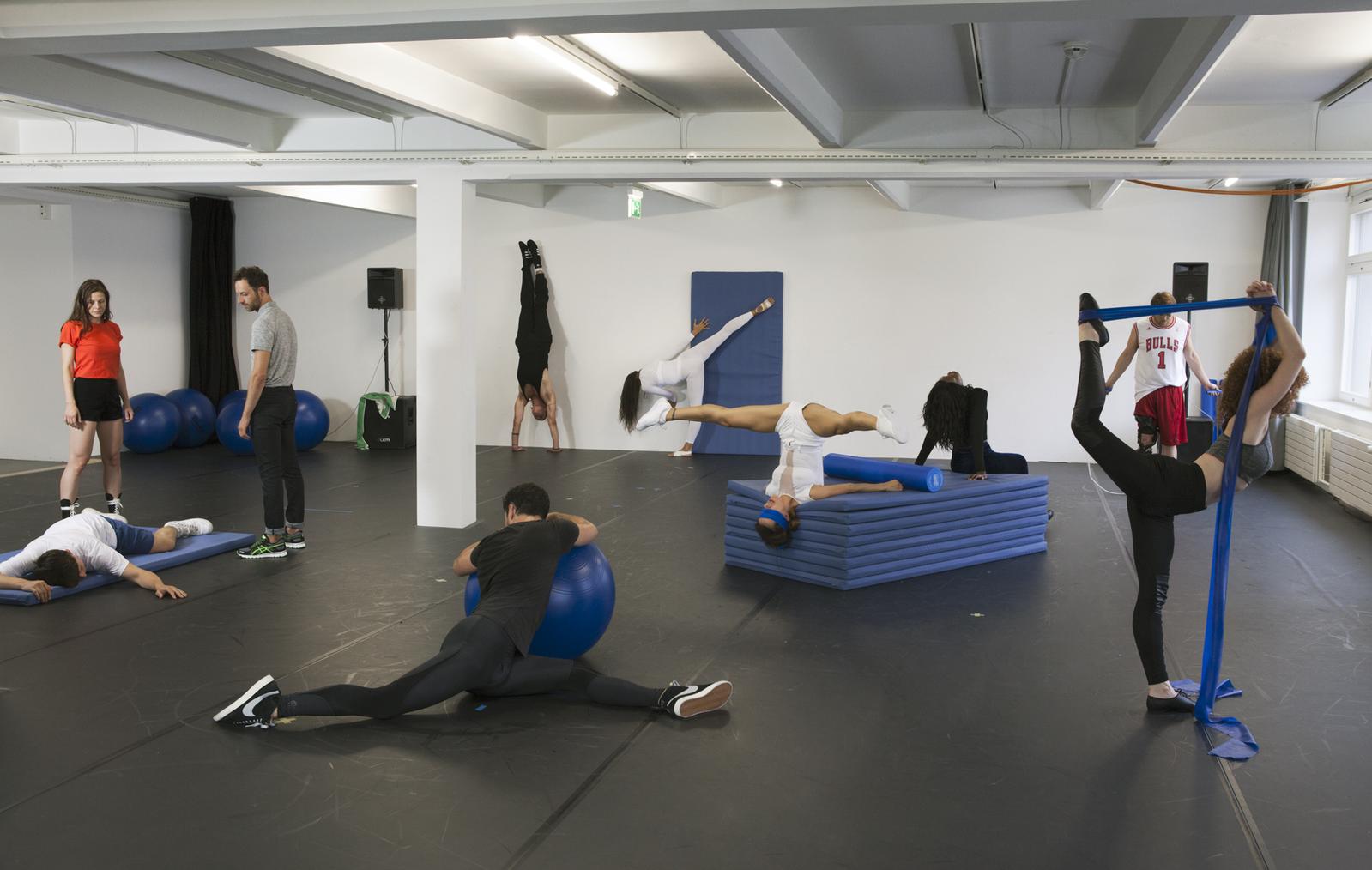 alexandra bachzetsis
* 1974, Zurich
A choreographer and visual artist, Alexandra Bachzetsis works at the intersection of dance, performance, the visual arts and theater, generating different spaces in which the body can manifest as an artistic and critical apparatus. Her work investigates the choreographies of the body and, in particular, how popular culture provides source material for our gestures, expressions and fantasies. Through a fundamentally interdisciplinary approach she examines the influence of the 'popular' or 'commercial' genres on the one hand, exemplified by online media, video-clips and television, and the 'arts' on the other hand, embodies by ballet, modern dance and performance. The way we inhabit and perform our body, both in everyday life and on stage – through stereotypes and archetypes, through choice and cliché – is a question that continues to shape her practice. In her performances, Bachzetsis addresses stereotyped modes of representation of the female body in popular culture, show business, and the sex industry, using them instead to build a new formal language that is both self-reflexive and empowering.
Bachzetsis is a graduate of the Zürcher Kunstgymnasium and the Dimitrischule in 
Verscio, in Switzerland, and the Performance Education Program at the STUK Arts Centre in 
Leuven, Belgium. She studied at the post-graduate level at Das Arts, the Advanced Research in Theatre and 
Dance Studies Centre in Amsterdam.
She has been the recipient of various awards, including the Swiss Performans Preis (2012), The Swiss Art Award (2011), and the Migros Kulturprozent Jubilee Award (2007), among others. Since Bachzetsis started working independently in 2001, she has created over 24 pieces, often working collaboratively, which have been shown in theaters, festivals and public space venues worldwide. Her most important exhibitions include: Massacre: Variations on a Theme, MoMA Museum of Contemporary Art, New York, United States (2017); 
Massacre: Variations on a Theme. Centre Pompidou, Paris, France (2017); Private: Wear a mask when you talk to me. Festival DansFabrik, Le Quartz, Scène nationale de Brest, Brest, France. (2016); Private: Wear a mask when you talk to me. CAPC Bordeaux and Festival FAB, Bordeaux, France (2016); From A to B via C. Stedelijk Museum, Amsterdam, Netherlands (2015); From A to B via C. Serralves, Porto, Portugal (2015); From A to B via C, Fabriktheater Rote Fabrik, Zürich, Switzerland; From A to B via C, Jumex Museum, Mexico City, Mexico (2014); From A to B via C, Tate Modern, London, UK (2014); Alexandra Bachzetsis, Bonner Kunstverein, Bonn, Germany (2014); The Stages of Staging, Stedelijk Museum, Amsterdam (2013); L'Escorte The Escort, CAC Brétigny, Paris (2011); Play, Kunsthaus Glarus, Glarus, Switzerland (2010); Show Dance, De Appel, Amsterdam (2006). Additionally, she has participated in group exhibitions at the following institutions: Kunsthaus Aarau, Aarau, Switzerland (2012); Shedhalle Zürich, Switzerland (2012); CCA Center For Contemporary Arts, Glasgow, Ireland (2012); Museu Coleccao Berardo and Experimental Design, Lisbon, Portugal (2009); Brakke Grong, Flemish Cultural Center, Amsterdam (2009).
She has participated in various biennials, including: Biennale of Moving Images, Geneva, Switzerland (2014); dOCUMENTA 13, Kassel Germany (2012); 3rd Thessaloniki Biennale of Contemporary Art, Thessaloniki, Greece (2011); The 5th Berlin Biennial, Berlin Germany (2008).
Alexandra Bachzetsis currenly lives and works in Switzerland.