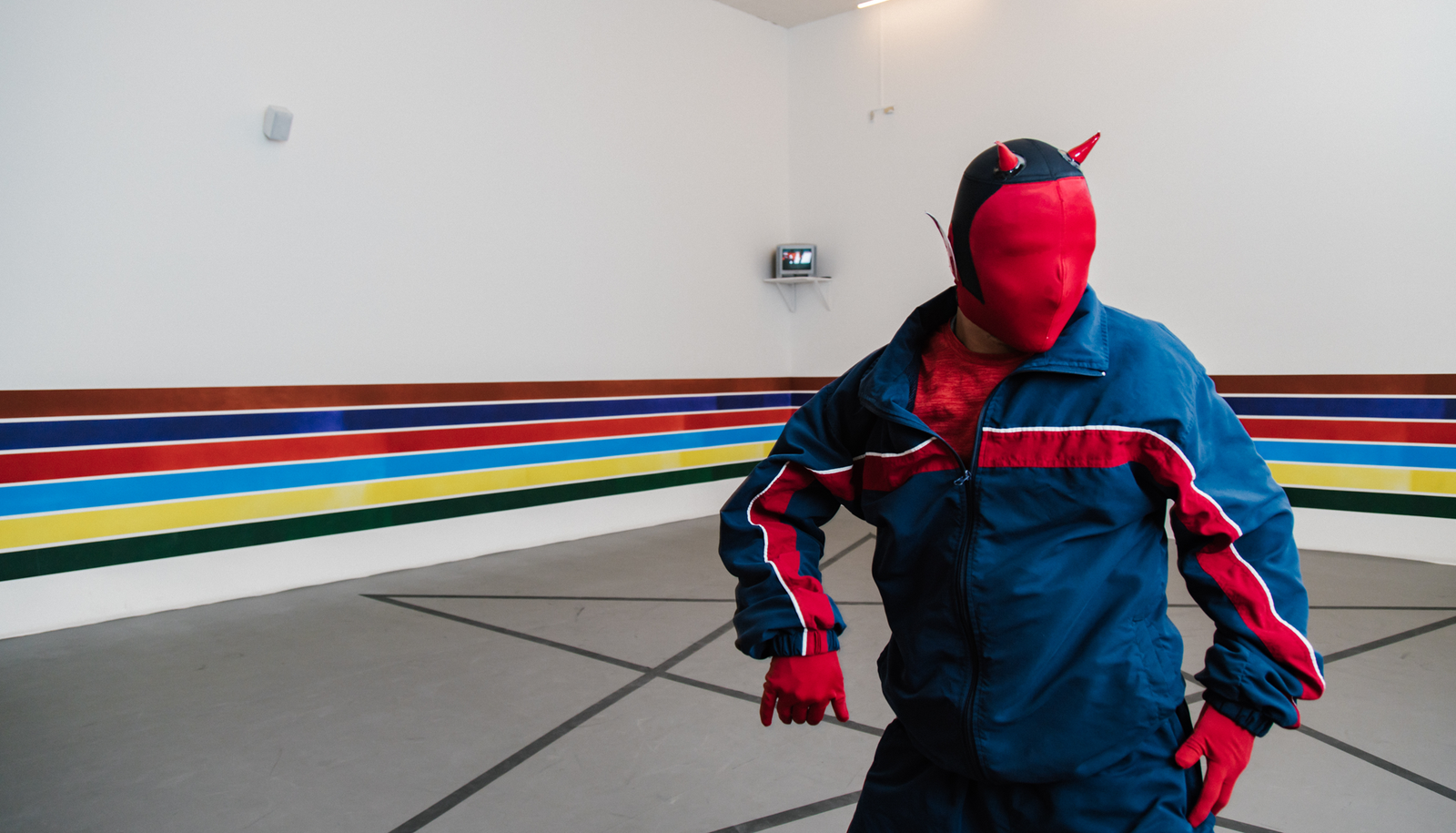 carlos amorales
* 1970, Mexico City
In his artistic research, Carlos Amorales is interested mainly in language and the impossibility/possibility of communicating through means that are unrecognizable or not codified: sounds, gestures, and symbols. Amorales experiments at the limits between image and sign with an array of platforms: animation, video, film, drawing, installation, performance, and sound. His practice is based on different forms of translation: instruments that become characters in his films, letters that become shapes, and narratives unfold as non-verbal actions. As the basis for many of his explorations, Amorales has used Liquid Archive: a project composed of shapes, lines and nodes instead of words that he started in 1998 and continued to nourish for over ten years. In addition to Liquid Archive, he has developed other alphabets and systems that he uses to translate texts that range from museum labels to short stories. The works of Amorales exist in an alternate world of their own making, parallel to ours; constantly evolving at the same rhythm that they are produced.
Carlos Amorales studied in Amsterdam at the Gerrit Rietveld Academie (1996–97) and Rijksakademie van beeldende kunsten (1992–95). He has participated in artistic residencies at the Atelier Calder in Saché (2012) and MAC/VAL, Vitry-sur-Seine in France (2011), and as part of the Smithsonian Artist Research Fellowship program in Washington, D.C. (2010).
Some of his most important exhibitions include: The Factory, Stedelijk Museum, Amsterdam (2019), Axioms for Action, MUAC- Museo Universitario de Arte Contemporáneo, Ciudad de México, México (2018); Herramientas de trabajo, MAMM-Museo de Arte Moderno de Medellín, Colombia (2017); Prelude, Bellas Artes Projects Outpost, Manila, Philippines (2017); Carlos Amorales, Turku Art Museum, Finland (2016); We Will See How Everything Reverberates, as part of The Dual Year of the United Kingdom and Mexico, Turner Contemporary, Margate (2015); The Man Who Did All Things Forbidden, Philadelphia Museum of Art, United States (2014); Germinal, Museo Tamayo, Mexico City (2013); Supprimer, modifier et préserver, MAC/VAL, Vitry-sur-seine, France (2011); Discarded Spider, Cornerhouse, Manchester, United Kingdom (2010); Working Class Today… Mañana Nuevos Ricos!, Fridericianum, Kassel, Germany (2009); Dark Mirror, Irish Museum of Modern Art, Dublin, Ireland (2008); Faces, The Moore Space, Miami, United States (2007); Carlos Amorales, Museo de Arte Latinoamericano de Buenos Aires, Argentina (2006); ¿Por qué temer al futuro?, Casa de América, Madrid and Artium, Vitoria-Gasteiz, Spain (2005); The Forest, Creative Time, as part of the screening The 59th Minute in Times Square, New York (2004); Fighting Evil (with Style), USF Contemporary Art Museum, Tampa, United States (2002).
His work has also been included in group exhibitions at institutions such as: Cabaret Voltaire, Zürich, Switzerland (2017); neue Gesellschaft für bildende Kunst (nGbK), Berlin (2017); an exhibition by Pacific Standard Time: LA/LA at MAK Center for Art and Architecture- Schindler House, West Hollywood, United States (2017); de Appel arts centre, Amsterdam (2016); South London Gallery (SLG) (2016); MUSAC-Museo de Arte Contemporáneo de Castilla y León, Spain (2016); Museum Boijmans Van Beuningen, Rotterdam, The Netherlands (2015); Guggenheim Museum, New York (2014); Phoenix Art Museum, United States (2013); Centre Georges Pompidou, Paris (2013); Migros Museum für Gegenwartskunst, Zürich, Switzerland (2012); Museum of Contemporary Art San Diego and Museum of Latin American Art, Long Beach, United States (2011); S.M.A.K.- Stedelijk Museum voor Actuele Kunst, Ghent, Belgium (2010); Tate Liverpool, United Kingdom (2009); Barbican Centre, London (2008); Galleria Civica di Trento, Italy (2008); MARCO- Museo de Arte Contemporánea de Vigo, Spain (2008); Mori Art Museum, Tokyo (2007); Museum of Modern Art, New York (2007); Neue Nationalgalerie, Berlin and Neues Museum Weimar, Germany (2006), among others.
Carlos Amorales represented Mexico at the 57th Venice Biennial with the project Life in the Folds (2017). His work has been part other biennials such as the 10th Shanghai Biennale, China (2015); 2 and 8 Berlin Biennial (2001 and 2014); Sharjah Biennal 11, United Arab Emirates (2013); The 12th and 10th Bienal de la Habana, La Havana, Cuba (2015 and 2009); 5th SeMA Biennale Mediacity Seoul, South Korea (2008); 2 nd Moscow International Biennale of Contemporary Art (2007).

Carlos Amorales lives and works in Mexico City.