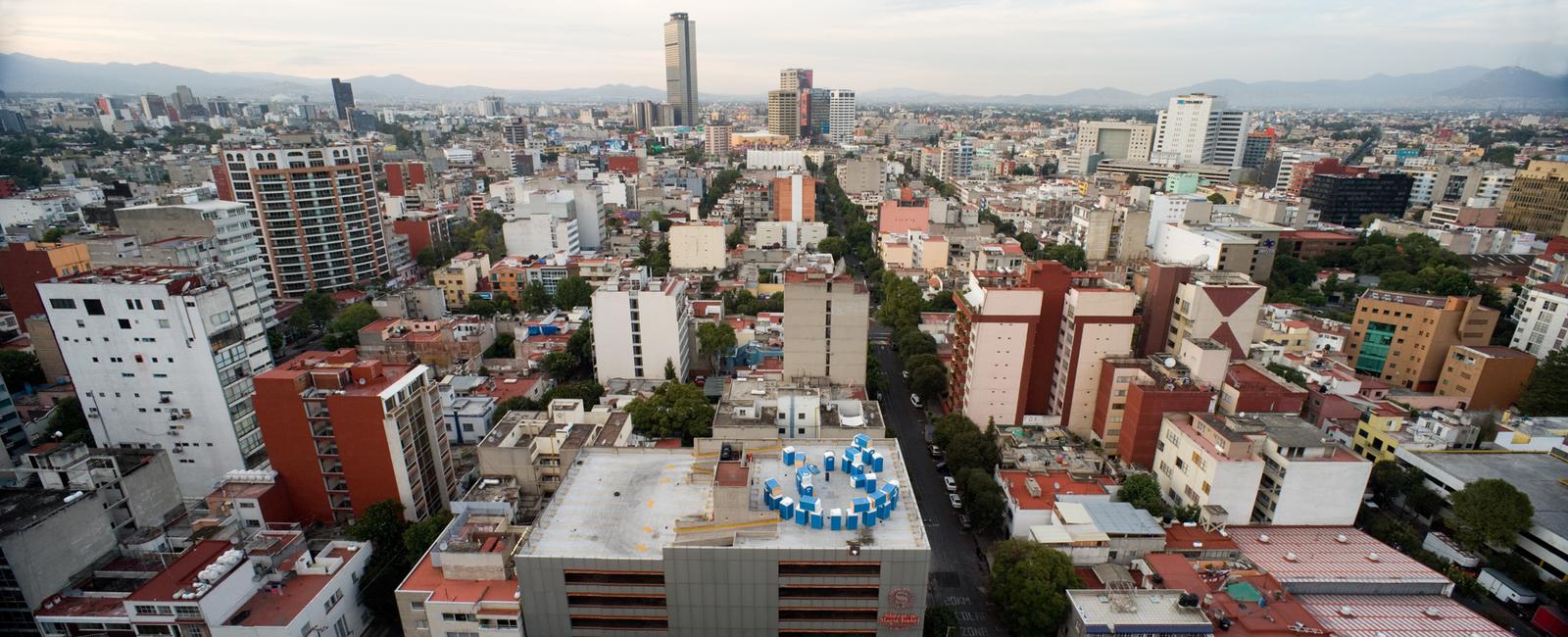 eduardo abaroa
* 1968, Mexico City
In his work, Eduardo Abaroa examines aspects of impermanence, history, and the socio-political fabric of North American society. Frequently he reimagines iconic works and powerful cultural symbols, through which he seeks to dismantle the notions of monumentality and modernity. Found in the intersection of sculpture, installation, and performance, his practice has an immediacy that playfully evades the preciousness often associated with art objects. Even in his more monumental sculptural works, he avoids traditional "fine art" connotations, creating pieces using port-a-potties, tarps, and the rubble of demolished buildings. Inexpensive everyday materials such as cotton swabs, straws and plastic bottles, are frequently found in his pieces. Abaroa's site-specific projects seek to undermine the authority of cultural institutions, such as the National Anthropology Museum in Mexico City, along with its impulse to install an official narrative and its ultra-nationalistic ideology. By juxtaposing various ideological, aesthetic, and cultural traditions, the artist offers an incisive point of view, deeply critical of the economic and social structures that govern our society.
Abaroa earned his Bachelor of Fine Art from the Escuela Nacional de Artes Plásticas (UNAM) in 1992 and his Masters of Fine Art from The California Institute of the Arts in 2001. He has participated in residencies at La Flora in Bogota (2014), and the Corcoran Gallery in Washington D.C. (2012). In 2011 he directed the IX International Symposium on Contemporary Art Theory, held in Mexico City (SITAC). He has contributed texts for catalogs for many artists vital to the Mexican context, as well as columns and reviews for several journals and publications. He has been the recipient of many grants and awards, including: the Sculpture prize, Sociedad de Valores de Arte Mexicano (SIVAM) in 2006 and 2005, the National Fund for Culture and Arts (FONCA in Spanish) in 2004, and the Fulbright Scholarship, also in 2004.
His most important solo exhibitions include: Stonhenge Sanitario, Sala de Arte Público Siqueiros, Mexico City, Mexico (2006); Eduardo Abaroa, Engendros del ocio y la hipocresía, Instituto Cultural Cabañas, Guadalajara, Mexico (2003); Eduardo Abaroa, Engendros del ocio y la hipocresía (1991-1999), Museo de Arte Carrillo Gil, Mexico City, Mexico (1999); Bitácora Artística, Curare Espacio Crítico para las Artes, Mexico City, Mexico (1997).
He has participated in group exhibitions at many institutions, including: Museo de Arte Zapopan, Zapopan, Mexico (2014); Museo Tamayo, Mexico City, Mexico (2013); The Modern Art Museum of Fort Worth, Fort Worth, United States (2013); Museo Universitario de Arte Contempoáneo MUAC, Mexico City, Mexico (2011); Museum of Latin American Art and the Museum of Contemporary Art, San Diego, United States (2011); Museum of Contemporary Art MOCA, Los Angeles, United States (2007); Museo Nacional Reina Sofía, Madrid, Spain (2005), The Institute of Contemporary Art, Boston, United States (2004). He has also participated in the 6th Bussan Biennial, Korea (2008) and the 25th Biennial de Sao Paulo, Brazil (2002).
Eduardo Abaroa currently lives and works in Mexico City, Mexico.