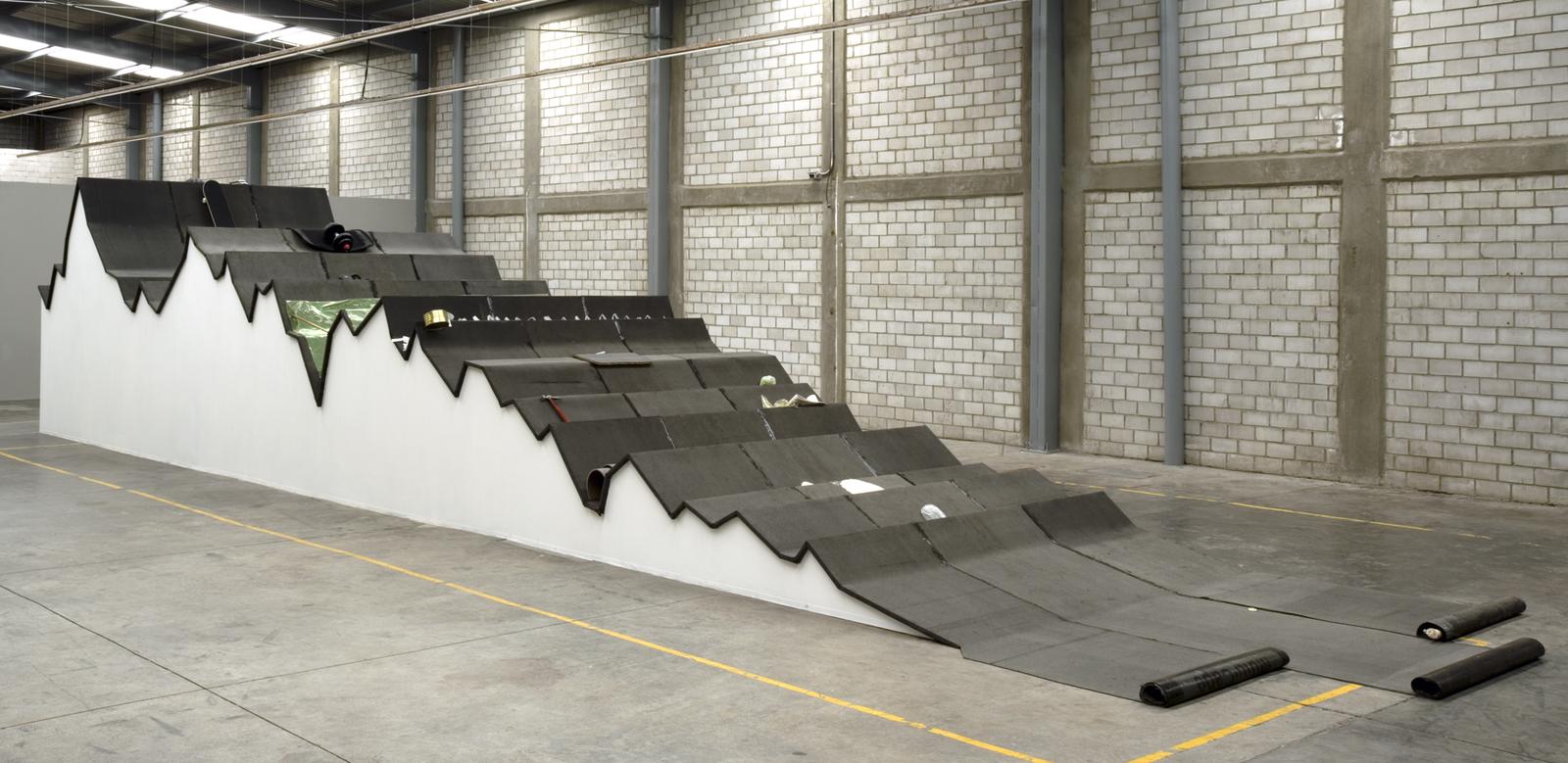 gabriel kuri
* 1970, Mexico City

Focusing on the objects and space that mediate human relationships, Gabriel Kuri explores the potential for transformation latent in familiar situations when observed from an unconventional angle. Playing with the principles of minimalism and the history of consumption, he integrates elements of everyday life into sculptures and collages. Residues of human interactions —plastic bags, advertising flyers, receipts, and tickets— are brought together with stones, coins, and cigarette butts, as well as industrial materials, such as cement, brushed steel, and insulation rolls. Kuri draws the viewer's attention to the dynamic and unstable space at the intersection of two opposite concepts: in the precarious and yet precise meeting of the unexpected. The creation of systems is at the base of his artistic practice, ordering different elements until certain patterns begin to emerge and new semantic connections are generated between existing forms and their uses. Often accompanied by idioms and vernacular phrases, his pieces invite a multilayered dialogue between the verbal and the visual. He questions the given tenets of contemporary culture, through poetic juxtapositions and hybrid objects that rethink the mundane and find the eloquent and the extraordinary in daily life.

Gabriel Kuri joined Gabriel Orozco's workshop Taller de los viernes from 1987 to 1991. In 1992, he received his BA in Visual Arts at Escuela Nacional de Artes Plásticas (UNAM) in Mexico City. In 1995 he completed his MFA at Goldsmiths University of London. He's been an artist in residence at Office for Contemporary Art Norway (2007), Govett-Brewster Art Gallery in New Zealand (2006), and the Atlantic Center for the Arts in Florida (2002). In 2011, he selected for an Artist Commission at The Armory Show and shortlisted for the BelgianArtPrize 2019.

Some of his solo exhibitions include: Gabriel Kuri: Afterthought is Never Binary, Sadie Coles HQ, London (2017); Product Testing Unit, Alte Fabrik, Rapperswil-Jona, Switzerland (2016); Gabriel Kuri: with personal thanks to their contractual thingness, Aspen Art Museum, United States (2015); All probability resolves into form, The Common Guild, Glasgow, Scotland (2014); bottled water branded water, Parc Saint Léger, Centre d'art contemporain, Pougues-les-Eaux, France (2013); Gabriel Kuri, Bergen Kunsthall, Norway (2012); Nobody Needs to Know the Price of Your Saab, ICA- The Institute of Contemporary Art/Boston, United States (2011) and Blaffer Art Museum University of Houston, United States (2010); Soft Information in your Hard Facts, Museion – museo d'arte moderna e contemporanea di Bolzano, Italy (2010); Join the Dots and Make a Point, Bielefelder Kunstverein, Germany (2010); Model for a Victory Parade, Sadie Coles HQ, London (2008), among others.

His work has been included in recent group exhibitions such as: Converter, Kunstmuseum St. Gallen, Switzerland (2018); ISelf Collection: The Upset Bucket, Whitechapel Gallery, London (2017–2018); Living Apart Together: Recent Acquisitions, Hammer Museum, Los Angeles, United States (2017); L'Esprit du Bauhaus, Musée des Arts Décoratifs, Paris (2016); The Distance of a Day, The Israel Museum, Jerusalem (2016); Strange Currencies: Art & Action in Mexico City, 1990-2000, The Galleries at Moore, Philadelphia, United States (2015); Made in L.A., Hammer Museum, Los Angeles (2014); México Inside Out: Themes in Art Since 1990, The Modern Art Museum of Fort Worth, United States (2013); The Living Years: Art after 1989, The Walker Art Center, Minneapolis, United States (2012); Pour un art pauvre: (inventaire du monde et de l'atelier), Carré d'Art - Musée d'art contemporain de Nîmes, France (2011); Keep it Real, Whitechapel Gallery, London (2010); All That Is Solid Melts into Air, M HKA- Museum of Contemporary Art Antwerp, Belgium (2009); Unmonumental, New Museum, New York (2007); among many others.

He has participated in various biennials, including: 32nd and 30st Ljubljana Biennial of Graphic Arts, Slovenia (2015 and 2017); Desert X, Coachella Valley, United States (2017); 12 Bienal de la Habana, Cuba (2015); 54th and 50th Venice Biennial (2011 and 2003); 5 Berlin Biennale (2008); among others.

Gabriel Kuri lives and works in Los Angeles, United States.