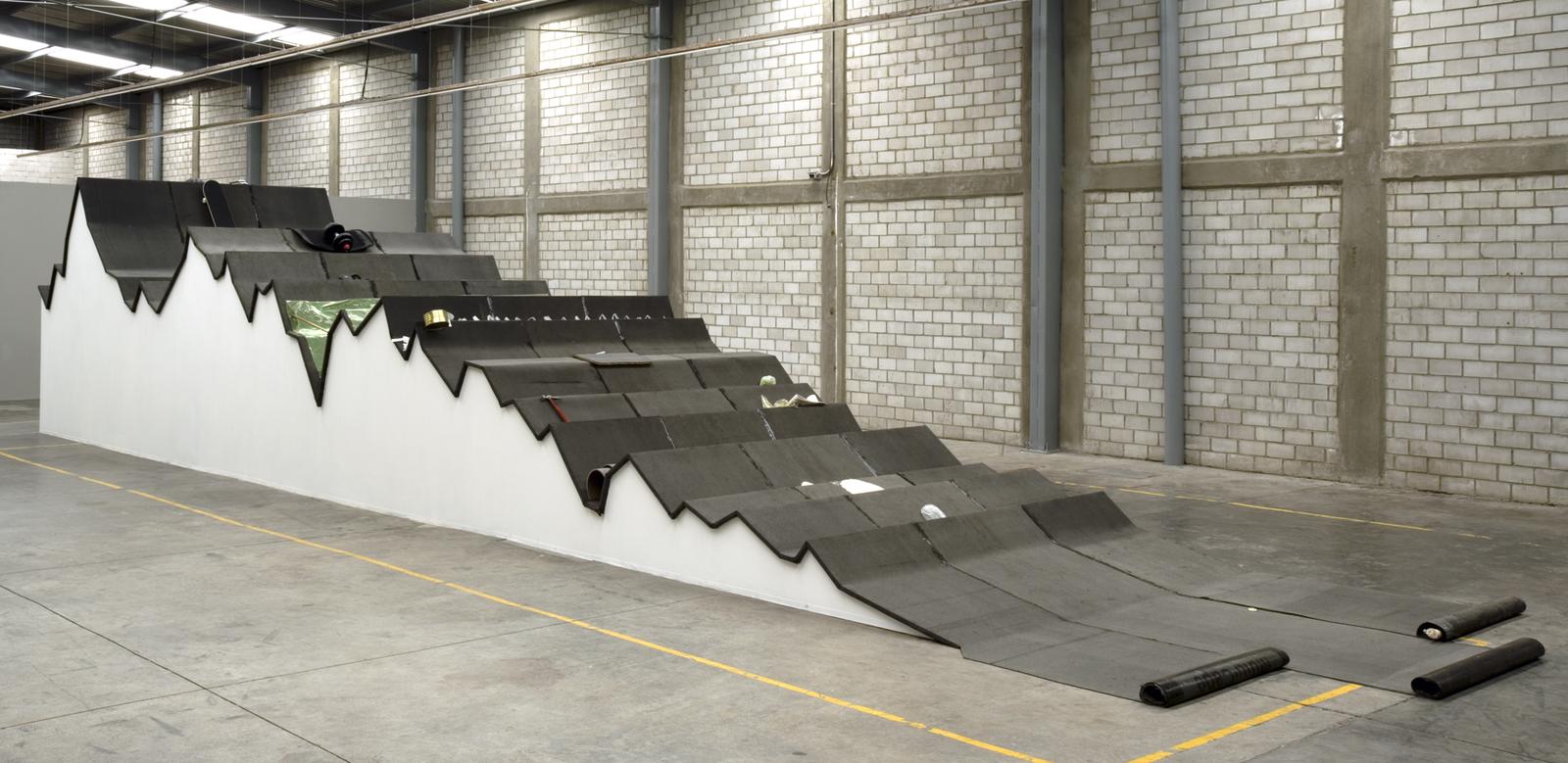 gabriel kuri
* 1970, Mexico City
Focusing on the objects and space that mediate human relationships, Gabriel Kuri explores the potential for transformation latent in all familiar things and situations when observed from an unconventional angle. Playing with the principles of minimalism and the history of consumption, he integrates elements of everyday life into sculptures and collages. Plastic bags, advertising flyers, receipts and tickets –residues of the interactions that make us human– are brought together with stones, coins and cigarette butts, as well as industrial materials, such as cement, brushed steel and insulation rolls. In his work, the viewer's attention is drawn to the dynamic and unstable space that opens up at the intersection of two opposite concepts, in the precarious and yet precise meeting of the unexpected. The creation of systems is at the base of his artistic practice, ordering different elements until certain patterns begin to emerge and new semantic connections are generated between existing forms and their uses. Often accompanied by idioms and vernacular phrases, his pieces invite a multilayered dialogue between the verbal and the visual. Kuri's work questions the given tenets of contemporary culture, creating poetic juxtapositions and hybrid objects that serve to rethink the mundane, to find the eloquent and the extraordinary in daily life.
Gabriel Kuri was a part of the Taller de los Viernes with Gabriel Orozco from 1987 to 1991. He received his BA in Visual Arts at Escuela Nacional de Artes Plásticas, unam (Universidad Autónoma de México), Mexico City in 1992. In 1995 he also completed an MA in Fine Art from the Goldsmiths' College University of London, United Kingdom.
His most important exhibitions include: with personal thanks to their contractual thingness, The Aspen Art Museum, Aspen, United States (2014-2015); All probability resolves into form, The Common Guild, 2014, Glasgow, Scotland (2014); bottled water branded water, Parc Saint Leger-Centre d'art contemporain, Pougues-les-Eaux, France (2013); Gabriel Kuri, Bergen Kunsthall, Bergen, Norway (2012); Nobody Needs to Know the Price of Your Saab, The ICA Boston, Boston, United States (2011); Nobody Needs to Know the Price of Your Saab, The Art Museum of the University of Houston, Houston, United States (2010); Soft Information in your Hard Facts, Museion-Museo de Arte Moderna, Bolzano, Italy (2010); Join the Dots and Make a Point, Kunstverein Freiburg; Kunstverein Bielefeld, Germany (2010); Start To Stop Stopping, MUHKA Museum van Hedendaagse Kunst Antwerpen, Antwerp, Belgium (2003); Momento de importancia, Sala 7, Museo Rufino Tamayo, Mexico City, Mexico (2000). Moreover, his work has been included in group exhibitions at institutions such as the Hammer Museum, Los Angeles CA, United States (2014); The Modern, Fort Worth, Texas, United States (2013); The Walker Art Center, Minneapolis, United States (2012); Fondazione Sandretto Re Rebaudengo, Turin, Italy (2010); Whitechapel Gallery, London, United Kingdom (2010); muhka, Museum van Hedendaagse Kunst Antwerpen, Antwerp, Belgium (2009); muac, Museo Universitario de Arte Contemporáneo, Mexico City (2008); New Museum, New York, United States (2007); REDCAT (The Roy and Edna Disney CalArts Theater); The Museum of Contemporary Art, Los Angeles, United States (2006) and the Serpentine Gallery, London, United Kingdom (2004), among others.
He has participated in various biennials, including: the 12th Havana Biennial (2015), the 54th and the 50th Biennale di Venezia, Venice, Italy (2011 and 2003) and the 5th Berlin Biennale, Berlin, Germany (2008).
Gabriel Kuri currently lives and works in Los Angeles, United States.