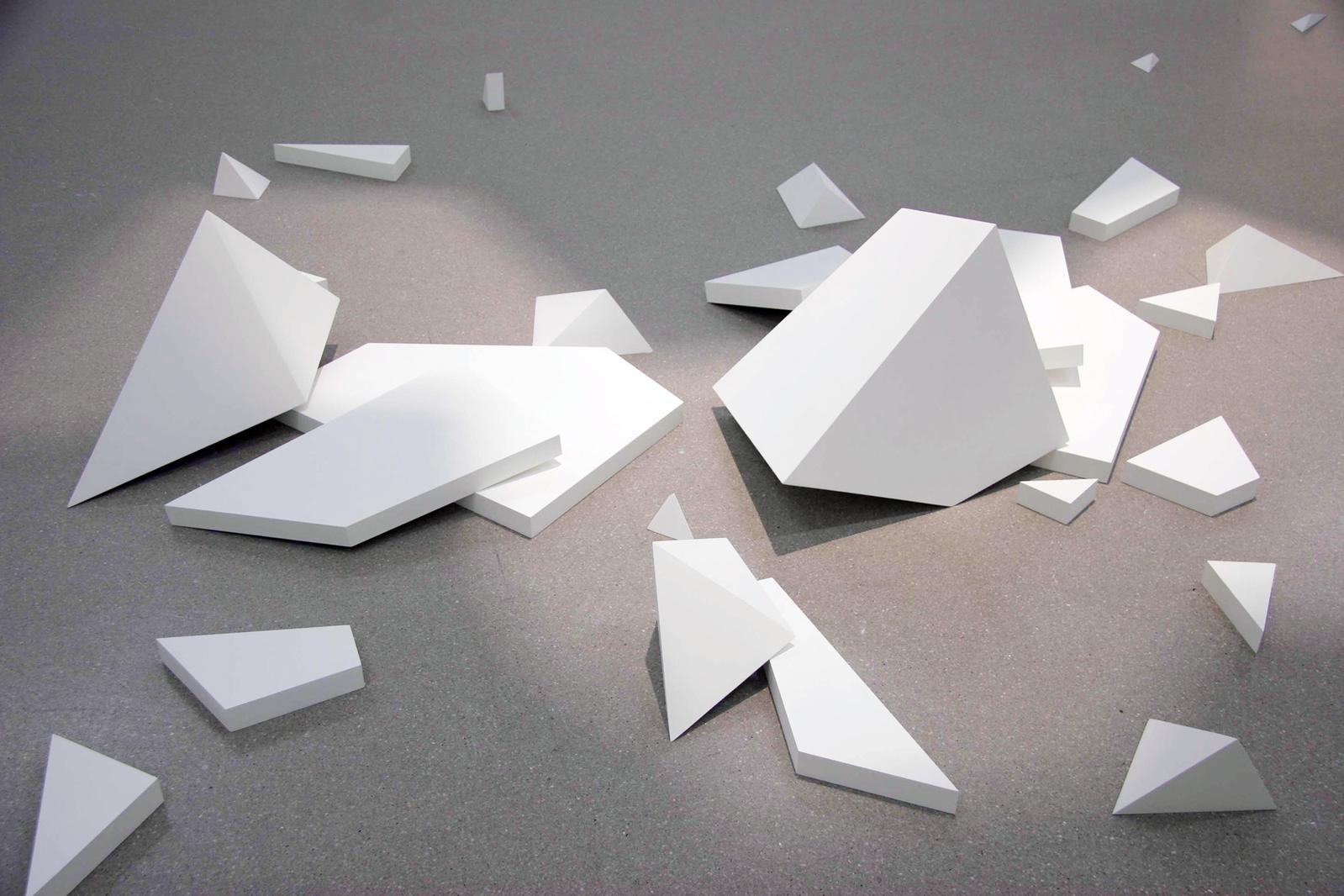 Monika Sosnowska
* 1972, Ryki, Poland
Monika Sosnowska, best known for her enormous skeletal architectural forms, exploits the engineering gifts of these elements and the imperceptible grace of their designs. Her sculptures of mutilated building elements are not creative approximations of architecture; they are fabricated building elements distorted and reassembled. Sosnowska's structures crumple like paper, bend, and contort to the demands of historical time and the force of an ideological gravity. Their specificity is earned by separation from what they are developed out of. Structures of support—distinctly to support people—are malleable and flimsy when removed from their context, ungrounded, unhinged, they become purposeless. Intended to enclose, protect, and assist us, they are the most telling when they fail. A broken step doesn't go unnoticed. But something animates these truncated forms; something ghostly resonates from the cold industrial material. Reminiscent of something familiar, something known, but not in reality—only in memory or constructed out of it. Our ability to deal with the present as a distinct point in history is disjointed. We are asking ourselves to understand the present as a continuation of time and history that we only vaguely understand. The present infinitely repeats itself as a continuous trajectory of vanishing.
Monika Sosnowska studied at five years at Poznan's Academy of Fine Arts in the painting department. In 1998 she went on to complete two years of postgraduate studies in Amsterdam, at the Rijksakademie van Beeldende Kunsten. In 2003 Sosnowska was awarded the prestigious Baloise Art Prize in Basel, Switzerland, as well as the Polityka's Passport award given by Poland's most influential weekly, and in 2012 she was a nominee of The Hugo Boss Prize.
Her most important exhibitions include Habitat, The Contemporary Austin, Texas, United States (2016); Architectonisation, Fundaçao De Serralves, Porto, Portugal (2015); Contemporary Art Gallery, Vancouver, Canada (2013); Regional Modernities, Australian Center for Contemporary Art ACCA, Melbourne, Australia (2013); Pérez Art Museum Miami, Miami, United States (2013); Monika Sosnowska: Fir Tree, Public Art Fund, New York, United States (2012); Stairway, K21 Düsseldorf, Germany (2010); 1:1, Schaulager, Basel, Switzerland (2008); Polish Pavilion, 52th Biennale di Venezia, Venice, Italy (2007); LOOP, Kunstmuseum Liechtenstein, Vaduz, Liechtenstein (2007); Projects 83: Monika Sosnowska, Museum of Modern Art, New York, United States (2006). Additionally, her work has been included in group exhibitions at institutions such as the Zacheta Narodowa Galeria Sztuki, Warsaw, Poland (2012); MCA Museum of Contemporary Art Chicago, Chicago, United States (2012); Centre Georges Pompidou, Paris, France (2010); South London Gallery, London, United Kingdom (2007); Kiasma Museum of Contemporary Art, Helsinki, Finland (2006) among others.
She has participated in various biennials, such as the 13th Sharjah Biennial, Sharjah, United Arab Emirates (2017); 9th Shanghai Biennial, Shanghai, China (2013) and the 54th Biennale di Venezia, Italy (2011).
Monika Sosnowska currently lives and works in Warsaw, Poland.