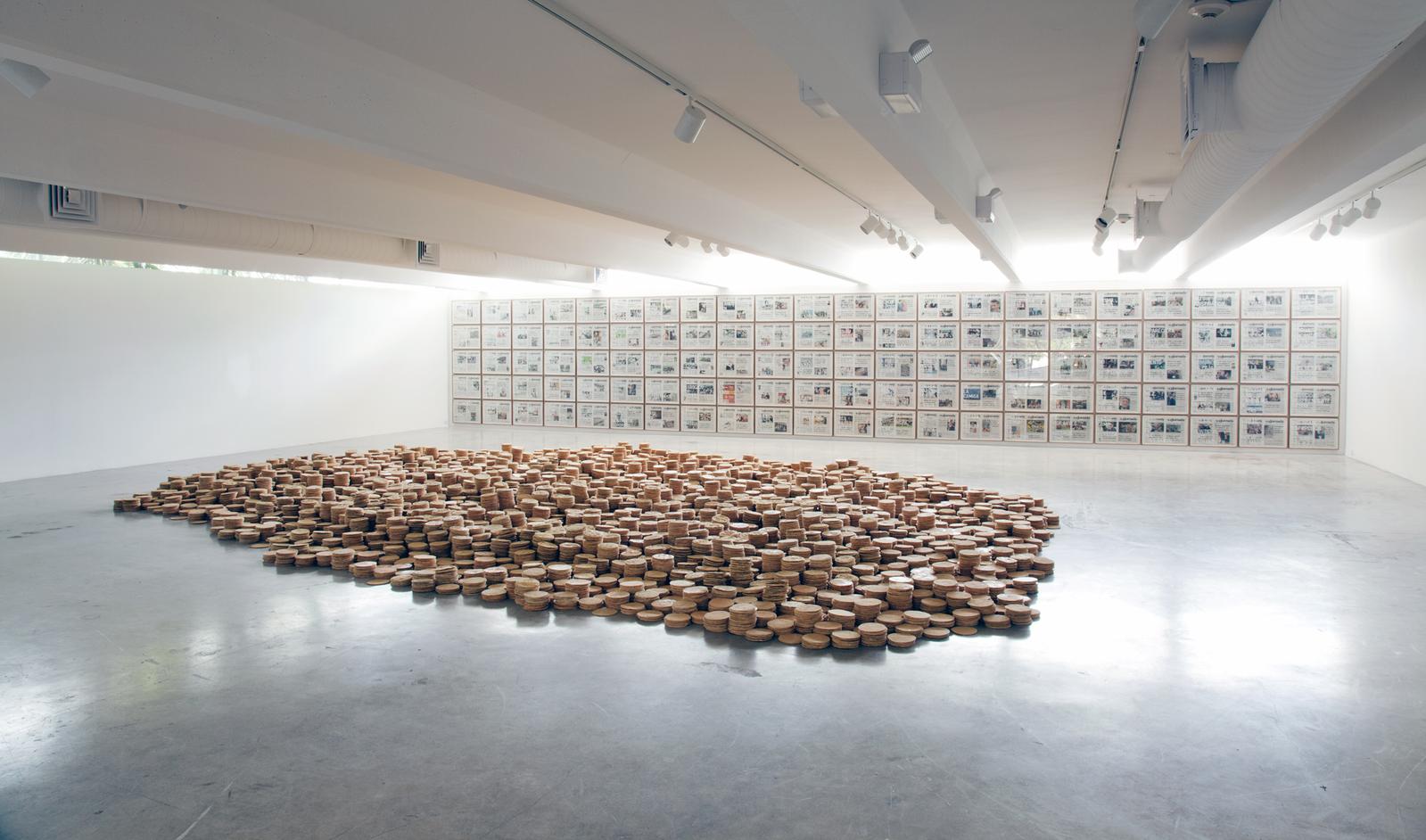 rirkrit tiravanija
* 1961, Buenos Aires

Even though Rirkrit Tiravanija's diverse artistic production eludes classification, he has accurately described it as "relational": a body work focused on real-time experience and exchange that breaks down the barriers between the object and the spectator while questioning the art object as fetish, and the sacredness of the gallery and museum display. Tiravanija's work first came to public awareness in a 1989 New York gallery through untitled (), which consisted of weekly renewed displays of the various stages of a green curry meal: a pedestal for ingredients, a pedestal for curry cooking on a burner, and a pedestal with waste products. In 1992, he continued to push and question the possibilities and principles of the gallery space in untitled (free), in which he emptied out an art gallery and turned it into a social/meeting space where he cooked large meals for visitors; and in untitled (1999), an exact replica of his East Village apartment where people were invited to live in. Tiravanija has also described his work as: "comparable to reaching out, removing Marcel Duchamp's urinal from its pedestal, reinstalling it back on the wall, and then, in an act of returning it to its original use, pissing in it." Tiravanija is interested in subverting deeply-ingrained ways of interacting with art through novel forms of collaboration and exchange that diminish the preciousness of objects reconsidering their lifecycle and function while remaining accessible to a broad public.

Tiravanija is an Argentina born Thai artist who lives between New York, Berlin, and Chiang Mai and his work carries strains of this nomadic existence, blending and re-combining different cultural contexts. Rather than insisting on a particular reality or truth, his work creates open-ended contexts for people to grapple with these questions themselves. The strength of Tiravanija's work lies precisely in its ephemerality and the slippery ways it escapes definition; he takes the material of the every-day and re-stages it, allowing the viewer a perspective at once banal and deeply profound about the quickly fleeting nature of life itself.

Tiravanija received his BA from the Ontario College of Art and Design in 1984 and his MFA from the School of the Art Institute of Chicago in 1986. From 1985-1986, he participated in the Whitney Independent Study Program. He has received numerous grants and awards, including the Absolut Art Award 2010, the Silpathorn Award by the Ministry of Culture in Thailand (2017), Hugo Boss Prize (2004), and Lucelia Artist Award by the Smithsonian American Art Museum (2003), among others.

Some of Rirkrit Tiravanija's recent individual exhibitions include: Rirkrit Tiravanija. Tomorrow Is the Question, Centro per l'Arte Contemporanea Luigi Pecci, Prato, Italy; Remai Modern, Saskatoon, Canada (2019); untitled 2018 (the infinite dimensions of smallness), Ng Teng Fong Roof Garden Commission series, National Gallery Singapore (2018); The fire is gone but we have the light: Rirkrit Tiravanija & Korakrit Arunanondchai, Johnson Museum of Art, Ithaca, United States (2016); Tomorrow is the Question, Stedelijk Museum, Amsterdam, (2016); U.F.O. (Universal Fantastic Occupation), Museo Jumex, Mexico City (2015); untitled 2015 (tomorrow is on our tongue, as today pass from our lips), Centro Cultural do Banco do Brasil (CCBB) Distrito Federal, Brasilia (2015); Rirkrit Tiravanija: Tomorrow is the Question, Garage Museum of Contemporary Art, Moscow (2015); FOCUS: Rirkrit Tiravanija, Modern Art Museum of Fort Worth, United States (2014); Without Reality There Is No Utopia, Yerba Buena Center for the Arts (YBCA), San Francisco, United States (2013); Portraits, Tate Modern, London (2013); On air, Centre Georges Pompidou, Paris (2012); Print/Out, Museum of Modern Art, New York (2012); Rirkrit Tiravanija: Chew the Fat, Mildred Lane Kemper Art Museum, St. Louis, United States (2009); Rirkrit Tiravanija: Demonstration Drawings, Drawing Center, New York (2008), among others.

He has also participated at the following group exhibitions: No habrá nunca una puerta. Estás adentro. Obras de la Coleção Teixeira de Freitas, Fundación Banco Santander, Madrid (2019); Power to the People. Political Art Now, Schirn Kunsthalle Frankfurt, Germany (2018); The Westreich Wagner collection, Centre Georges Pompidou, Paris (2017); FREDERICK KIESLER: Life Visions, MAK Vienna (2016); In Girum Imus Nocte et Consumimur Igni, Museo Jumex, Mexico City (2015); Zero Tolerance, MoMA PS1, New York (2015); 1984-1999 La Décennie, Centre Pompidou-Metz, France (2015); UGO RONDINONE: I ♥ JOHN GIORNO, Palais de Tokyo, Paris (2015); Take Me (I'm Yours), Monnaie de Paris (2015); Take It or Leave It: Institution, Image, Ideology, Hammer Museum, Los Angeles, United States (2014); Grip friheten! / Take Liberty!, Nasjonalmuseet, Oslo, Norway (2014); NYC 1993: Experimental Jet Set, Trash and No Star, New Museum, New York (2013); The Red Queen, MONA - Museum of Old and New Art, Hobart, Tasmania, Australia (2013); Ecstatic Alphabets/Heaps of Language, Museum of Modern Art, New York (2012), and Thai Transience, Singapore Art Museum (2012), among many others.

He has participated in various biennials, including: Yokohama Triennale 2017, Japan; THE GARDEN – End of Times; Beginning of Times, ARoS triennial, Aarhus, Denmark (2017); 13. Fellbach Triennial of Small-Scale Sculpture, Germany (2016); CURRENT:LA Public Art Biennial, Los Angeles (2016); 20 Bienal de Arte Paiz, Guatemala (2016); 56th, 54th, and 48th Venice Biennial (2015, 2011, and 1999, respectively); Sharjah Biennial 12 and 8, United Arab Emirates (2015 and 2007, respectively); 30th Ljubljana Biennial of Graphic Arts, Slovenia (2013); XIV Biennale Internazionale di Scultura di Carrara, Italy (2010); 9th Gwangju Biennale, South Korea (2012); Whitney Biennial 2006, New York; 27a Bienal de São Paulo, Brazil (2006); 2nd Guangzhou Triennial, China (2005); 7. İstanbul Bienali, Turkey (2001), among others.

Tiravanija lives and works in New York, Berlin, and Chiang Mai.