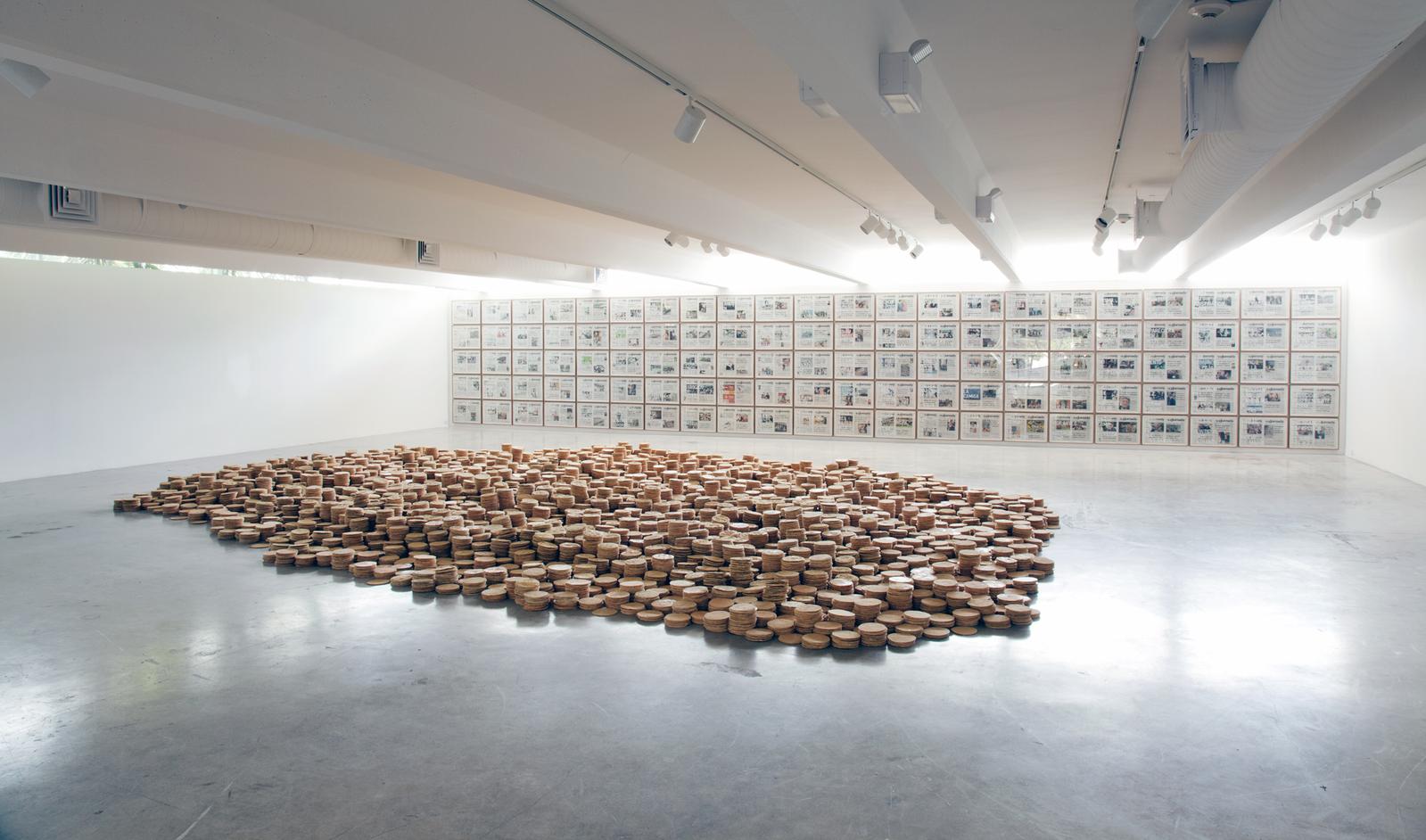 rirkrit tiravanija
* 1961, Buenos Aires
Rirkrit Tiravanija's long and varied career in many ways eludes classification. As the artist himself asserts, "relational," is an apt descriptor for much of his work, as his artistic production focuses on real-time experience and exchange, breaking down the barriers between the object and the spectator in a process that questions both the fetishizing of the art object, as well as the sacredness of the gallery and museum display. Tiravanija's unorthodox work first came to public awareness in a 1989 New York group show in which he showcased Untitled Empty Parenthesis, which consisted of the remains of a green curry meal. He continued to push the possibilities and question the principles of the gallery space, eventually preparing large meals for gallery-goers as in Untitled (Free) (1992), and inviting people to live within his piece Untitled (1999), which consisted of an exact replica of his East Village apartment. Tiravanija has described his work in these years as: "comparable to reaching out, removing Marcel Duchamp's urinal from its pedestal, reinstalling it back on the wall, and then, in an act of return to its original use, pissing into it." Essentially, Tiravanija's interest lies in a desire to subvert deeply-ingrained ways of interacting with "art," seeking alternative experiences of time, opening the door for novel forms of collaboration and exchange, diminishing the preciousness of objects through a reconsideration of their lifecycle and function—all while remaining resolutely accessible and open to a broad public.
As a Thai artist born in Argentina and now living between New York, Berlin, and Chiang Mai, Tiravanija's work often carries strains of his own nomadic existence, the blending and re-combination of different cultural contexts. Rather than insisting on a particular reality or truth, his work creates open-ended contexts for people to grapple with these questions themselves. The strength of Tiravanija's work lies precisely in its ephemerality, and the slippery ways it escapes definition, the way it takes the material of the every-day and re-stages it, allowing the viewer a perspective at once banal and deeply profound about the quickly fleeting nature of life itself.
Tiravanija received his BA from the Ontario College of art in 1984 and his MFA from the School of the Art Institute of Chicago in 1986. From 1985-1986, he participated in the Whitney Independent Study Program. He has received numerous grants and awards, including the Absolut Art Award (2010); The Hugo Boss Prize (2004); The Lucelia Artist Award (20039; and the Gordon Matta Clark Foundation Award (1993), among others.
He has had individual exhibitions at the following institutions: Modern Art Museum of Fort Worth, Texas, United States (2014); Yerba Buena Center for the Arts, San Francisco, United States (2013); Tate Modern, London, United Kingdom (2013); Singapore Art Museum, Singapore (2012); Centre Pompidou, Paris, France, (2012); MoMA (Museum of Modern Art), New York, United States (2012); Bonnierskonsthall, Stockholm, Sweden (2011); Mildred Lane Kemper Art Museum, St. Louis, United States (2009); Drawing Center, New York, United States (2008), among others. He has also participated at group exhibitions at the following institutions: The Hammer Museum, Los Angeles, California (2014); The National Museum of Norway, Oslo, Norway (2014); The New Museum, New York, United States (2013); The Palais de Tokyo, Paris, France (2012), among many others.
He has participated in various biennials, including: The Sharjah Biennial 12, Sharjah, United Arab Emirates (2015 & 2007); The 30th Biennial of Graphic Arts, Ljubljana, Slovenia (2013); The XIV International Biennial of Sculpture, Carrara, Italy (2012); The 9th Gwangju Biennale, Gwangju, South Korea (2012); Whitney Biennial, New York, United States (2006); Sao Paulo Biennial, Sao Baulo, Brazil (2006); 2nd Guangzhou Trienal, Guangzhou, China (2005); The 50th Venice Biennale, Venice, Italy (2003 & 1999); The 7th International Istanbul Biennial, Istanbul, Turkey (2001), among others.
Tiravanija lives and works in New York, United States.