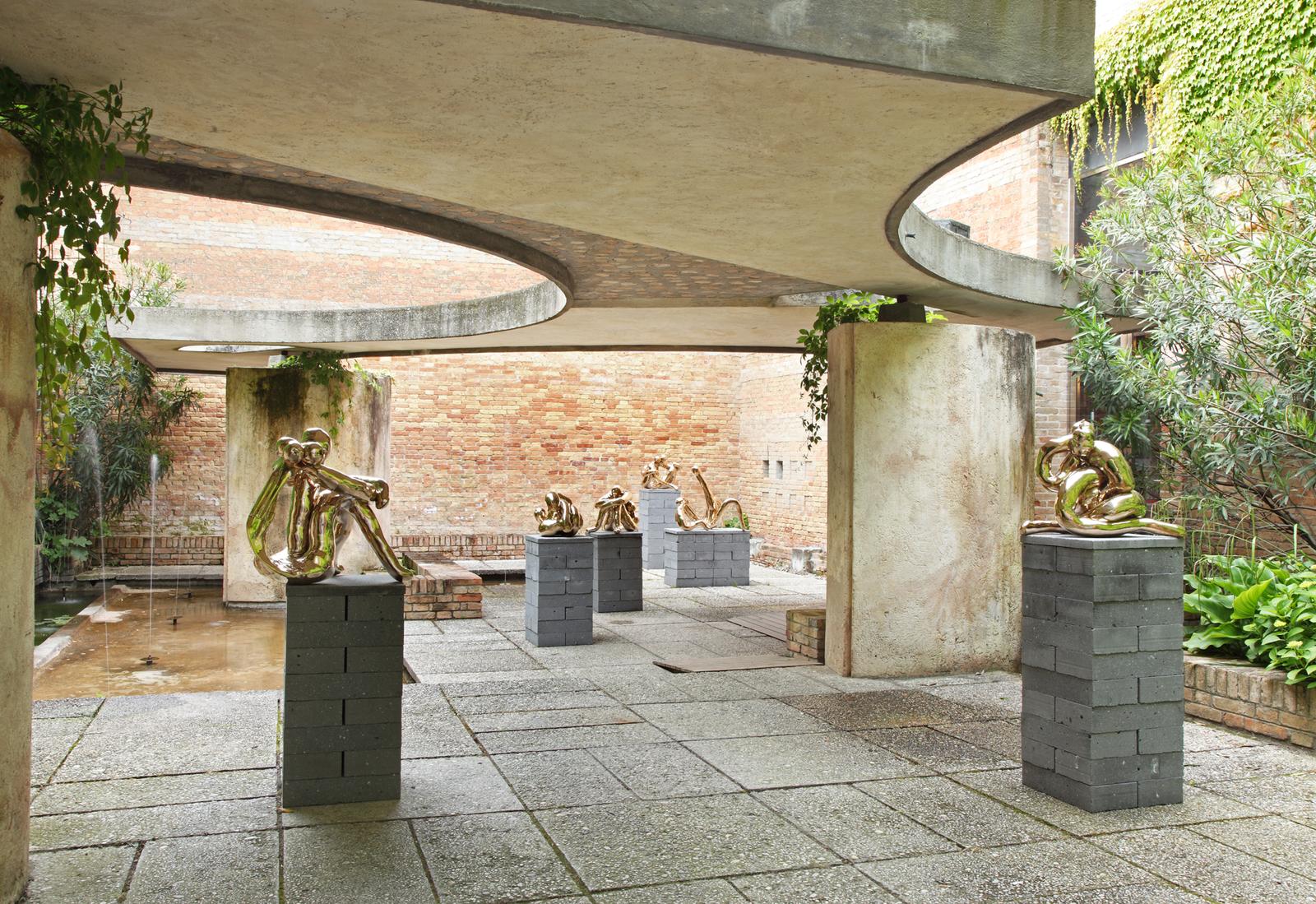 sarah lucas
* 1962, London
Sarah Lucas's practice is characterized by irreverent humour and the creation of visual puns and vulgar euphemisms. Spanning sculpture, photography, and installation, her work evokes the body in its physical, cultural, and psychic dimensions. In her compositions, Lucas often uses everyday objects as a substitute for the human body: furniture, food, tabloid newspapers, tights, toilets, and cigarettes are usually coupled with slang and crude genital innuendo. These elements intertwine and transform into visceral, anthropomorphic representations of limbs, breasts, and phalli; forms that are embodied in light-reflecting bronze sculptures or as plaster casts taken directly from models. In order to probe representations of gender and national identity, Lucas also employs familiar references to postwar and contemporary British life. By appropriating and exhibiting lewd gestures that reveal the absurdity of sexual stereotypes, she subverts the male gaze and the tropes of what is considered feminine or masculine; in a similar vein, her defiant self-portraits invoke the sexual dynamics of the observer and the observed. Lucas's artwork pushes the sculptural possibilities of bodily representation to question the way we understand and relate to inherent aspects of human experience such as sexuality, illness, and death.
Sarah Lucas is one of the leading figures of the generation of young British artists who emerged during the 1990s. She studied in London at the Working Men's College (1982–83), London College of Printing (1983–84), and Goldsmiths' College (1984–87).
Her most important exhibitions include: Sarah Lucas: Good Muse, Fine Arts Museums of San Francisco | Legion of Honor (2017); FunQroc, CFA-Contemporary Fine Arts, Berlin (2017); POWER IN WOMAN, The Soane Museum, London (2016); I SCREAM DADDIO, British Pavilion at the 56th Venice Biennial (2015); Florian and Kevin, Aspen Art Museum, United States (2014); Sarah Lucas: SITUATION Absolute Beach Man Rubble, Whitechapel Gallery, London (2013); Lucas Bosch Gelatin, Kunsthalle Krems, Austria (2011); Nuds Cycladic, Museum of Cycladic Art, Athens, Greece (2010); In-A-Gadda-Da-Vidda, Tate Britain, London (2004); Sarah Lucas, Tate Modern, London (2002); Penis Nailed to a Board, City Racing, London (1992).
Her work has also been included in group exhibitions at institutions such as: Walker Art Gallery, Liverpool, United Kingdom (2017); The Israel Museum, Jerusalem, Israel (2017); Schirn Kunsthalle Frankfurt, Germany (2016); Musée des Beaux-Arts de Lyon, France (2016); Tate Modern, London (2016); Scottish National Portrait Gallery, Edinburgh, United Kingdom (2016); Musées d'art et d'histoire de Genève | Musée Rath, Geneva, Switzerland (2016); Royal Academy of Arts, London (2015); The Museum of Art, Kōchi, Japan (2014); New Museum, New York (2013); Palais de Tokyo, Paris (2010); The Museum of Contemporary Art, Los Ángeles (2009); Serpentine Gallery, London (2006); Kunsthaus Dresden, Germany (2004); Hamburger Bahnhof – Museum für Gegenwart, Berlin (1998); Musée d' Art moderne de la Ville de Paris (1996), among others.
Sarah Lucas lives and works in London.