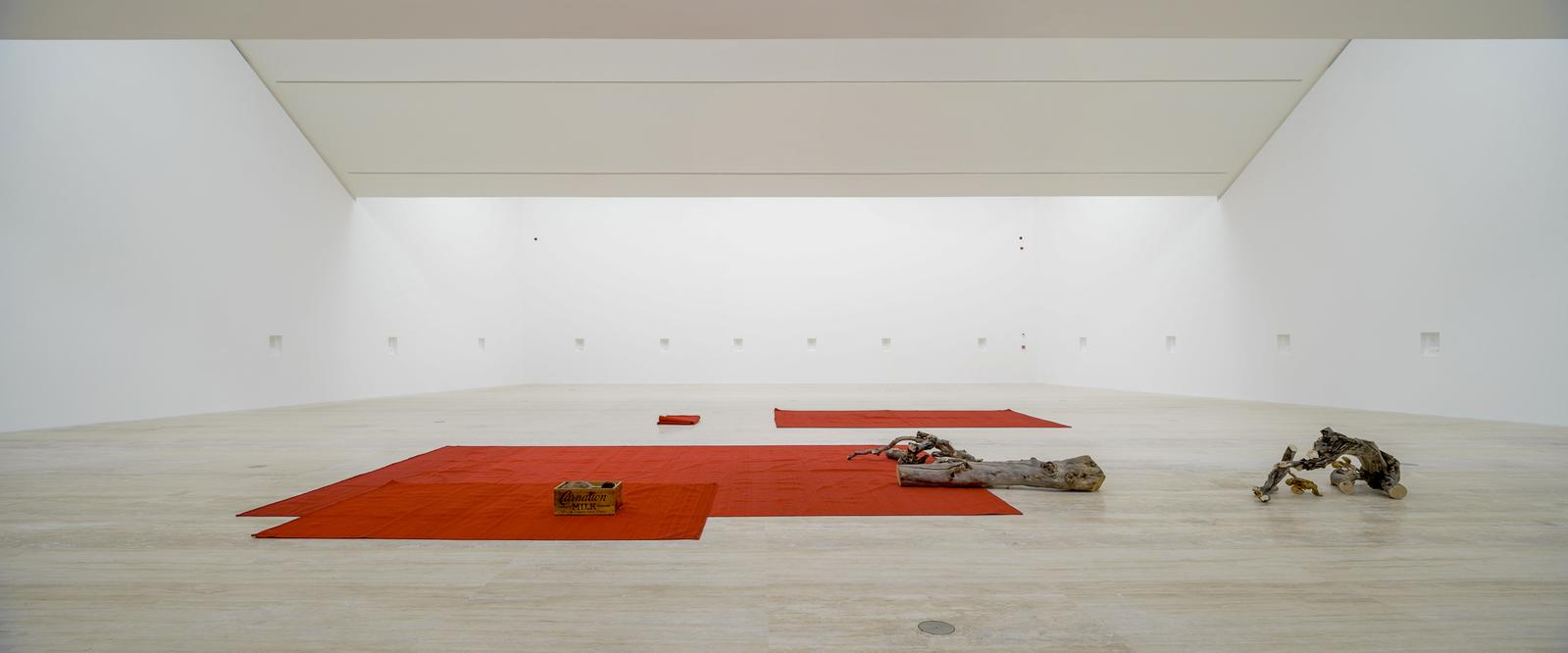 danh vō
* Bà Ria, Vietnam, 1975.
A través de obra de una obra tan personal como inspirada por acontecimientos históricos y políticos, Danh Vō cuestiona la construcción y el legado de los conflictos, valores y traumas culturales. Cuando Vō era niño, su familia huyó de Vietnam y se estableció en Dinamarca: su integración a la cultura europea y los sucesos políticos que provocaron su escape son intrínsecos a su investigación artística. El trabajo de Vō clarifica la relación entre los elementos inseparables que conforman nuestra identidad, por medio tanto de la historia colectiva como de las experiencias personales. La presentación de objetos basados en el principio del ready-made es una estrategia característica de la práctica artística de Danh Vō; Por medio de objetos cargados de un simbolismo que retiene y sublima el deseo y la tristeza de individuos y culturas enteras, Vō examina cómo el contexto altera el significado. El trabajo de Danh Vō, enigmático y poético, esquiva con destreza lo didáctico al explorar los juegos de poder subyacentes en las sociedades liberales y la fragilidad de nuestro concepto de Estado-Nación.
Danh Vō estudió en KADK-The Royal Danish Academy of Fine Arts en Dinamarca y la Städelschule en Fráncfort, Alemania. En 2012 recibió el Hugo Boss Prize y en 2007, el Blauorange Kunstpreis otorgado por la Deutsche Volksbanken und Raiffeisenbanken; en 2009 fue nominado para el Preis der Nationalgalerie für junge Kunst en Alemania.
Entre sus exposiciones más importantes se encuentran: Danh Vo: Take My Breath Away, Guggenheim Museum, Nueva York, (2018); We the People, Aspen Art Museum, Estados Unidos (2016-17); Ng Teng Fong Roof Garden Commission series: Danh Vō, National Gallery Singapore, Singapur (2016-17); Destierra a los sin rostro / Premia tu gracia, Palacio de Cristal del Retiro, Madrid (2015); Ydob eht ni mraw si ti, Museum Ludwig, Colonia, Alemania (2015); Danh Vō: We The People (detail), Faurschou Foundation Beijing, Pekín, China (2014); We The People, comisionada por Public Art Fund para el Brooklyn Bridge Park, Nueva York (2014); IMU U R2 (Hugo Boss Prize), Guggenheim Museum, Nueva York (2013); Chung ga opla, Villa Medici, Roma (2013); Fabulous Muscles, Museion – museo d'arte moderna e contemporanea di Bolzano, Italia (2013); We The People (detail), Art Institute of Chicago, Estados Unidos (2012); Vō Danh, Kunsthaus Bregenz, Austria (2012); JULY, IV, MDCCLXXVI, Kunsthalle Fridericianum, Kassel, Alemania (2011); Hip Hip Hurra, SMK-Statens Museum for Kunst, Copenhague, Dinamarca (2010); Les fleurs d'intérieur, KADIST, París (2009); Package Tour, Stedelijk Museum Ámsterdam, Países Bajos (2008).
Su obra también ha sido incluida en exposiciones colectivas en instituciones como: Walker Art Center, Minneapolis, Estados Unidos (2017); Frank F. Yang Art and Education Foundation | YOU Space, Shenzhen, China (2017); Art Gallery of South Australia, Adelaida (2017); Deutsches Hygiene-Museum, Dresde, Alemania (2017); Centre Pompidou, París (2016); Portikus, Fráncfort, Alemania (2016); The Menil Collection, Houston, Estados Unidos (2015); Barbican Centre, Londres (2015); Kunstmuseum Basel | Gegenwart, Basilea, Suiza (2013); New Museum, Nueva York, (2012); Kunsthaus Bregenz, Austria (2011); Galleria d'Arte Moderna e Contemporanea di Torino, Turín, Italia (2011); Kunsthalle Basel, Basilea, Suiza (2010); Witte de With Center for Contemporary Art, Róterdam, Países Bajos (2009); Hamburger Bahnhof – Museum für Gegenwart, Berlín (2009); Kunstverein München, Múnich, Alemania (2008); Stedelijk Museum Ámsterdam, Países Bajos (2008); CCA Wattis Institute for Contemporary Arts, San Francisco (2007); entre otras.
Danh Vō participó en la exposición internacional de arte de la 55a Bienal de Venecia (2102) y representó a Dinamarca en la 56a Bienal de Venecia (2015) con la exposición Mothertongue.
Danh Vō vive y trabaja entre Berlín y la Ciudad de México.