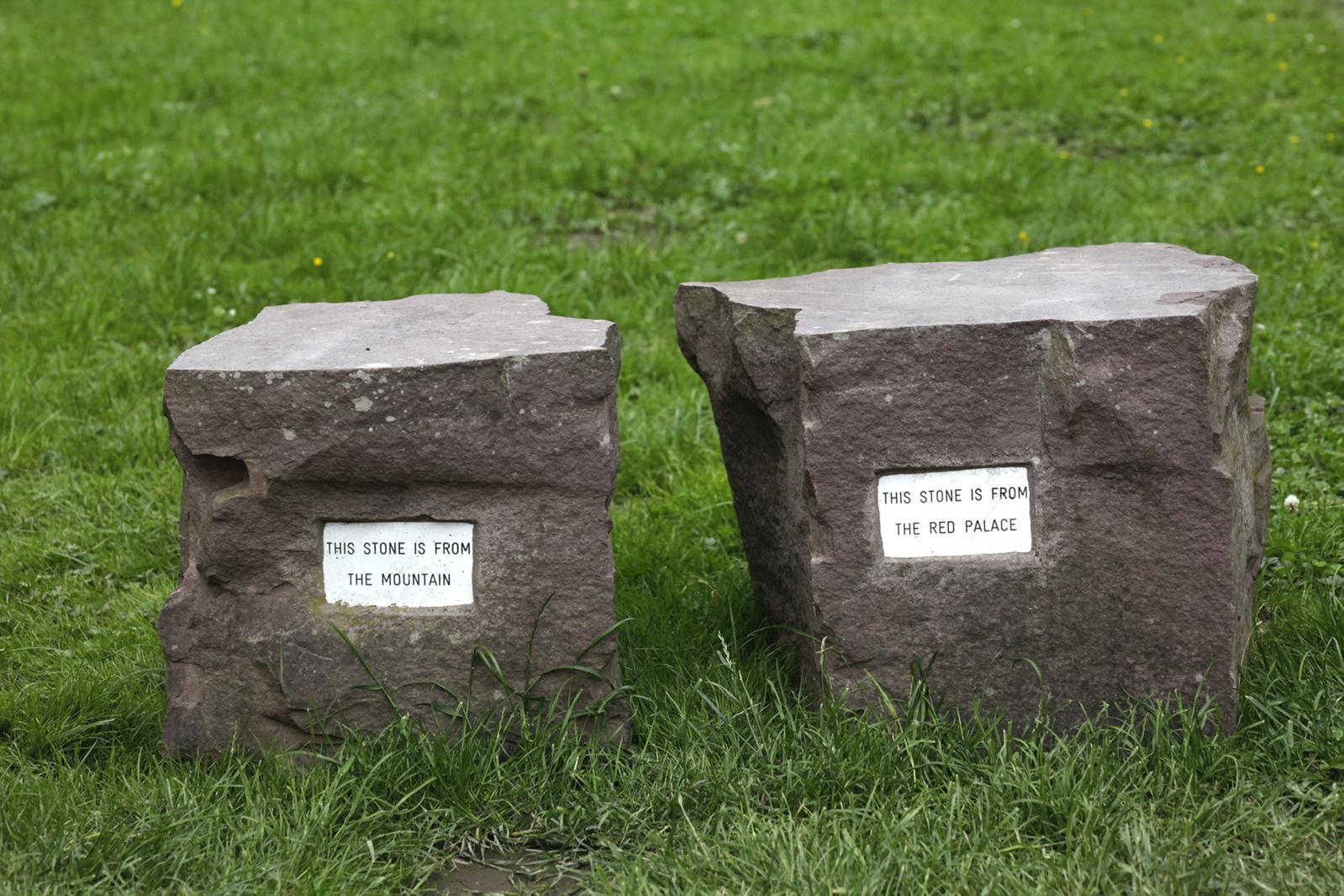 jimmie durham
* 1940, United States
Jimmie Durham's artistic research, as he has often stated, is interested in what happens "away from language", in the relationship between forms and concepts. Working against Western rationalist logic, his practice is founded on uncertainty and paradox. Drawing, assemblage sculptures, installations and video – which he uses to record his performances – are the recurrent mediums in his work. Durham's sculptural constructions are often combined with disparate elements, such as written messages, photographs, drawings and objects. Covering a broad range of topics in artworks as well as essays and poetry, the artist's production is often laced with the agility of wordplay, a dry, highly critical humor and, above all, irony. He consistently addresses the political and cultural forces that construct our contemporary discourses, the history of oppression, the futility of violence, and the powerlessness of the minorities in the world. Using both natural and artificial materials, Durham is particularly drawn to those that have been used throughout history as tools, exploring the intrinsic qualities of bones, wood, feathers, and stones that he finds and collects while taking walks. He uses stone as his primary material in underscoring the polemics of nature vs. culture, religion, architecture, and euro-centric ideas of history — specifically for its role in defining power dynamics of culture and society through architecture and ideas of monumentality.
Jimmie Durham is a Native American of the Cherokee tribe. He moved to Geneva in 1969 and enrolled in the École des Beaux-Arts where he worked on sculpture and performance. In 1973 he moved back to the U.S. to become involved in the American Indian Movement as director of the International Indian Treaty Council and its representative at the United Nations, becoming the first official representative of a minority within this organization. In 1980 he focused his attention back to art, but remained concerned with the image of Native Americans, a theme he returns to in many of his essays. Durham gained notoriety within the New York art scene, but found his work was seen as "Indian art" and failed to encourage fundamental—political or artistic—discussions. Disappointed by this misunderstanding and by the American government's intractable policies regarding the Indian movement, he left the U.S. in 1987 and moved to Cuernavaca, Mexico, where he was based until moving back to Europe in 1994.
Jimmie Durham had his first solo show in 1965. Since that time he has had important solo exhibitions at the following institutions: Hammer Museum, Los angeles, United States (2017); Museo Nazionale delle Arti del XXI Secolo, Rome, Italy (2016); Serpentine Gallery, London, United Kingdom (2015); Fondazione Querini Stampalia, Venice, Italy (2015); Parasol Unit Foundation for Contemporary Art, London, United Kingdom (2014); Museum Van Hedendaasge Kunst Antwerpen (m hka), Antwerp, Belgium (2012); Fundazione Morra Greco, Palazzo Reale, Naples, Italy (2012); Portikus, Frankfurt am Main, Germany (2010); Musée d'art moderne de la Ville de Paris (mam/arc), Paris, France (2009); Museo D'Arte Contemporanea Donna Regina Madre, Naples, Italy (2008); de Pury & Luxembourg, Zurich, Switzerland (2007); Kunstverein, Munich, Germany (1998); De Vleeshal, Middelburg, The Netherlands (1995); Palais des Beaux-Arts, Brussel, Belgium (1993), among many others. His work has been included in group exhibitions at institutions such as the MIT List Visual Arts Center, Massachusetts, United States (2013); Centre Georges Pompidou (mam-cci), Paris, France (2011); Haus der Kulturen der Welt, Berlin, Germany (2010); S.M.A.K, Gent, Belgium (2009); Modern Art Oxford, Oxford, United Kingdom (2009); Reykjavík Art Museum - Kjarvalsstaðir, Reykjavik, Island (2008); MARCO, Museo de Arte Contemporánea de Vigo, Spain (2007) among others.
Durham has participated in an number of biennials, including: the 12 Sharjah Biennial, United Arab Emirates (2015); the 55th, 51st, 50th, 49th and 48th Biennale di Venezia, Italy (in 2012, 2005, 2003, 2001 and 1999); the 29th Biennial de São Paulo, São Paulo, Brazil (2010); the 8th Taipei Biennial 2012, Taipei Taïwan (2012) and the Sydney Biennial, Sydney Australia (2004).
Jimmie Durham currently lives and works in Berlin.