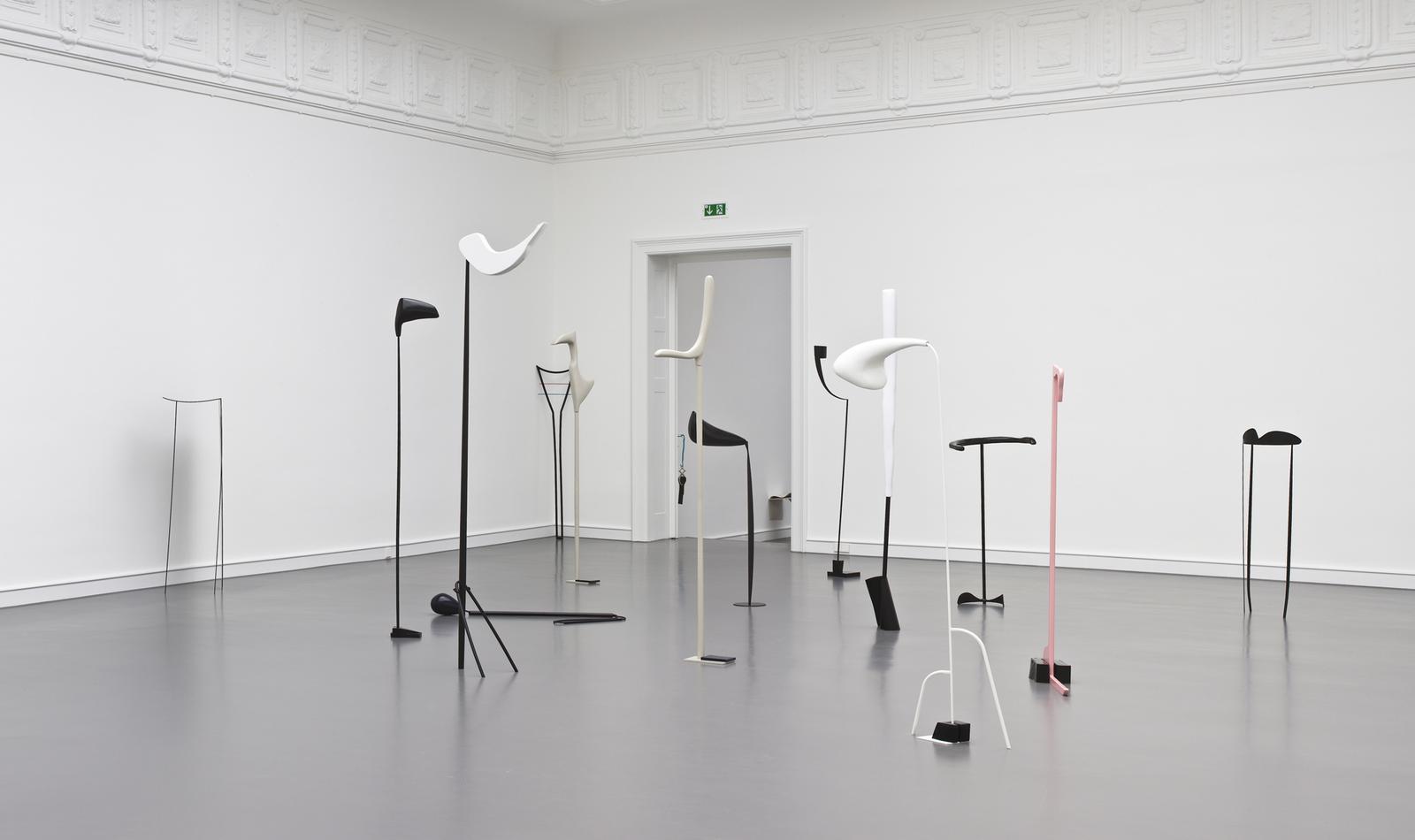 nairy baghramian
* 1971, Isfahan, Iran
Nairy Baghramian explores forms and concepts inherited from the history of art to address issues of functionality, decoration, abstraction, and feminism. Her work offers a reflection on the incessant cycle of aesthetic object production, cultivating an interest in marginalized art forms and spaces that are often considered territory of the "feminine". Her sculptures —made from a wide range of materials including steel, silicon, resin, and leather— bring art historical references into the realm of the subjective: the human body is dismantled and recombined through the politics of interior design. The result offers a re-reading of the legacy of Minimalism and Surrealism in the shape of protuberances and cavities, lumps and spills, organs and body parts. Instability, also a recurrent theme in Baghramian's work, becomes evident in the use of tenuous and flimsy supports to hold and display her sculptures: dangling or leaning, always on the brink of collapse. The strength of her practice lies precisely in revisiting the oft-overlooked and the delicate, using these tropes as a point of departure for sculptures that are aware of their own fragility while comfortably holding sway over the exhibition space.
Baghramian's most important exhibitions include: Privileged points, Musée d'Art Contemporain du Luxembourg (2019); Nairy Baghramian, Palacio de Cristal del Retiro, Madrid (2018); Déformation Professionnelle, Walker Art Museum, Minneapolis, United States (2017-2018); Museum der Moderne, Salzburg, Germany (2017); S.M.A.K.- Stedelijk Museum voor Actuele Kunst, Ghant, Belgium (2016); Scruff of the Neck (Supplements), Haus Konstruktiv, Zurich, Switzerland (2016); Hand Me Down, Museo Tamayo, Mexico City (2015); Nairy Baghramian: Fluffing the Pillows, MIT List Visual Arts Center, Cambridge, United States (2013); Retainer, SculptureCenter, New York (2013); Fluffing the Pillows, Kunsthalle Mannheim, Germany (2012); Butcher, Barber, Angler & Others, Studio Voltaire, London (2009); Affairen. Ein semiotisches Haus, das nie gebaut wurde Zu Gast: Janette Laverrière und Henrik Olesen, Neuer Aachener Kunstverein, Aachen, Germany (2008); The Walker's Day Off, Staatliche Kunsthalle Baden-Baden, Germany (2008); "Everlasting layers of ideas, images, feelings, have fallen upon your brain softly as light. Each succession has seemed to bury all that went before. And yet, in reality, not one has been extinguished.", Kunstvereins Nürnberg - Albrecht Dürer Gesellschaft, Nuremberg, Germany (2007); It Is Not at Home, Kunsthalle Basel, Switzerland (2006).
Her work has been part of group shows at the following institutions: Marian Goodman Gallery, New York (2019); Malmö Konsthall, Sweden (2018); The National Museum of Art, Osaka, Japan (2018); Madre · museo d'arte contemporanea Donnaregina, Naples, Italy (2017); Museum Brandhorst, Munich, Germany (2016); mumok - Museum moderner Kunst Stiftung Ludwig Wien, Vienna, Austria (2016); Swiss Institute / Contemporary Art, New York (2016); Punta della Dogana, Venice (2015); Museo Tamayo, Mexico City (2012); Australian Centre for Contemporary Art, Melbourne, Australia (2012); Kunsthaus Dresden, Germany (2012); Kunsthalle Nürnberg, Nuremberg, Germany (2012); Stedelijk Museum Amsterdam, The Netherlands (2011); Museum Ludwig, Cologne, Germany (2010); Musée d'art contemporain de Montréal, Canada (2010); Weserburg, Bremen, Germany (2009); Bergen Kunsthall, Norway (2009); Tate Modern, London (2008), among others.
She has also participated in the following biennials and festivals: Performa 19 Biennial (2019); 14e Biennale de Lyon, France (2017); documenta 14, Kassel, Germany (2017); Skulptur Projekte Münster 2017, Germany; Parasophia: Kyoto International Festival of Contemporary Culture, Japan (2015); 8 Berlin Biennale (2014); Glasgow International, Scotland (2012); 45th Venice Biennial (2011), and 5 Berlin Biennale (2008).
Nairy Baghramian lives and works in Berlin.