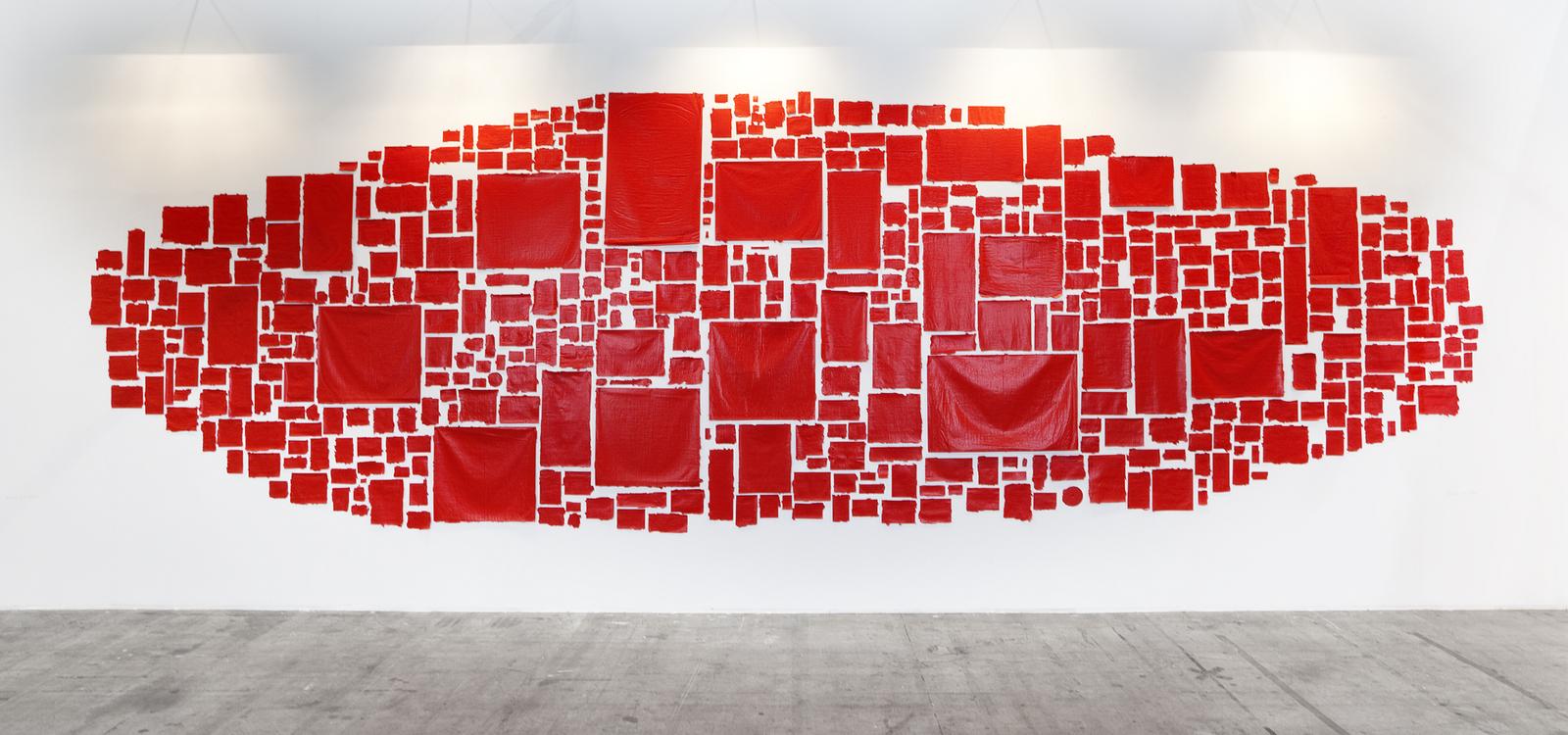 abraham cruzvillegas
* 1968, Mexico City

Abraham Cruzvillegas's artistic process is deeply influenced by his surroundings; rather than being defined by a particular medium, many of his projects are linked by the platform autoconstrucción: A concept that draws from the ingenious, precarious, and collaborative building tactics implemented by the people living in Colonia Ajusco, his childhood neighborhood in Mexico City. He appropriated this term in relation to his practice to describe an approach of inventive improvisation and instability which presents change as a permanent state arising from the chaotic and fragmentary nature of life. The evolving notion of autoconstrucción has in turn yielded different approaches such as autodestrucción and autoconfusión. These inquiries have led him to explore his own origins and to collaborate with family and friends in a very personal form of research that results in a constant process of learning: About materials, landscape, people, and himself.

Through his oeuvre –which includes sculpture, painting, drawing, installation, and video–, Cruzvillegas reveals a close and constant engagement with the material world, immersing himself in the ongoing construction and transformation of personal and collective identities. Using a wide range of collected objects, his sculptures challenge the traditional conceptions of art making; while his paintings and drawings are marked by a keen depiction of the subject and a strong sense of humor —instilled in him from his early training as a political cartoonist. Parallel to his artistic production, Cruzvillegas has cultivated writing as an investigative tool of self-analysis that merges history, criticism, and fiction. His song lyrics and texts about art, politics, and culture are a layer to be added to his aesthetic practice.

Abraham Cruzvillegas studied Pedagogy from 1986 to 1990 at UNAM (Universidad Nacional Autónoma de México) in Mexico City while simultaneously attending Gabriel Orozco's workshop Taller de los viernes. In 2012, he was the 5th laureate of the Yanghyun Prize and in 2006 he received the Prix Altadis d' arts plastiques.

His most important projects and exhibitions include: Hi, How Are You, Gonzo? The Contemporary Austin, United States; Aspen Art Museum, United States (2019); Autorreconstrucción: Social Tissue, Kunsthaus Zürich, Switzerland (2018); Sensory Spaces 12: Abraham Cruzvillegas, Museum Boijmans Van Beuningen, Rotterdam, Netherlands (2017); The Water Trilogy 2: Autodefensión Microtonal Obrera Campesina Estudiantil Metabolista Descalza, Ginza Maison Hermès: Le Forum, Tokyo (2017); Autoconstriction approximante vibrante rétroflexe, Carré d'Art - musée d'art contemporain de Nîmes, France (2016); Empty Lot, Tate Modern, London (2015); Autodestrucción 7: Deshaciendo el nudo, Museo de Arte de Lima – MALI, Peru (2015); Abraham Cruzvillegas: Autoconstrucción, Museo Jumex, Mexico City and Museo Amparo, Puebla, Mexico (2014); Abraham Cruzvillegas: The Autoconstrucción Suites, Haus der Kunst, Munich, Germany (2014) and The Walker Art Center, Minneapolis, United States (2013); Self Builder's Groove, Final Project for the Berliner Künstlerprogramm residency, Deutscher Akademischer Austauschdienst (DAAD), Berlin (2011); Autoconstrucción: The Film, REDCAT CalArts' downtown center for contemporary arts (2009); The Magnificent Seven: Abraham Cruzvillegas, CCA Wattis Institute for Contemporary Arts, San Francisco (2009); Autoconstrucción: The Soundtrack, CCA: Centre for Contemporary Arts, Glasgow, United Kingdom (2008), among others.

Additionally, his work has been included in various group exhibitions: Abuso de todas las formas, Museo de Arte Carrillo Gil, Mexico City (2019); Artaud 1936, Museo Tamayo, Mexico City (2018); Dwelling Poetically: Mexico City, a case study, Australian Centre for Contemporary Art, Melbourne (2018); WE DREAM UNDER THE SAME SKY, Palais de Tokyo, Paris (2017); The Revolution Will Not Be Gray, Aspen Art Museum, United States (2016); Atopía. Migración, legado y ausencia de lugar, MAZ - Museo de Arte de Zapopan, Mexico (2014); Mexico Inside Out: Themes in Art Since 1990, Modern Art Museum of Fort Worth, United States (2013); Blockbuster, Museo Universitario Arte Contemporáneo, MUAC, Mexico City (2011); Tate Modern Collection Displays, Tate Modern, London (2011); Paréntesis, MACO, Museo de Arte Contemporáneo de Oaxaca, Mexico (2009); Unmonumental, New Museum, New York (2007), among others.

His work has also a part of the following biennials: Biennale d'Architecture d'Orléans. FRAC - Centre Val de Loire, Orleans, France (2019); 21st Biennale of Sydney, Australia (2018); X Bienal de Nicaragua - Fundación Ortíz Gurdián, Managua (2016); Sharjah Biennial 12, United Arab Emirates (2015); 12 Bienal de la Habana, Cuba (2015); 9th Shanghai Biennale, China (2012); dOCUMENTA (13), Kassel, Germany (2012); 12. İstanbul Bienali, Turkey (2011); 6th SeMA Biennale Mediacity Seoul, South Korea (2010); 10 Bienal de la Habana, Cuba (2009); 54th Venice Biennial (2003).

Abraham Cruzvillegas lives and works in Mexico City.